Ambassador: Vietnam, Russia enjoy fruitful cooperative ties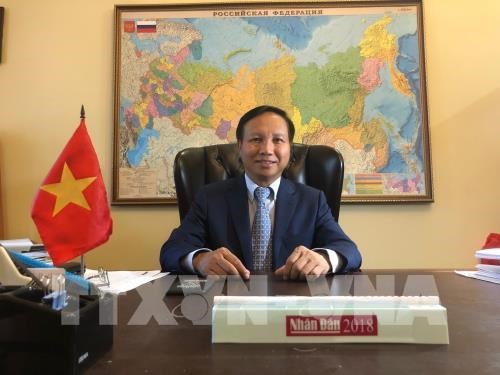 Vietnamese Ambassador to Russia Ngo Duc Manh 
Vietnam and Russia need to actively seek new, highly feasible cooperation methods, which are beneficial to both sides, in a bid to create breakthroughs in bilateral relations, said Vietnamese Ambassador to Russia Ngo Duc Manh. 
During a recent interview granted to the press ahead of the 30th Diplomatic Conference slated for August 12-17 in Hanoi, the ambassador highlighted the fruitful development in the Vietnam-Russia relationship over the last 68 years. 
Vietnam and Russia established diplomatic relations in 1950 and decided to elevate the relationship to strategic partnership in 2001 and then to comprehensive strategic partnership 11 years later.
The bilateral cooperation between the two countries has been tested over time, becoming a valuable asset of the Vietnamese and Russia people, with many great achievements in all areas, Manh said. 
Vietnam-Russia political ties with a high level of trust have been enhanced through the regular exchange of delegations and bilateral meetings at all levels, and via the mechanism of consultation and strategic dialogue. 
The two nations have always cooperated and supported each other in multilateral forums such as the United Nations, the Asia-Pacific Economic Cooperation (APEC) forum, the Asia-Europe Meeting (ASEM), the ASEAN - Russia cooperation mechanism. 
Vietnamese President Tran Dai Quang's official visit to Russia in June 2017, and Russian President Vladimir Putin's attendance at the APEC Economic Leaders Meeting in Vietnam's central Da Nang city in November 2017 created new impetus to effectively promote and deepen the comprehensive strategic partnership, Manh stressed. 
Vietnam-Russia economic, trade and investment ties have enjoyed dynamic development, he said, noting that after the free trade agreement between Vietnam and the Eurasian Economic Union officially came into effect in October 2016, the trade value between the two countries has grown by over 30 percent a year.
In terms of investment, besides the cooperation in the field of oil and gas, as of June 2018, Russia has 117 direct investment projects in Vietnam with total registered capital of nearly 1 billion USD. Meanwhile, Vietnam is operating 22 investment projects worth nearly 3 billion USD in Russia. 
Security and defence cooperation between the two nations has also witnessed practical and effective development, especially in personnel training and weapon-equipment transfer.
Vietnamese and Russian localities have also strengthened their collaboration in the recent time, focusing on the spheres of economy, trade and investment, culture, and education. Tourism and culture cooperation, and people-to-people exchanges have been also fostered, Manh said.
Regarding measures to fully tap the potential to further expand bilateral economic ties, the diplomat stressed that relevant agencies and enterprises of the two countries, including the embassy, have to make every effort to fulfill commitments made by their senior leaders, towards realising the 10-billion-USD target in two-way trade by 2020.
It is necessary to implement synchronously and effectively cooperation agreements signed between the two countries, and enhance the role of the intergovernmental committee; as well as the consultation and supervision of the two legislative bodies over the implementation, the ambassador said. 
Administrative reform should be also promoted, thus facilitating Vietnamese and Russian enterprises' travel and work in their respective territories, thus fostering economic ties between the two nations. 
Manh, however, also mentioned obstacles hindering the Vietnam-Russia economic and trade cooperation, saying that there are no effective mechanisms to promote the potential and strength of each country.
Vietnamese businesses are facing difficulties in selling their goods in the Russian market because of certain barriers related to quarantine, Manh noted, adding that both countries' firms do not have enough information about each other so they do not have adequate trust in trading. Trade promotion activities should be increased to solve these issues, he said. 
The ambassador also highlighted the significance of the Vietnam Year in Russia and the Russia Year in Vietnam in 2019, saying that it will be a meaningful event to strengthen cooperative ties between the two countries.
Vietnam-France defence ties enhanced: Deputy Defence Minister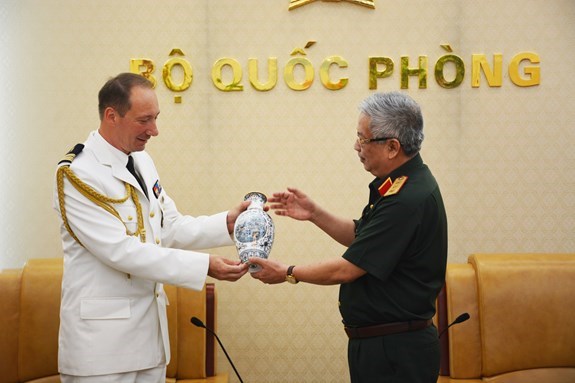 Deputy Defence Minister Sen. Lt. Gen. Nguyen Chi Vinh (R) presents a gift to outgoing French Defence Attaché in Vietnam Maj. Christophe Talon (Source: qdnd.vn)
Deputy Defence Minister Sen. Lt. Gen. Nguyen Chi Vinh on August 7 received the outgoing French Defence Attaché in Vietnam Maj. Christophe Talon and his successor Lt. Maj. Marc Razafindranaly.
At the reception, Vinh expressed his satisfaction at the Vietnam-France defence ties over the past three years, as both sides have maintained close cooperation in peacekeeping missions, military medicine and training.
He acknowledged and appreciated the contributions made by Maj. Christophe Talon to the ties, and hoped that in his new position, the officer will continue contributing to the relations between the two countries in general and the two armies in particular.
Welcoming Lt. Maj. Marc Razafindranaly, Vinh asked him to maintain and promote the results that his predecessor had made during his tenure, and have new initiatives to further boost the bilateral defence ties in a more practical and effective manner.
The Vietnamese deputy defence minister affirmed the Defence Ministry will create all favourable conditions for Marc Razafindranaly to fulfil his tasks.
HCM City celebrates 45 years of Vietnam-Malaysia relations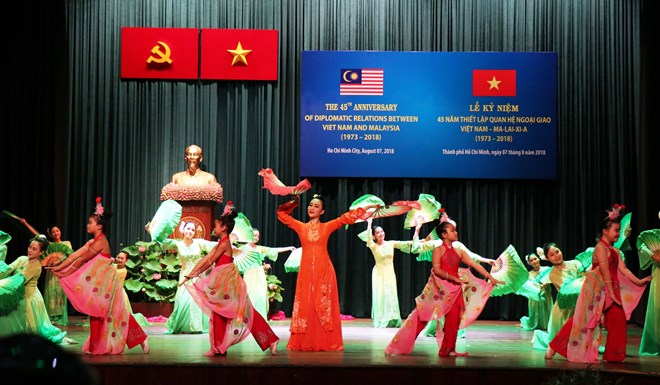 A performance at the ceremony marking 45 years of Vietnam-Malaysia diplomatic ties in HCM City on August 7 
Ho Chi Minh City wants to further boost cooperation in multiple spheres with Malaysia, especially in the prioritised fields of trade, investment, technology, education, culture and tourism, said a local official.

Speaking at a ceremony marking 45 years of Vietnam-Malaysia diplomatic relations on August 7, Vice Chairman of the municipal People's Committee Le Thanh Liem noted that Vietnam and Malaysia share many cultural similarities and their people began to exchange and learn from each other a long time ago. 

The relationship has been further reinforced since the two countries set up diplomatic ties on March 30, 1973 and, especially, after they lifted the relations to the level of strategic partnership in 2015, Liem said.

With 562 projects worth over 12 billion USD, Malaysia currently ranks seventh among countries and territories directly investing in Vietnam, he adding that bilateral trade reached 6.67 billion USD in the first half of 2018, up 19.2 percent year on year, and is expected to hit 15 billion USD by 2020.

Liem went on to say that Malaysia has invested 4.6 billion USD in nearly 250 projects in HCM City, ranking third among 98 foreign investors here.

Aside from political and economic partnerships, bilateral collaboration in security-defence, culture, education and labour have also resulted in positive outcomes, thereby contributing to the bilateral comprehensive cooperation as well as peace, stability, cooperation and development in the region, the official added.

For his part, Malaysian Consul General in HCM City Sofian Akmal Abd. Karim affirmed that the sound relationship between Malaysia and Vietnam is the outcome of unceasing efforts by leaders and people of both nations, especially since the establishment of the strategic partnership in 2015.

According to the diplomat, over the four decades, bilateral trade and investment ties have grown considerably, driven by the favourable economic environment. Meanwhile, encouraging outcomes have also been seen in people-to-people diplomacy when about 248,000 Vietnamese visited Malaysia and 480,000 Malaysians came to Vietnam in 2017. Educational cooperation programmes and youth exchanges have also taken place regularly, helping to foster mutual understanding, solidarity and friendship.

He said although HCM City has attracted one-third of Malaysian investments in Vietnam, the two sides' cooperation potential remains huge, particularly in education and tourism.

The official asked HCM City's leaders to continue to support activities that are aimed at promoting bilateral ties so as to help intensify strategic partnership between Malaysia and Vietnam.

The ceremony featured singing and dancing performances by Vietnamese artists. The Malaysian Consulate General and partners also introduced a Batik flower-themed fashion collection symbolising the friendship between the two nations.–VNA
HCM City leader pledges optimal conditions for Japanese investors
Ho Chi Minh City will create optimal conditions for Japanese firms to do long-term business in the city, said Vice Chairman of the municipal People's Committee Le Thanh Liem.

Receiving a delegation of the Japan Chamber of Commerce and Industry (JCCI)'s Youth Commission led by its head Uchida Shigenobu on August 7, Liem lauded the visit, which, he believed, will strengthen the all-round cooperation between Ho Chi Minh City and Japan, especially in trade and investment.

Over the past years, the traditional relationship between Ho Chi Minh City and localities of Japan has been fostered through collaboration programmes in culture, economy, education and tourism, he said, adding that Japan is now the fifth largest foreign investor in the city.

Liem said that HCM City has many export processing zones, industrial parks and high-tech parks which are always ready to welcome Japanese investors.

For his part, Shigenobu said that the delegation, comprising of more than 100 delegates from more than 100 businesses, representing 34,000 JCCI member companies, aims to study the investment environment and seek partnership and investment opportunities in the city.

While appreciating the municipal authorities' support and assistance to Japanese investors, Shigenobu stressed that Japanese firms are confident in the city's economic development potential.

He expressed his hope to continue receiving support from HCM City to Japanese enterprises that are seeking investment and business opportunities in the city.

The JCCI's Youth Commission will work hard to contribute to fostering economic, trade and investment between Japan and Ho Chi Minh City, thus strengthening the sound friendship and partnership between Japan and Vietnam, he promised.-VNA
Diplomats seek to improve consular affairs, citizen protection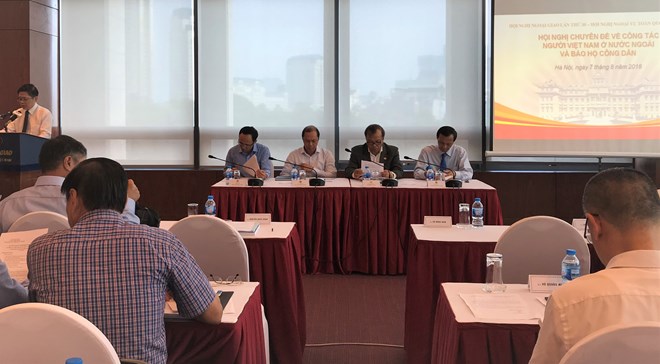 The conference in Hanoi on August 7 discussed measures to enhance the effectiveness of activities related to overseas Vietnamese and citizen protection (Phôt: dangcongsan.vn)
More than 150 heads of Vietnamese representative agencies abroad and leaders of the Ministry of Foreign Affairs (MOFA) gathered at a conference in Hanoi on August 7 to discuss measures to enhance the effectiveness of activities related to overseas Vietnamese (OV) and citizen protection.

At the event, jointly held by the MOFA's Department of Consular Affairs and the State Committee for Overseas Vietnamese Affairs, the participants focused on outcomes and shortcomings in the work and orientations for the 2018-2020 period.

Heads of the Vietnamese representative agencies abroad shared their real experiences and pointed out challenges and difficulties as well as factors affecting the effectiveness of OV-related affairs and citizen protection, thus seeking solutions to improve the efficiency of the work.

In the past two years, the amount of remittances sent home by OVs exceeded 25 billion USD. In 2017, the flow of investment poured into the domestic market by OVs hit about 4 billion USD.

Alongside, many OV intellectuals and enterprises have made remarkable contributions to the development of various sectors at home, while OV youngsters have showed their interest in developing the motherland.

Meanwhile, despite unprecedented and difficult cases of citizen protection happening currently, authorized agencies have shown timely response and ensured interests of Vietnamese individuals and organisations abroad. 

Specifically, in the recent two years after the 29th Diplomatic Conference, authorized agencies carried out citizen protection for more than 16,000 Vietnamese citizens and over 600 vessels with 5,000 fishermen seized by foreign forces or faced difficulties abroad.

Addressing the event, Deputy Foreign Ministers Vu Hong Nam and Nguyen Quoc Dung asked for drastic measures to attract more resources from OVs to serve national development as well as to provide timely and accurate response in consular affairs and citizen protection, especially in the context that the world situation has seen rapid and unexpected developments.

Nam stressed that in the coming time, it is necessary to increase the role of overseas Vietnamese representative agencies in acquiring aspirations of Vietnamese communities abroad, thus rolling out measures to support the communities in reinforcing their legal status, settlement and social integration, while maintaining the Vietnamese language and national cultural identity.

He stressed the need to lure more OV resources for national growth, with focus on youngsters. It is also crucial to update the communities with accurate information about policies of the Party and State, Nam stressed.

Meanwhile, Dung proposed relevant agencies actively carry out consular affairs in line with law to reduce complaints and denunciations, while speeding up the formation of a sustainable inter-sectoral mechanism on citizen protection and seeking more speedy methods to share information between MOFA units and other agencies.

He underscored the necessity to strengthen international cooperation in the field, as well as bilateral and multilateral dialogues, creating a legal foundation for the protection of rights and interests of Vietnamese legal entities and citizens in other countries.

Dung also pointed to the need to mobilise social resources and efforts of international organisations in citizen protection, while applying more effective communication measures to guide Vietnamese citizens travelling abroad and provide them with updated information through various channels such as websites and hotlines of Vietnamese representative agencies.-VNA
Sympathies to Indonesia over losses caused by earthquake
President Tran Dai Quang and Prime Minister Nguyen Xuan Phuc on August 7 expressed their sympathies to Indonesian President Joko Widodo over the great losses in human and property caused by the earthquakes on July 29 and August 5 in northeastern Lombok Utara in Nusa Tenggara Barat province.
The same day, Chairwoman of the National Assembly Nguyen Thi Kim Ngan sent her sympathies to Speaker of the Indonesian People's Representative Council Bambang Soesatyo.
Deputy Prime Minister and Foreign Minister Pham Binh Minh also offered his sympathies to Indonesia's Foreign Minister Retno Marsudi.
A 7-magnitude earthquake struck the tourist island of Lombok on August 5, killing at least 105 people, seriously injuring nearly 240 others and rendering over 20,000 locals homeless.
Up to 230 aftershocks were recorded following the quake. More aftershocks are forecast to occur in the next few weeks.
PM: Public security force must effectively implement plans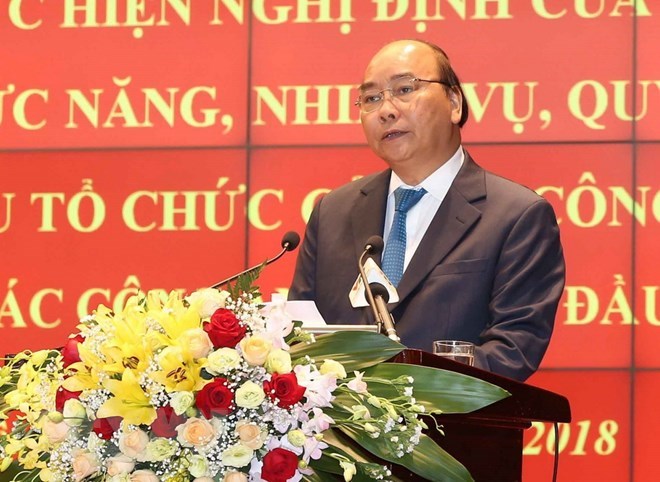 Prime Minister Nguyen Xuan Phuc speaks at the conference. 
Prime Minister Nguyen Xuan Phuc on August 7 asked the public security force to effectively implement plans in order to protect the absolute safety of the country's major events as well as activities of Party and State leaders, and build a society of order and safety. 

Speaking at a conference held by the Ministry of Public Security in Hanoi, the Government leader also urged the force to focus on fighting crimes and promoting the law-abiding spirit during the work. 

He tasked the sector with developing personnel and preventing the degradation in political ideology, morality and lifestyle, and the phenomena of "self-evolution" and  "self-transformation" to build a pure and strong public security force. 

Over the past time, the ministry has fulfilled its role as an advisor to the Party and the State in developing strategic guidelines and policies regarding national security, foreign affairs, and national sovereignty and interests, he noted. 

"The public security force has upheld the strength of the entire political system and society in detecting and preventing sabotage plots and destructive activities of hostile forces, and fighting crimes," the leader said. 

He lauded the sector's efforts in Party building and personnel development, saying many officials who had violated laws were punished. 

Meanwhile, many others fell down for national security, he said, noting that five officers and soldiers died, 90 were injured and 30 were exposed to HIV while performing their duties. 

Their efforts have contributed to safeguarding national security and safety, and creating a peaceful and stable environment for socio-economic development, PM Phuc stressed. 

However, he said, there remain shortcomings in the sector like the complex development of crimes like gambling, murders and drug, environment and high-tech crimes, along with limited results of the firefighting work and violations of laws committed by a number of officers and soldiers.-VNA
Vice President visits Soc Trang province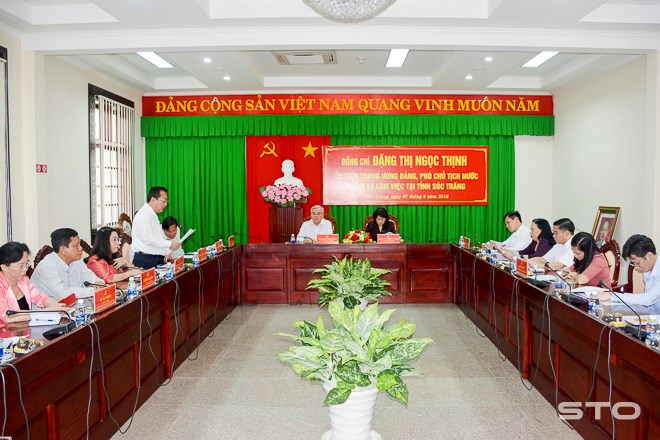 At the working session (Source: http://baosoctrang.org.vn)
Vice President Dang Thi Ngoc Thinh on August 7 asked the Mekong Delta province of Soc Trang to pay attention to promoting Party and administration building and administrative reform, and ensuring security and order.
During a working session with provincial officials, the Vice President also urged the local authorities to do well the work related religions, the promotion of great national unity, and social welfare in the coming time. 
Chairman of the provincial People's Committee Tran Van Chuyen briefed Thinh on Soc  Trang's socio-economic development achievements in the first six months of 2018. 
The locality's economic growth hit 6.11 percent in the period, with the industrial production value reaching 12.3 trillion VND (nearly 527.7 million USSD), up 7 percent year-on-year. 
Export turnover was 390 million USD, 23 percent higher than that of the same period last year. 
The province's State budget collection stood at over 2 trillion VND and about over 19,000 jobs were generated for local labourers. 
 Soc Trang has attracted nearly 50 domestic and foreign investors with total registered capital hitting 123 trillion VND in the period, while over 60 other investors have registered to implement 72 projects in the locality.  
The province also successfully held an investment promotion and startup conference in 2018, he added. 
Chuyen asked for support from the State to the locality in adapting to climate change, building transport infrastructure and seaports, and in education-training development. 
Speaking highly of the local authorities' efforts and achievements, Vice President Thinh said she will recommend the Government, ministries and sectord to prioritize investment capital for Soc Trang in the above-mentioned fields. 
During her visit, Thinh and a number of donors presented three houses, 200 sholarships and gifts totaling over 400 million VND to  disadvantaged households and students in the locality.
Vietnamese in Mexico raises funds for Lao victims in dam collapse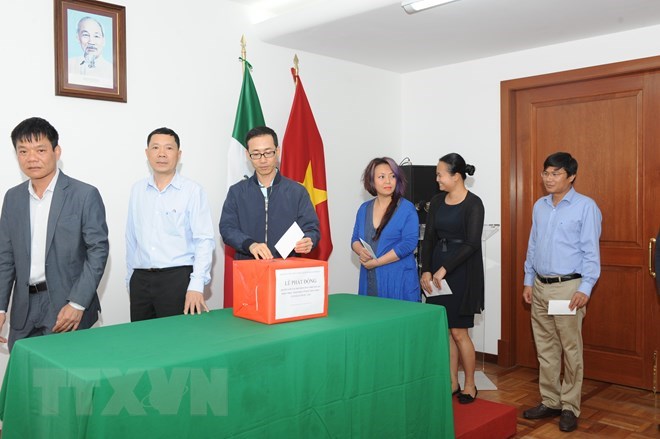 Staff from the Vietnamese Embassy in Mexico and Vietnamese representative agencies donate money to support Lao people affected by the dam collapse 
The Vietnamese Embassy in Mexico held a fund-raising ceremony on August 7 to collect money for Lao people affected by the collapse of the Sepien-Senamnoi hydropower dam in the southern province of Attapeu.

Speaking at the event, Charge d'affaires of the embassy Doan Anh Tuan highlighted the traditional friendship, special solidarity and comprehensive cooperation between Vietnam and Laos.
 
He called on the staff of the embassy and Vietnamese representative agencies to donate money to support the affected people.

At the ceremony, over 8.3 million VND (365 USD) was raised for the targeted people. The money will be transferred to them via relevant agencies.

Earlier, the Vietnamese government granted 200,000 USD as relief aid to local residents hit by the incident. Vietnam's ministries, sectors and localities also launched activities to assist the victims.

The Sepien-Senamnoi hydropower dam collapsed on July 23, causing massive floods which submerged 10 villages downstream and completely isolated Sanamxay district.

The incident affected over 1,300 households with 6,600 people. So far, the rescue forces have found the bodies of 31 victims.

At an international press conference held in Vientiane on August 7, Lao Foreign Minister Saleumxay Kommasith said 100 people remain unaccounted for and it would take many years for Laos to address the serious consequences.

Therefore, the Lao government still needs assistance and sharing from other countries and non-governmental organisations, especially in searching and rescuing the missing, restoring and building infrastructure in affected villages, providing food and necessities for the victims, and preparing health equipment, medicines and ambulances, he said.

In the short term, the government will focus on arranging temporary accommodations for more than 6,000 people who were seriously affected by the incident, then resettlement. 

Minister of Energy and Mines Khammany Inthirath said the government is setting up an investigation committee to coordinate with international organisations to look into the dam collapse.

The committee will examine the quality of nearly 50 hydropower dams which have been completed as well as the design of those under construction, he said, adding that Laos will also establish a water management board to keep track of the volume of water in lakes.

The Lao Government had also decided to halt the signing of new Memorandum of Understanding (MoU) and Project Development Assistance (PDA) contracts on hydropower nationwide to conduct further assessment and revision, he added.-VNA
PM lauds AO/Dioxin victim association's efforts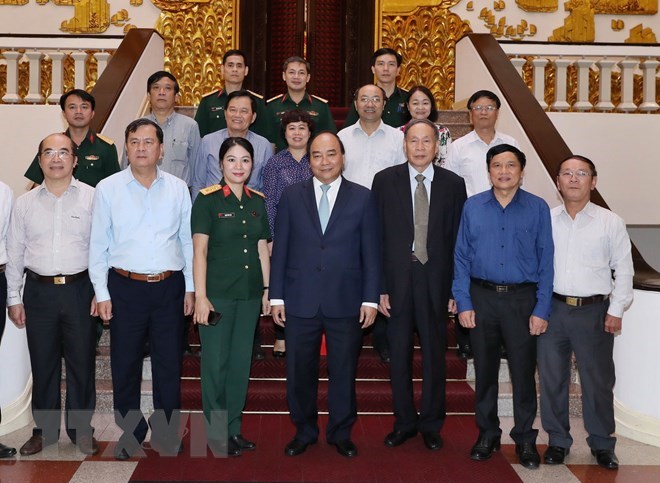 Prime Minister Nguyen Xuan Phuc and representatives of  the Vietnam Association of Victims of Agent Orange/Dioxin. 
Prime Minister Nguyen Xuan Phuc on August 7 spoke highly of the Vietnam Association of Victims of Agent Orange/Dioxin (VAVA)'s efforts in recent years to protect the rights of the victims and raise fund for them.

During a meeting with a VAVA delegation led by its president, Sen. Lt. Gen. Nguyen Van Rinh, in Hanoi on the occasion of the 57th anniversary of the Day for AO/Dioxin Victims (August 10, 1961), the Government leader also noted that the association has made active efforts in demanding justice for those affected by AO/Dioxin.

The efforts have drawn public attention both at home and overseas calling on the US Government to recognize their responsibility and take concrete acts, he stressed, adding that VAVA has also advised Party and governmental leaders on formulating special policies for victims and raising public awareness of the effects of the toxic chemical on human health.

The PM said he wants local Party committees and authorities to work alongside with businesses to provide aid for the victims and help them integrate into the society in the time ahead. He also voiced hope that VAVA will continue keeping their good work to overcome difficulties and fulfill their tasks.

Rinh, for his part, thanked the Party, State and Government for the support given to the AO/Dioxin victims over the past years.

It was estimated that about 4.8 million Vietnamese people were exposed to AO/Dioxin and there have been fourth-generation victims, many of who have to struggle every day to make ends meet. Some 350,000 victims and their children are receiving financial support monthly.

As of March 2018, the association had raised more than 1.7 trillion VND (73.1 million USD) to build 25 support centres and houses for them and award their children with scholarships. 
PM lauds efforts to tackle post-war bomb, mine consequences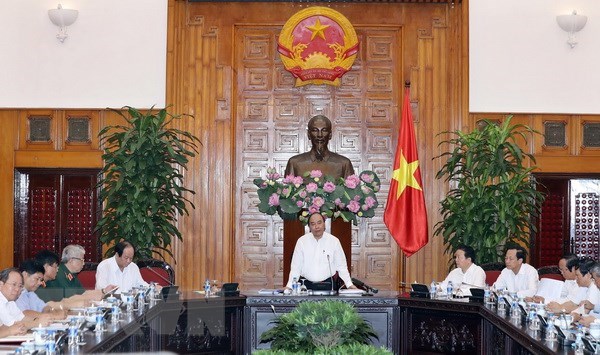 Prime Minister Nguyen Xuan Phuc (standing) speaks at the meeting 
Prime Minister Nguyen Xuan Phuc lauded bomb and mine consequence recovery efforts over the past years while chairing a meeting of the National Steering Committee on the Settlement of Post-War Unexploded Ordnance and Toxic Chemical Consequences (Steering Committee 701) in Hanoi on August 7. 
It was the first meeting since the committee made debut in April 2018. 
In his speech, the PM said ministries, agencies, localities and socio-political organisations have devised their own action plans to deal with bombs, mines and toxic chemicals, facilitated international cooperation, scientific research and technological development in the field, as well as provided support for victims. 
Describing bomb and mine recovery as an urgent task, the leader said the committee needs to fix existing shortcomings to protect the environment and people's health in service of socio-economic development, towards mitigating public exposure to dioxin. 
According to him, a roadmap is needed to devise a map of dioxin, bomb and mine contaminated hotspots in Vietnam, adding that the committee should consider amending policies on State allowances for those who joined resistance wars and became exposed to dioxin and chemical toxics and their children, and offer better medical care to them. 
Ministries, agencies and localities were urged to rally domestic and foreign resources in the effort. 
The PM said the implementation of a Vietnam – Hungary project on overcoming the aftermath of bombs and mines in Ha Giang, Lao Cai, Cao Bang, Quang Nam and Quang Tri provinces, which uses State budget and Hungary's official development assistance, is necessary. 
He assigned the committee to collect feedback at the event to refine the report, especially those regarding social and health care issues for Agent Orange/dioxin victims, international and technical cooperation, environment and projects jointly conducted by ministries and agencies. 
Last year, the standing board of the committee worked with ministries and agencies to build its operating regulation, offered advice to Party and State leaders about adding the settlement of post-war bombs and mines into joint statements with the US,  Japan, Australia and Israel. 
During the first stage of a project on outlining maps of areas contaminated with bombs, mines and explosives, up to 9,116 areas were found, accounting for 81.87 percent of the total. All communes and towns in 19 provinces were affected, including Hai Duong, Quang Binh and Quang Tri. 
Over 6.1 million ha of land are contaminated with bombs and mines while about 30,000 – 50,000ha are subject to bomb and mine clearance. 
The Defence Ministry also partnered with the US Agency for International Development (USAID) to deal with dioxin at Da Nang international airport. The project has been basically completed with 160,000 sq.m of treated land meeting technical standards on environment. 
The Ministry of Labour, Invalids and Social Affairs piloted a model to improve livelihoods of victims hurt by bombs and mines in several localities.
HCM City builds sustainable relations with ASEAN members

Right after Vietnam became a member of the Association of Southeast Asian Nations (ASEAN) in 1995, Ho Chi Minh City has carried out a line-up of activities to bolster trade, investment, culture and people diplomacy cooperation with ASEAN member states, playing an important role in the Vietnam-ASEAN relations.

The southern economic hub was a pioneer in trade promotion activities in ASEAN countries, holding annual trade fairs in Cambodia, Myanmar, and investment-tourism events in Thailand and Malaysia. The city has become important trade partners of Thailand, Malaysia and Singapore, with two-way trade with those nations enjoying stable growth through years.
 
Last month, an expo was held in the city, bringing chances to ASEAN businesses and Ho Chi Minh City to seek trade and investment opportunities and introduce products in each other's market.

HCM City also attracted a large amount of investment capital from ASEAN countries. As of the end of 2017, ASEAN members registered nearly 16 billion USD in 1,500 projects in the city, with Singapore and Malaysia among the leading foreign investors.

As the largest city in southern Vietnam and a cultural centre of the country, HCM City is also active in promoting social and cultural ties with ASEAN members, contributing to building the ASEAN Socio-Cultural Community.  

The city has established friendship ties with six localities in ASEAN countries, which are Manila (the Philippines), Phnom Penh (Cambodia), Vientiane (Laos), Champasak (Laos), Yangon (Myanmar), and Bangkok (Thailand). 

Diplomatic and cultural activities have help popularise the city and the country's images to international friends, thus, tightening the friendship and creating opportunities to attract investment in various sectors. Such notable events as the festival "Ho Chi Minh City- Integration and Development" organised since 2013, and the annual International Travel Expo have helped enhance mutual understanding, solidarity and collaboration between the city and ASEAN localities.

Furthermore, a vibrant Ho Chi Minh City has been illustrated through many other cultural events on occasions such as anniversaries of diplomatic ties between Vietnam and ASEAN member states. 

The city has also hosted many major events of ASEAN like 4th ASEAN Chief Justices' Meeting, and ASEAN Law Association's 38th Governing Council Meeting.

In mid-April, the city hosted the 2018 Culture and Trade Exchange Programme among ASEAN member countries themed "for an ASEAN Economic Community's development and prosperity", showing the city's commitment to building a competitive, innovative and active community. 

Together with the other two big cities of Hanoi and Da Nang, Ho Chi Minh City is a founding member of the ASEAN Smart Cities Network Initiative, reflecting the city's determination to build a common ecosystem in ASEAN in which digital technology is deployed to improve livelihoods of urban residents. 

Regarding people-to-people diplomacy, the city has carried out an array of programmes to tighten friendly ties with ASEAN countries, according to Phan Thi Hong Xuan, Chairwoman of the Vietnam-Southeast Asia Friendship Association in Ho Chi Minh City.

Most of the cooperative activities have focused on connecting young people in ASEAN through cultural conferences, youth contests, and friendship activities between universities.

With such activities, the city has contributed to building dynamic, effectively and strong linkages among ASEAN nations that benefit all concerned parties as well as to a prosperous ASEAN Community in the future.