HCM City Party leader urges higher status in economy for agriculture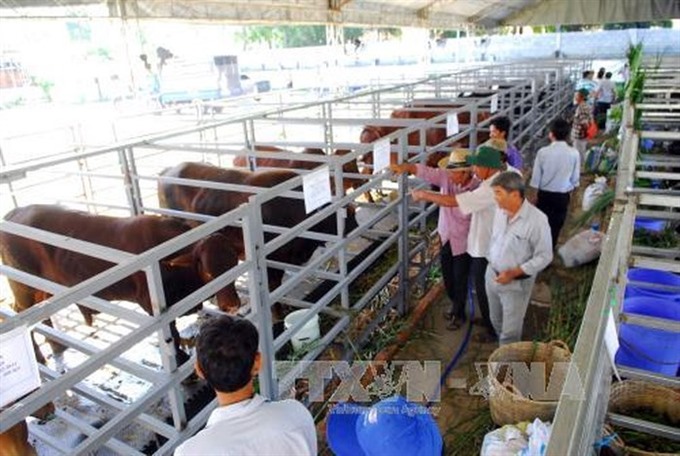 Modern farming co-operatives are needed to achieve a breakthrough in restructuring agriculture in HCM City and raising the incomes of farmers. 
HCM City Party Committee Secretary Nguyễn Thiện Nhân has called on city authorities to make agriculture one of the city's seven key economic pillars.
Speaking at a conference on developing modern co-operatives to help restructure agriculture and raise farmers' incomes, he said currently agriculture did not enjoy that status though it was one of the city's focuses.
"Việt Nam is one of the largest agricultural produce exporting countries in the world, but faces problems such as bumper crops and resultant price drops, leading to lower incomes for farmers," he said.
According to Nhân, this is because agriculture in the country is often not compatible with the market economy and international integration.
Besides, farmers frequently face financial shortages though the Government has many preferential policies for them.
Most farmers' land holdings are small, making agriculture inefficient, especially because 97 per cent of farm workers are untrained.
Modern farming co-operatives are needed to achieve a breakthrough in restructuring agriculture and raising the incomes of farmers.
Nguyễn Thị Bạch Mai, chairwoman of the city Farmers Association, said the association had encouraged farmers to join co-operatives since 2013.
The city has 75 agricultural co-operatives, and the average income of their members is VNĐ40-50 million (US$1,713-2,141) a year.
According to a survey by the city Department of Agriculture and Rural Development, nearly 20 per cent of farmers have tied up with enterprises and 15 per cent have joined co-operatives.
Farmers joining co-operatives earn 10-35 per cent more than individuals.
But Mai said most co-operatives faced difficulties related to land, warehouses, finance, working facilities and leadership.
Trần Văn Chánh, director of the Phú Lộc Co-operative in Củ Chi District, suggested that city authorities should allow co-operatives to build warehouses on agricultural lands.
Moreover, they should subsidise co-operatives'efforts to indicate the origins of their produce in their packaging, products.
According to other delegates at the conference, the co-operatives should develop their services in terms of quality and availability.
They should embrace the market, co-operate with each other and with enterprises for creating new strains and breeds and selling to value chains. 
National conference seeks ways to protect children from violence, abuse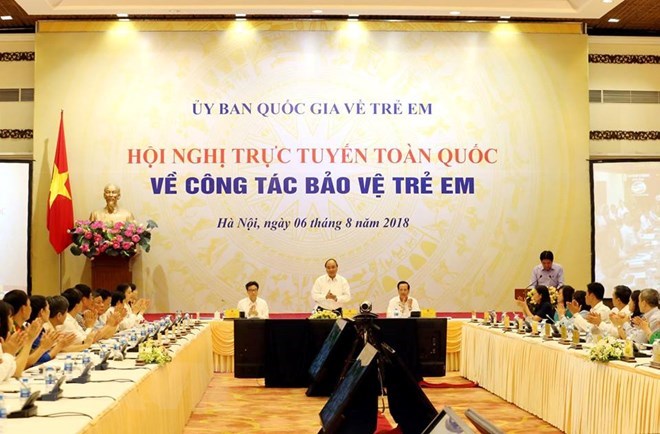 Prime Minister Nguyen Xuan Phuc addresses the conference 
Prime Minister Nguyen Xuan Phuc chaired a national online conference on August 6 on the protection of children against violence, abuse and risks to their health and life.
The conference, connected with 675 districts and communes across the nation, drew about 18,000 delegates.
A report by the Ministry of Labour, Invalids and Social Affairs (MOLISA) showed that every year, about 2,000 cases of children falling victims to violence and abuse were reported and handled by functional agencies, with over 60 percent involving sexual abuse.
However, the figure is only the tip of the iceberg, as only cases serious enough to be subject to criminal investigation were reported.
In the first five months of 2018, 682 violations against children were reported. Particularly, as many as 21.3 percent of sexually abused children were victims of their family members, 59.9 percent were attacked by neighbours and relatives, and only 12.6 percent by strangers.
Deputy PM Vu Duc Dam held that the figure reported by the MOLISA does not reflect the reality. He said the unreported cases are much higher, as many harassing behaviours are still thought to be "normal" in society.
Participants at the conference gave their evaluation on violence and abuse against children, analysed the reason behind the problem and recommended solutions to it. Many pointed to the need for closer coordination among ministries, sectors, social organisations and local community, as well as the formation of preventive and settlement mechanisms for violation cases.
Addressing the event, PM Phuc said that violence, especially sexual abuse against children is unacceptable and intolerable both legally and morally.
He also mentioned other threats to children's health and life, such as drowning and traffic accidents, which claim the life of thousands of children each year. 
The Government leader stressed that it is a strategic and major task for the sustainable development of the country and the responsibility of the whole political system, localities and each family to care for and protect children as well as creating a healthy and favourable living environment for them.
He agreed with orientations and solutions stated in the MOLISA's report to fight child abuse.
In order to mobilise resources of the whole political system for the enforcement of children's rights, especially the rights to protection and safety, Party organisations, the government, specialised agencies and social organisations, especially at local level, should be fully and thoroughly aware of the significance of child protection, he stated.
He stressed the vitality of strict and full implementation of laws and policies related to the protection of children from violence and abuse, thus make sure children are safe.
"The training and providing of legal knowledge to the entire society on the caring, protection and support to children is crucial," said the PM.
He asked the heads of People's Committees at communes to appoint officials in charge of children protection, as so far, only 590 out of the total 11,162 communes, or about 5 percent, have appointed such a position.
The PM also required that research be conducted on the organisation and operation of a specialised team for children protection to be led by the Chair of the communal People's Committee, while localities must pay more attention to enhancing the law enforcement capacity and skills for officials charged with children protection work and allocate sufficient resource for the work.
The Ministry of Education and Training was asked to design programmes to train children in protecting themselves, while National Assembly agencies, deputies and People's Councils should tighten supervision of the enforcement of law and policies related to children protection as well as the allocation of resources for the work.
He also called on the whole society, from all-level administrations, socio-political organisations, mass organisations to communities and families to engage in preventing and fighting violence and abuse targeting children, and in creating a safe environment for children. 
On the occasion, the PM also requested the MOLISA to coordinate with other relevant agencies to promptly submit a proposal on mobilizing social resources for the caring of children from ethnic minority groups and mountainous regions.
The PM asked the Vietnam Fatherland Front's Central Committee to launch a campaign to support this group of children on the occasion of the Day for the Poor of Vietnam on October 17, 2018.
Preparations for World Economic Forum on ASEAN quickened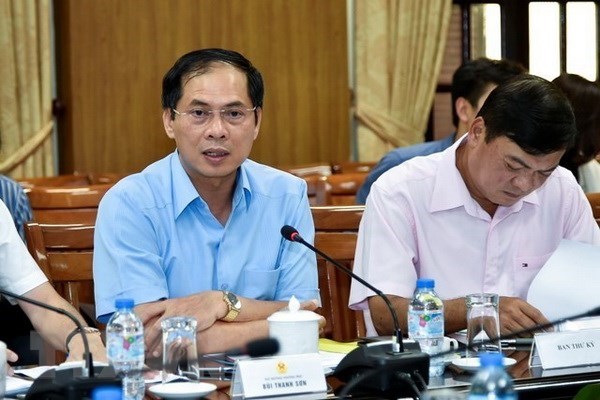 Permanent Deputy Minister of Foreign Affairs Bui Thanh Son 
The organising committee for the World Economic Forum on ASEAN (WEF ASEAN) convened its fourth meeting in Hanoi on August 6 to review the preparation for the event scheduled for September 11-13.
Permanent Deputy Minister of Foreign Affairs Bui Thanh Son, head of the committee, said the forum is one of the country's important external activities in 2018.
So far, leaders of most ASEAN countries and extra-bloc nations as well as representatives from major international organisations and global leading groups have affirmed to participate in the event, he revealed.
He urged the sub-committees to double efforts to complete the preparation of the forum in August to ensure its comprehensive success.
The official asked members of the organising committee, including representatives from Hanoi, Ho Chi Minh City, Da Nang and Quang Ninh, to obtain this opportunity to promote their localities' development potential in the fields of its strength while proactively boosting cooperation with countries and leading groups in the world to expand markets and draw investment.
The WEF ASEAN 2018 focuses on the theme "ASEAN 4.0: Entrepreneurship and the Fourth Industrial Revolution." 
The event will address strategic issues of national and regional significance under three thematic pillars – Entrepreneurship to craft new approaches to regional and global governance; Entrepreneurship to drive economic and business dynamism; and Entrepreneurship to shape social inclusion. It is expected to draw 800 – 1,000 delegates.
The forum will covers 60 sessions, including sideline activities such as a forum on innovative start-up, a festival on Vietnamese culture, a business summit, and a fact-finding tour to Ha Long Bay in the northeastern province of Quang Ninh.
Vice President presents gifts to disadvantaged families, children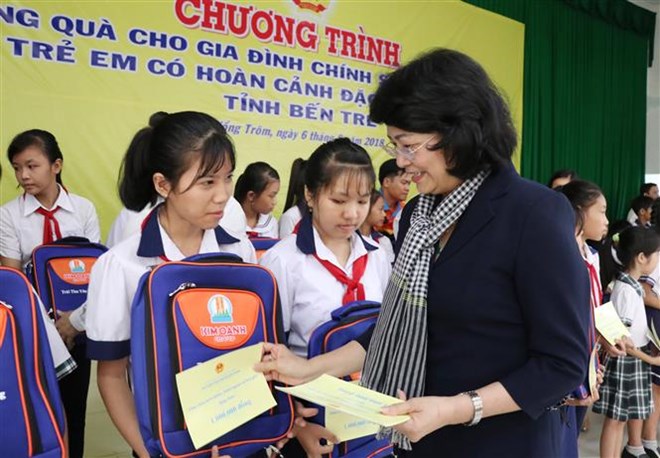 Vice President Dang Thi Ngoc Thinh on August 6 presents gifts of the National Fund for Vietnamese Children to disadvantaged families and children in the Mekong Delta province of Ben Tre. 
Vice President Dang Thi Ngoc Thinh on August 6 presented gifts of the National Fund for Vietnamese Children (NFVC) to policy beneficiaries, families of Agent Orange/Dioxin victims and poor children in the Mekong Delta province of Ben Tre.
A total of 50 gift packages were presented to policy beneficiaries and AO/Dioxin-affected families with difficult background in Giong Trom district while 200 poor children in Ba Tri and Giong Trom districts received gifts and school aids.
In addition, Thinh, who is also Chairwoman of the NFVC's Council, mobilized sponsors to donate 54,000 glasses of milk to local children and 50 million VND to the provincial Association of Victims of AO/Dioxin.
The vice president said despite Giong Trom's efforts in building new-style rural areas and improving social welfare and living standards of local people, the district's poverty rate remains relatively high with a small proportion of local households given access to clean water.
Thinh expected that in the time ahead, Ben Tre province and Giong Trom district in particular will strive harder to foster social-economic development and promote new-style rural building. 
She also wants the local authorities to pay more attention to the poor and policy beneficiaries to reduce the province's poverty rate. She looks forwards to Giong Trom soon earning the new-style rural status.
The leader also sent her wishes to the district's children, hoping that they will achieve better academic results and the gifts will motivate them study harder.
Giong Trom covers a total area of over 31,000 hectares, more than 80 percent of which is agricultural land. The district has a population of more than 168,700 people and is home to nearly 6,900 martyrs, about 3,500 wounded soldiers, more than 1,480 Heroic Vietnamese Mothers and 313 veterans affected by AO/Dioxin.
It has a total number of over 7,400 poor and near-poor households, accounting for 14.35 percent of the population.
ASEAN members meet on immigration issues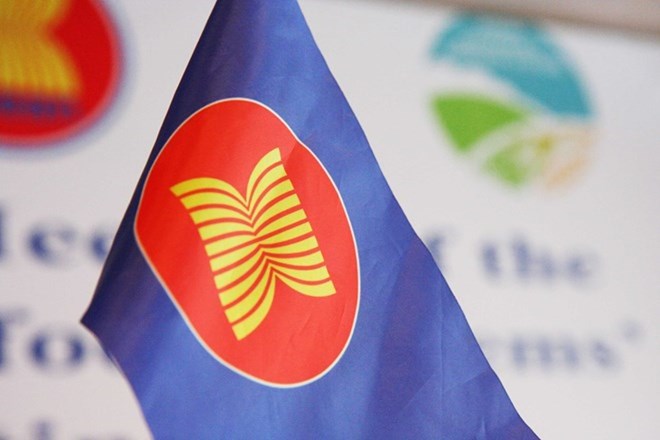 ASEAN Directors-General of Immigration Departments and Heads of Consular Affairs Divisions of the Ministries of Foreign Affairs (DGICM) convened their 22nd meeting in Kuala Lumpur, Malaysia, on August 6.
About 100 senior immigration officers from 10 ASEAN member countries are joining the DGICM meeting, themed 'Sovereignty and Security is Our Mission'. The four-day event aims at discussing solutions to immigration issues in the region and in border management.
Ahead of the meeting, Director-General of the Malaysian Immigration Department Mustafar Ali told Bernama news agency that ASEAN member countries can learn from Australia's experience on addressing immigration issues in the region.
He noted that there would be a session for Australia, a strategic partner of ASEAN, to share its experiences on capacity building in the field during the DGICM meeting.
He said Australia has advanced technologies in the field as well as in training and capacity building, which he hoped the country would share them with ASEAN.
In addition to Australia, countries like Singapore, Indonesia, Thailand, and the Philippines were also welcomed to share views on modern immigration management technology as well as their experiences in addressing human trafficking, the official said.
Mustafar said ASEAN member states need more bilateral and multilateral cooperation in tackling immigration issues like the way the existing network of the Association of Southeast Asian Nations Police (ASEANAPOL) is doing in combating trans-border crimes.