VietNamNet Bridge – Senior Leutenant General and Deputy Minister of Defence Nguyen Chi Vinh talks to a Vietnam News Agency correspondent in New Delhi about the recent India-Vietnam defence dialogue.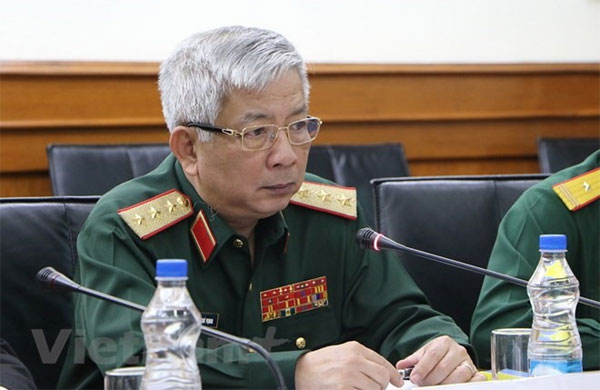 Nguyen Chi Vinh
Are there any differences between the previous national defence dialogues with the current dialogue between Vietnam and India?
The Vietnam–India comprehensive strategic partnership in the past two years has developed on the right track. In the first half of 2018, two high-ranking Vietnamese delegations – one led by President Tran Dai Quang and the other by Prime Minister Nguyen Xuan Phuc, visited India.
More recently, the Indian Defence Minister Nirmala Sitharaman paid a visit to Vietnam. During his talks with Vietnamese Minister of Defence Ngo Xuan Lich, the two sides reiterated their strong commitment to further promote the defence co-operation between the two nations.
And during my visit to India this time – from July 31 to August 2, for 11th the Indo-Vietnam defence dialogue, a key objective of the dialogue was to concretise commitments that have been reached between senior Vietnamese and Indian leaders, particularly commitments made by the two defence ministers to further promote the defence co-operation between the two countries in the new situation.
What were the major successes in the India-Vietnam national defence dialogue?
The list of India-Vietnam national defence co-operation is very rich and diverse. The two countries agreed to organise exchange visits between Vietnamese and Indian armed forces, including visits by senior leaders, between their armed forces as well as their co-operation in the national defence industry and high-tech. Of course, these co-operation activities have been discussed and agreed on by both Vietnamese and Indian senior leaders.
During our dialogue on national defence policy this time, the two sides agreed a rather specific co-operation programme in the next two years (2018-2019) and in the upcoming 3-5 years.
During our talks, the two sides agreed to keep informing each other on their respective country's strategic points of view as well as their national defence policy. The two countries also agreed to co-operate on a list of specific fields, including training, peace keeping forces, marine time co-operation, science and technology and others.
What was agreed upon during my visit to India was a reflection of the high political confidence between the two countries to further tighten their national defence co-operation.
What should the two countries do to further promote the comprehensive strategic partnership which was reached during the Vietnam visit by Indian Prime Minister Narendra Modi in September 2016?
The strategic confidence between Vietnam and India and between people of the two nations has reached a high level and has gone through a long history since late President Ho Chi Minh made a first visit to India 60 years ago.
However, whether that strategic confidence and political confidence will bring about a success or not still depends on efforts from all sectors politically and economically as well as the culture and society, national defence and security of each nation.
Between Vietnam and India, there are some differences in the working mechanism that the two nations should work together to iron out. I believe that if we work closely together and iron out the differences, we will achieve the objectives that we are both aiming at.
We should make joint efforts to develop our common plans. And this time, both Vietnam and India have reached agreements to jointly develop common plans in all areas and then submit to their superiors for approval. In my opinion, this is a new era in the Vietnam-India defence co-operation.
Source: VNS