Hanoi boosts cooperation with Finland, Sweden and Austria
At the working session with Deputy Mayor of Helsinki city Sanna Vesikansa (Source: http://hanoimoi.com.vn)
A high-level delegation from the capital city of Hanoi led by Vice Standing Secretary of the municipal Party Committee Ngo Thi Thanh Hang made a working trip to Finland, Sweden and Austria from May 31 to June 10.
In Finland, the delegation had working sessions with officials of Helsinki and the southern Ostrobothnia region on possibilities of cooperation between Hanoi and the localities.  
Deputy Mayor of Helsinki city Sanna Vesikansa highlighted the positive development in Vietnam-Finland relations over the past time and potential for cooperation between Hanoi and Helsinki in the future.
Hang took this occasion to brief the host about the achievements that Hanoi has gained in recent years and reiterated the city's policy to boost friendship and win-win cooperation with localities and international partners in the world, including those from Finland.
She noted that Hanoi has granted investment licences to four investment projects from Finland with total registered capital of 570,000 USD in information technology and commercial services.
Sanna Vesikansa expressed her willingness to share experience with and assist Hanoi in ensuring social welfare and improving public services.
The sound cooperation between the two capitals will make significant contributions to the overall development of the two countries, the two sides agreed.
Leaving Helsinki, the Hanoi delegation visited the southern Ostrobothnia region where they received warm welcome from regional council chairman Kai Potinen, regional governor Asko Peltola, and regional permanent deputy governor Antti Saartenoja.
At the meeting, the two sides reviewed the accomplishments that they gained over the past 10 years since the signing of the bilateral cooperation agreement.
Despite geographical distance, Hanoi and southern Ostrobothnia have carried out a number of effective cooperation activities, especially in the fields of culture-society, education-training and art exchanges.
Through the visit, the Hanoi delegation hopes to continuously increase cooperation and experience sharing with the Finnish region, not only in cultural exchanges, labour and education-training but also in other realms such as social welfare, trade and investment promotion, tourism, smart city, green technology, energy, and e-government.
The guests also had a meeting with Antti Rantakokko, president of the Finnish association of municipal mayors.
In 2006, as the Mayor of Kauhajoki city, Antti Rantakokko implemented a labour cooperation project with the Vietnamese capital, which brought 18 Hanoi workers to Finland.
The Hanoi delegation also visited some vocational training schools in Finland to seek stronger cooperation in education-training.
In Sweden, the Hanoi delegation had a working session with chairman of the council of Stockholm city Mats Berglund.
The host highlighted Stockholm's strengths in preserving and promoting cultural heritage values in association with tourism development, information technology, and environment.
He affirmed that Stockholm is ready to cooperate with and support Hanoi in these fields.
Hang said Hanoi wants to boost friendly cooperation with Stockholm and learn experience in urban development, cultural heritage preservation, urban planning and acceleration of bilateral cooperation projects.
She noted that Hanoi is home to 13 Swedish projects worth 6 million USD in information technology, consultation, construction, processing and manufacturing industries, and trade services.
External information helps promote Vietnam's integration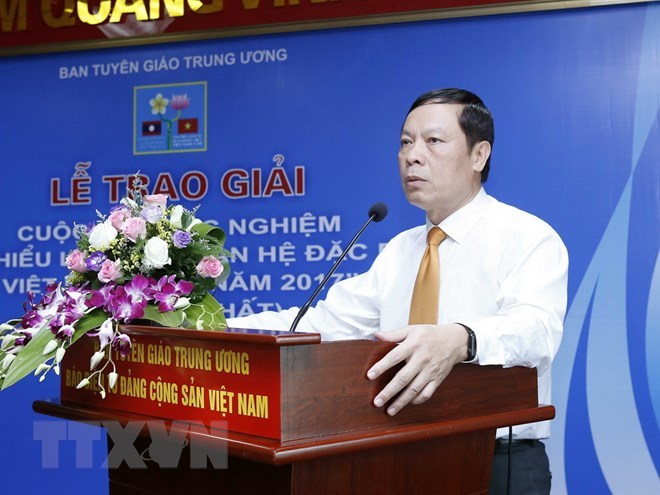 Deputy head of the Party Central Committee's Commission for Information and Education Pham Van Linh 
External information is one of the important channels to accelerate the global integration of Vietnam in a more proactive and effective manner.
Deputy head of the Party Central Committee's Commission for Information and Education Pham Van Linh made the remark in a recent interview granted to Vietnam News Agency on the occasion of the upcoming National External Information Service Awards 2017 ceremony in Hanoi on June 14.
He recognised the significant contributions of external information to the country's socio-economic development, especially after 30 years of reform.
The external service work disseminates information about the Party guidelines and the State's new policies to foreign readers as well as the achievements that Vietnam has gained over the past years.
It also promotes the image of Vietnam in the overseas Vietnamese communities and rejects erroneous information produced by hostile forces, he said.
The National External Information Service Awards 2017 received 930 entries, higher than the previous year (over 800) thanks to a number of important international events held in Vietnam in 2017, particularly the Asia-Pacific Economic Cooperation (APEC) Forum.
To attract more reporters and editors at home and abroad and international organisations to participate in the contest, Linh suggested increasing coordination between press agencies such as Vietnam News Agency (VNA), the Television of Vietnam (VTV), and the Voice of Vietnam (VOV).
The next-year awards should focus more on foreign media representative offices, embassies in Vietnam, and Vietnamese representative offices abroad, he recommended.
He noted that the country is preparing for the revision of the 10-year implementation of the Politburo's Conclusion No.16-KL/TW on the strategy for external information development in 2011-2020.
This is the first strategy for the external information that creates an important foundation for ministries, departments and localities to implement external information activities comprehensively and effectively, he said.
As the country's position has increased in the world, the external service work needs reforms in both form and content by applying new information technology to reach a larger number of readers in the most rapid and active way.
He called on setting up a development fund for external information as recommended in Conclusion 16 to disseminate important external activities to the whole society.
The National External Information Service Awards 2017 was launched by the Party Central Committee's Communication and Education Commission, the Steering Committee for External Information Service and Nhan dan newspaper.
Nhan dan newspaper is the standing agency of the awards 2017.
The competition, which is open to Vietnamese people, both at home and abroad, as well as foreigners, aims to nudge the image of Vietnam as a peaceful and proactive country to international friends.
It features seven categories, including print media, radio broadcast, television broadcast, electronic media, press photo, landscape photo and book.
Launched in 2014, the contest has drawn great attention from both domestic and foreign press organisations, publishers and reporters. The number of entries to competition has increased through years from 893 entries in 17 languages in 2016 compared to 515 works in 10 languages in 2014.
Sixty-nine press works were honoured at the National External Information Service Awards 2016, including six first prizes, 15 second prizes, 18 third prizes, and 30 consolation prizes.
Vietnam bolsters traditional friendship with Latvia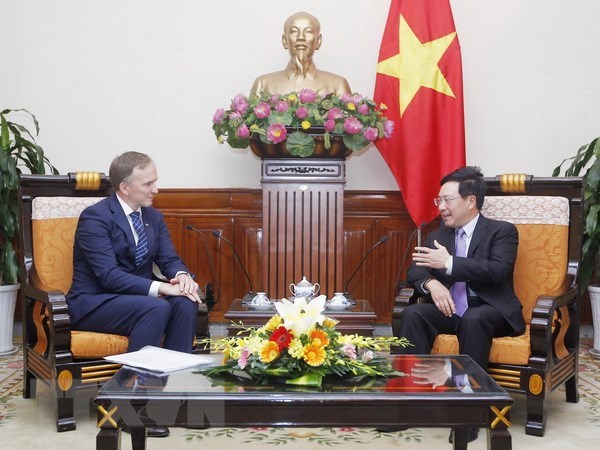 Deputy Prime Minister and Foreign Minister Pham Binh Minh (R) receives State Secretary for Foreign Affairs of Latvia Andrejs Pildegovics  
Vietnam always attaches importance to bolstering the traditional friendship and multi-dimensional cooperation with friends in the Baltic region, including Latvia, said Deputy Prime Minister and Foreign Minister Pham Binh Minh.
He made the statement at his reception in Hanoi on June 12 for State Secretary for Foreign Affairs of Latvia Andrejs Pildegovics who is in Vietnam for the foreign deputy ministerial-level political consultation.
Minh said he was glad to see developments in bilateral ties with Latvia, especially the official visit to the country by Vice State President Dang Thi Ngoc Thinh in October 2017, and hailed the two countries' effective coordination at multilateral forums.
He lauded positive developments in bilateral economic-trade cooperation while welcoming the countries' agreement to soon negotiating the signing of important cooperation documents like those on economics, education, visa exemption for diplomatic passport holders, and mutual legal support, in an effort to perfect a legal foundation to facilitate their cooperation across various realms.
Andrejs Pildegovics affirmed that Latvia prioritizes boosting the traditional friendship with Vietnam.
He also confirmed his country's commitment to supporting Vietnam to step up its cooperation with the European Union, including the early signing of the EU-Vietnam Free Trade Agreement (EVFTA), and working closely with Vietnam in regional and international forums.
Earlier on the day, Deputy Foreign Minister Bui Thanh Son and State Secretary for Foreign Affairs of Latvia Andrejs Pildegovics conducted the political consultation under an agreement between the two foreign ministries.
Vietnam is the biggest trade partner of Latvia in Southeast Asia, while Latvia is the biggest trade partner of Vietnam in the Baltic region. Their two-way trade turnover hit 166 million USD in 2017, ten times higher than that of 2010.
Council needs to heed culture-related issues: Deputy PM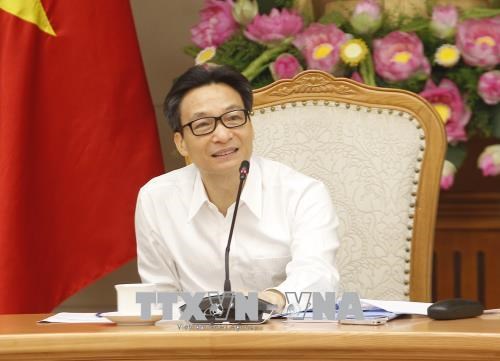 Deputy Prime Minister Vu Duc Dam
The National Council for Sustainable Development and Competitiveness Improvement should pay attention to issues related to culture and people like waste treatment and environmental hygiene, which is one of many criteria to assess the development level of a country.
Deputy Prime Minister Vu Duc Dam made the request in Hanoi on June 12 while chairing the council's meeting after its consolidation.
Regarding the education, Dam said in terms of sustainable development, apart from providing knowledge, attention should be paid to teaching how to be a human being. 
The council should focus on the issue, thus giving policy advice to the Government, he added. 
To take advantage of the fourth Industrial Revolution, aside from common tasks such as building e-government and publicity and transparency of all-level administrative agencies' activities, the council may choose some areas that have many opportunities for development like textile and logistics, according to Dam. 
The Deputy PM also gave specific opinions on the organisation and operation of committees under the council, emphasising the council's role of gathering core expert groups with professional qualifications and prestige to integrate science into the council's operation.
At the meeting, the council's members focused their discussion on the coordination and working mechanism of the council, especially in issues of public concern. 
Ministers of Natural Resources and Environment Tran Hong Ha suggested the council take practical activities on monthly, quarterly and yearly bases to give advice to the Prime Minister. 
Vice President of the Vietnam National Academy of Social Sciences Nguyen Quang Thuan stressed sustainable development is only achieved if the growth is rapid and the environment is protected, while the social problems are well resolved. 
He said that it is necessary to take advantage of new scientific and technological achievements and the process of labour restructuring, towards reducing the proportion of agricultural labour and increasing the number of labourers working in industry and service sectors. 
Vice Chairman of the Vietnam Association of Small and Medium-Sized Enterprises (VINASME) To Hoai Nam asked the council to pay attention to promoting untapped strengths, saying that Vietnam is lacking leading businesses that are capable of leading SMEs to create value chains, and building linkages among enterprises.  
Meanwhile, Deputy Minister of Culture, Sports and Tourism Le Khanh Hai underlined the need to enhance efforts to preserve and uphold cultural heritages, and build a healthy living environment.
Leaders congratulate Russian counterparts on Russia Day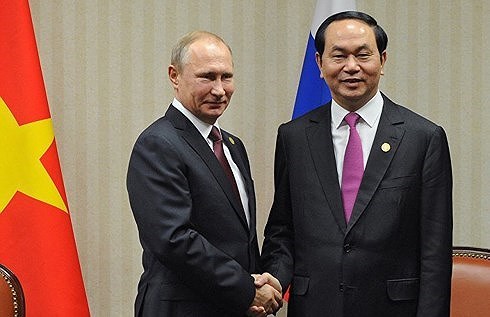 President Tran Dai Quang (right) and his Russian counterpart Vladimir (Photo: PutinSputnik)
President Tran Dai Quang on June 12 sent a congratulatory message to his Russian counterpart Vladimir Putin on the 28th anniversary of Russia Day (June 12, 1990-2018).
The same day, Prime Minister Nguyen Xuan Phuc also cabled a message of greetings to Russian Prime Minister Dmitry Medvedev.
On the occasion, Deputy Prime Minister and Foreign Minister Pham Binh Minh congratulated Russian Minister of Foreign Affairs Sergey Lavrov.
Vietnam and Russia set up diplomatic ties on January 30, 1950. Since then, the bilateral ties have been developing in various fields, especially politics, culture and economy. 
Two-way trade topped 5.3 billion USD in 2017, representing a year-on-year rise of 35 percent.
The two countries are working together to raise the figure to 10 billion USD by 2020.