VietNamNet Bridge – National Assembly Chairwoman Nguyen Thi Kim Ngan has called for calm in Vietnam and urged people to believe in the Party and State.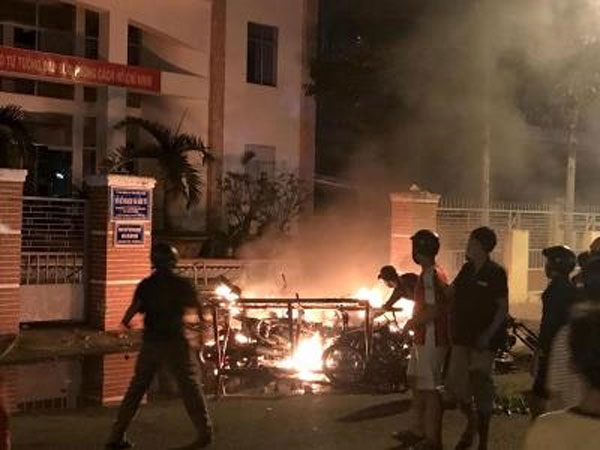 Extreme protesters of the draft law were reported to have thrown rocks and damaged police cars and the province's People's Committee office on Sunday.—VNA/VNS Photo Nguyen Thanh
She was speaking after a large number of people took the streets Sunday angry at the draft Law on Special Administrative and Economic Units, or the special economic zones (SEZs) bill.
Ngan insisted the Party and State would listen when the people speak.
She made the statement at the opening of Monday's National Assembly session after chaos broke out in the southern province of Binh Thuan as people called for the NA to postpone the bill.
If approved, the bill would allow foreign investors to lease land in SEZs for up to 99 years.
The NA Chairwoman said some people misunderstood the matter's nature and the bill's content, leading to such unwanted incidents.
It was reported rocks were thrown and damage caused to police cars and the province's People's Committee office on Sunday.
By 8am this morning, police was able to clear the traffic jam in the province's roads and vehicles were able to travel normally.
National Highway 1A across the province was jammed from the afternoon until late at night. Hundreds of traffic police were mobilised to prevent disruption. 
The incident started around 5pm on Sunday when a group of people gathered at Binh Thuan Province's People's Committee office and shouted out their objections to the SEZs bill.
Local police arrested several people on suspicion of being the ring leaders.
The crowds were dissolved by 2am this morning, all roads leading to the People's Committee office was put under control for further investigation.
Many areas in Tuy Phong District of the province were also crippled on Sunday, but were moved on by the early hours of today.
Local police said some officers were slightly injured during the incidents but confirmed no human loss was reported.
NA Chairwoman Ngan said the SEZs billed was supposed to be voted for approval at this NA session, but after listening to the public voice, the country's legislative body has announced that the draft law would be considered at the sixth National Assembly session, to commence in October.
Also on Monday session, 85 per cent of the NA deputies has voted to postpone the adoption of the bill.
Source: VNS