Vietnam-Japan relations are at their best point since the establishment of bilateral diplomatic ties 45 years ago, President Tran Dai Quang told Chairman of the Japanese Communist Party (JCP) Kazuo Shii during a reception in Tokyo on May 31.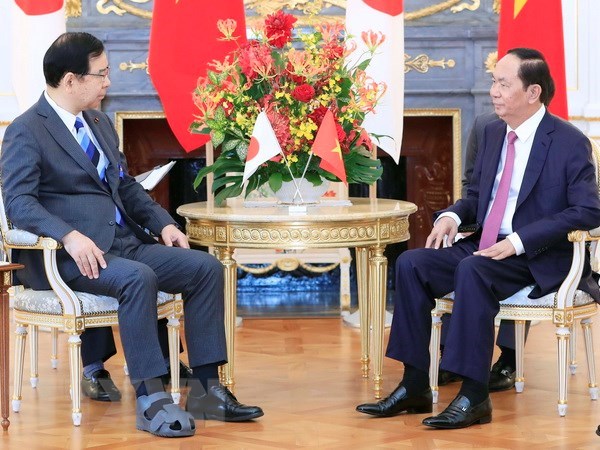 President Tran Dai Quang (R) and Chairman of the Japanese Communist Party Kazuo Shii 

Lauding the achievements of the JCP, especially the realisation of the resolution adopted by its 27th  Congress, President Quang believed that the JCP will continue to be an important political force, contributing to national construction and development. 
He wished that both sides would maintain regular exchange of visits and strengthen the friendship between the two parties, thereby reinforcing the friendship between the two countries' people and enriching the bilateral extensive strategic partnership. 
Shii, for his part, expressed his delight at the development of Vietnam – Japan ties over the past 45 years. He spoke highly of Vietnam's important role in ASEAN and its status as the 10th member ratifying the Treaty on the Prohibition of Nuclear Weapons. 
He expressed his wish that Vietnam would uphold its role for peace, stability, cooperation and development in the region and the world. 
The host hoped for tighter bonds between the two parties via visits and theoretical exchanges as well as their close coordination in celebrating the 45th anniversary of bilateral diplomatic ties. 
Host and guest also discussed regional and global issues, including the East Sea situation.
President receives Japan's Komeito Chief Representative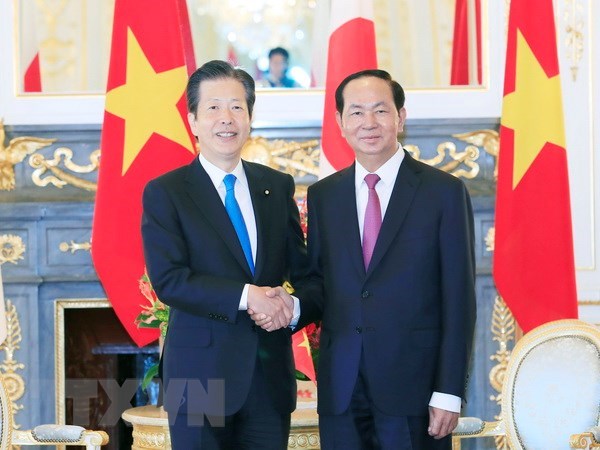 President Tran Dai Quang (R) meets with Chief Representative of Japan's Komeito Party Natsuo Yamaguchi in Tokyo on May 31 
President Tran Dai Quang met Chief Representative of Japan's Komeito Party Natsuo Yamaguchi in Tokyo on May 31 as part of his State visit to Japan.
President Quang expressed his delight at strongly developing relations in all fields, 45 years after the two countries established diplomatic ties.
Japan has been the leading economic partner, the biggest official development assistance provider and the second largest investor of Vietnam. It also ranks third in terms of the number of tourists to the Southeast Asian nation.
The two countries have coordinated closely at regional and international forums, reflected through the success of the APEC Economic Leaders' Week in Vietnam in 2017 and the signing of the Comprehensive and Progressive Agreement for Trans-Pacific Partnership (CPTPP), he stated.
President Quang thanked the party for supporting Vietnam's nation building cause and developing Vietnam-Japan relations.
He asked the party and Chief Representative Natsuo Yamaguchi to continue making contributions to the bilateral Extensive Strategic Partnership, particularly in economy, investment, human resources training, hi-tech agriculture and climate change response.
Welcoming the Vietnamese President, the Komeito leader said that the visit will contribute to strengthening rapport in all fields, especially in the context of the 45th anniversary of diplomatic ties.
He affirmed that his party will make efforts to deepen Japan-Vietnam relations in all aspects and coordinate with the Vietnamese side in regional and international issues of shared concern.
VNA