PM: Vietnam values traditional friendship with Egypt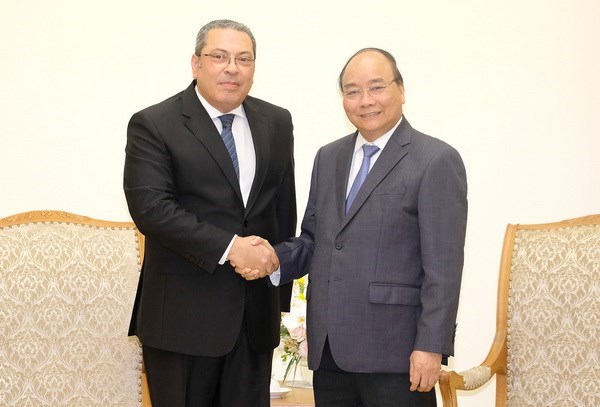 Prime Minister Nguyen Xuan Phuc (R) and Egyptian Ambassador to Vietnam Mahmoud Hassan Nayel 
The Vietnamese government always treasures traditional friendship with the government and people of Egypt – a country with long-lasting civilisation and world-renowned landmark destinations, Prime Minister Nguyen Xuan Phuc has said. 
The PM told newly-accredited Egyptian Ambassador to Vietnam Mahmoud Hassan Nayel at a reception in Hanoi on May 30 said Vietnam is strong in agricultural products such as tea, aquatic products, rice, cashew nuts, coffee, pepper, apparel and rubber so that the country wants to boost trade ties with Egypt in agriculture to lift two-way trade. 
He asked for promoting collaboration in oil and gas, and strengthening connections between the two countries' localities, firstly accelerating the signing of agreements on establishing friendship and cooperation between Hanoi and Cairo, and the northern province of Ninh Binh and Luxor city.
The host requested successfully holding friendship activities this year on the occasion of the 55th anniversary of bilateral diplomatic ties. 
Nayel, for his part, spoke highly of development achievements scored by the Vietnamese government and people in diverse areas. 
He suggested both sides facilitate the exchange of all-level visits while promoting State, parliamentary and people-to-people diplomacy, thereby raising mutual understanding between the two countries' people. 
Proposing further promotion of bilateral comprehensive partnership in various fields, the guest noted that fisheries and oil and gas are strengths of Egypt.
PM welcomes new Sudanese ambassador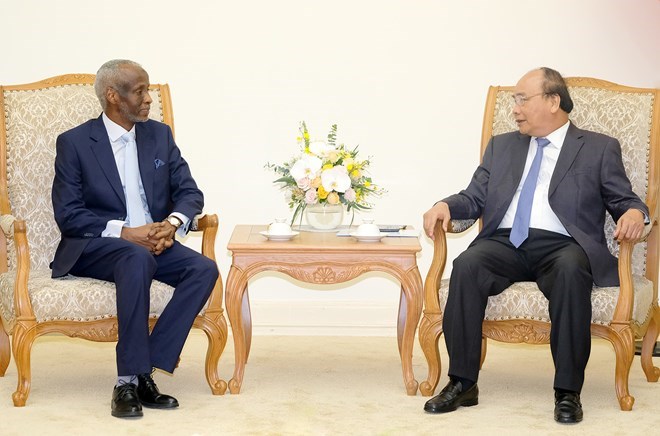 Prime Minister Nguyen Xuan Phuc on May 30 hosts a reception for newly-appointed Sudanese Ambassador to Vietnam Mohamed Elmurtada Mubarak Ismail Siraq. 
Prime Minister Nguyen Xuan Phuc on May 30 hosted a reception for newly-appointed Sudanese Ambassador to Vietnam Mohamed Elmurtada Mubarak Ismail Siraq.
Phuc congratulated the Sudanese diplomat on his new mission in Vietnam when the two countries' relations are advancing. He expected that the new ambassador will do his utmost to foster the bilateral ties during his term of office. 
The PM also conveyed his congratulations to Sudan over the lifting of US economic sanctions against the African country last year and hoped that it would be a good opportunity for Vietnam and Sudan to promote two-way trade.
Mohamed Elmurtada Mubarak Ismail Siraq expressed his honour to be the new Ambassador of Sudan to Vietnam, saying the Sudanese people admire Vietnam's socio-economic development and want to learn from its experience and promote cooperation with the Southeast Asian country. 
With huge potential in oil and gas, Sudan is ready to work with Vietnam in this industry which can benefit both sides, he said.
The ambassador said he wishes to receive support of PM Nguyen Xuan Phuc in his mission in Vietnam and hopes that the Government of Vietnam will soon send a delegation to Sudan to explore opportunities for partnership between the two sides.
PM Phuc affirmed that Vietnam treasures the traditional friendship and cooperation with the Government and people of Sudan and is delighted at what the Sudanese people have achieved during the national building and development.
He agreed that the two nations have much potential to further enhance the effectiveness of their cooperation, hereby increasing the two-way trade turnover. He wanted the ambassador to foster more trade promotion activities, increase exchange of business delegations and promote investment in the fields of telecommunications, agriculture, aquaculture and petroleum.
He suggested the two sides continue to work closely and support each other at international forums and soon sign agreements to improve legal framework for the bilateral cooperation.
Vietnam and Sudan set up diplomatic ties on August 26, 1969. Next year, the two countries will celebrate the 50th anniversary of their relations.
Vietnam hopes to receive help from Global Environment Fund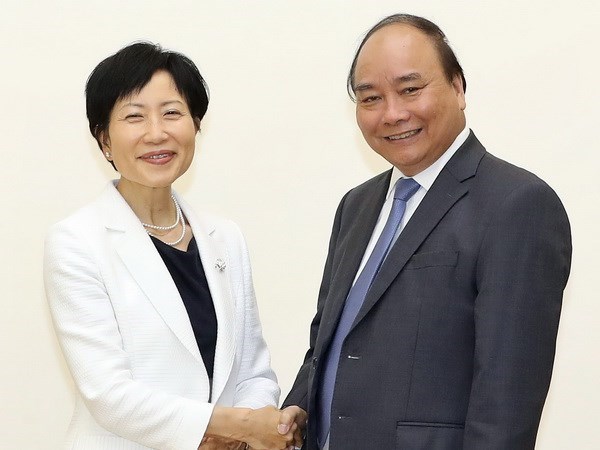 Prime Minister Nguyen Xuan Phuc (R) receives GEF CEO and Chairperson Naoko Ishii
Vietnam wants the Global Environment Fund (GEF) to continue helping Vietnam in well addressing environment-related issues, Prime Minister Nguyen Xuan Phuc said during his reception for GEF CEO and Chairperson Naoko Ishii in Hanoi on May 30.
He thanked the GEF Secretariat for selecting Vietnam as the host of the GEF's sixth Assembly, which, he said, showed the fund's appreciation of Vietnam and the country's role, contributions and commitments to joining hands with the international community to solve global environment issues.
Vietnam attaches importance to environment issues in national development, the PM affirmed, adding the country hopes to intensify cooperation with GEF.
Regarding the organisation of GEF Assembly and related events, the government leader told the guest that he had assigned the Ministry of Natural Resources and Environment to coordinate with GEF in preparation work.
He also expressed his hope that GEF maintains its assistance for Vietnam, especially in realising environment-related targets and Sustainable Development Goals, building sustainable financial policies and mechanisms to preserve biodiversity through the involvement of the community and the private sector, and transferring technology related to sustainable energy, and implementing measures to deal with climate change.
Vietnam also wishes to receive GEF's help in implementing forest ecosystem and production services, ensuring food security at the local level in the context of implementing the United Nations Convention to Combat Desertification, and boosting green economy opportunities.
The Government leader said he hopes GEF will implement projects to help Vietnam tackle ocean waste and address climate change and sea level rise challenges in the Mekong Delta.
Nakao Ishii said that GEF needs cooperation from foreign governments and businesses around the world in addressing global environmental issues.
She appreciated that Vietnam is seeing positive changes in tackling environmental issues, but still facing a number of challenges.
GEF commits to supporting Vietnam in addressing these challenges, she stated, stressing the important role of the Vietnamese Government, Prime Minister and Ministry of Natural Resources and Environment in the work.
VNA