New Zealand Governor-General supports cooperation with VN
Governor-General of New Zealand Patsy Reddy (second, right) and Vietnamese Ambassador Nguyen Viet Dung (second, left) pose for a photo at their recent meeting 


Governor-General of New Zealand Patsy Reddy has pledged to support the enhancement of the friendship and multifaceted cooperation with Vietnam, especially in sustainable development.

At a recent reception for outgoing Vietnamese Ambassador to New Zealand Nguyen Viet Dung, the Governor-General expressed her delight at the strong development of the two countries' comprehensive partnership. 

She praised the ambassador's contributions to consolidating and strengthening bilateral ties in a wide range of areas, especially politics-diplomacy, economy-trade, education-training, agriculture, tourism and health care.

She said she admires the achievements Vietnam has made in economic development over the past time.

For his part, Dung said that Vietnam and New Zealand have maintained the regular exchange of delegations at all levels and are implementing the action programme for 2017-2020.

The two countries have seen a strong growth of bilateral trade in recent years, with a record rise of 30 percent to 1.6 billion NZD (1.2 billion USD) last year.

These will help develop the bilateral cooperation in an intensive and practical manner, creating a premise for the upgrading of the relations to a strategic partnership in the time to come, he said.

On the occasion, the ambassador conveyed President Tran Dai Quang's invitation to the Governor-General to visit Vietnam in an appropriate time.

Earlier, Dung came to say goodbye to New Zealand Deputy Prime Minister and Foreign Minister Winston Peters.

Voters satisfied with anti-corruption outcomes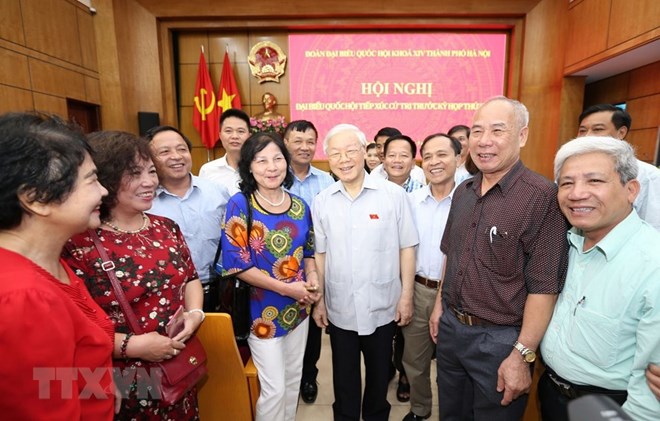 General Secretary of the Communist Party of Vietnam Central Committee Nguyen Phu Trong meets with voters in Ba Dinh and Hoan Kiem districts 
General Secretary of the Communist Party of Vietnam Central Committee Nguyen Phu Trong met with voters in Ba Dinh, Tay Ho and Hoan Kiem districts, Hanoi, on May 13 to inform them about the planned agenda of the 14th National Assembly's fifth session and listen to their opinions on a number of issues. 

Tran Quoc Hoan, a voter in Ba Dinh district, said he is delighted with achievements the country has recorded in socio-economic development and external affairs, helping improve the country's role and position in the international arena. 

He said serious corruption cases brought to light over the past time have demonstrated the Party's drastic actions against corruption and other bad deeds. 

Hoan also applauded outcomes of the seventh plenary session of the 12-tenure Party Central Committee Central Committee, which took place from May 7-12, with three important resolutions approved. 

He described the ideological, ethical and lifestyle degradation as a disease that has appeared for a long time and been identified as a threat to the existence of the Party and the regime. 

The disease must be prevented, he said, citing cases involving Trinh Xuan Thanh and other high-ranking police officers to clarify his view. 

Echoing Hoan's view, Nguyen Huy Yen, a voter in Ba Dinh district, stressed the determination and drastic actions taken by the Party to fight corruption and other bad deeds. 

The voter expressed his hope that the Party and State will take more drastic actions to combat corruption in order to create public trust and momentum for socio-economic development. 

Nguyen Khac Thinh from Ba Dinh district said voters agreed with a policy that the secretary of a party committee is not a local. It is necessary to have close regulations on the collection of vote of confidence for officials.

Voters also said that officials must be responsible for explaining the origins of their assets, ensuring openness and transparency.

Nguyen Duc Manh from Hoan Kiem district held that officials' assets should be publicised in their residential areas.

The people wish the Party and State to engage in corruption prevention, he said, stressing the need for effective measures to prevent any acts to revenge corruption denouncers and resolutely reclaim fishy assets.

Another voter from Hoan Kiem district, Pham Van Quang, said it is necessary to build strong and pure party cells in order to make the corruption fight more practical and effective. 

The revision of the Anti-corruption Law must be closely supervised and stricter sanctions need to be put into place while heads of agencies and units where corruption acts are detected must take the responsibility, said Nguyen Cong Hoa, another voter from Hoan Kiem district.

At the meetings, Hanoi voters pointed out many pressing issues that need to be addressed thoroughly, including deforestation, fire prevention, food safety, urban planning, and education-training.

Welcoming local residents' opinions, Party General Secretary Trong exchanged views on each issue mentioned, noting that these opinions are the basis for deputies to report to the NA and make efforts to solve problems.

With regard to voters' interest in the corruption fight, he said this is a critically important but also complicated work. The combat against corruption has gained initial important outcomes recently, a result unable to be achieved without people's support, which has consolidated the resolve to continue this fight.

He shared many participants' view that the corruption fight has become a trend, and no one can be an outsider of this trend.

However, there remains much to be done and stronger, persistent and resolute actions are needed to fight corruption and negative phenomena, especially at grassroots levels.

General Secretary Trong said it is necessary to promote the supervisory role of the NA, People's Councils and Party members to prevent corruption, he said, adding that firm and careful steps must be made in this work. 

He said the corruption fight must be carried out in association with the implementation of the resolution on organising a lean and efficient apparatus, issued at the sixth plenary session of the 12th-tenure Party Central Committee, the resolutions on the salary and social insurance policy reforms, issued at the freshly-concluded seventh plenum of the Party Central Committee, along with the resolution on personnel work.

If the fight against corruption, wastefulness and negative phenomena is successful, the Party will become pure and strong and its combat capability will be strengthened, the leader added.

Hai Phong voters voice trust in Party's leadership, Gov't steering role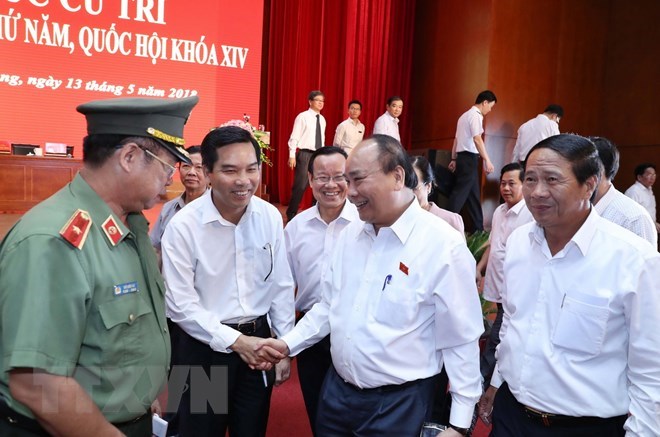 Prime Minister Nguyen Xuan Phuc (front, second, right) meets with voters of Hai Phong city on May 13 


Constituents in Hong Bang district, Hai Phong city, expressed their trust in the Party's leadership and the Government's steering role in national socio-economic issues while meeting with Prime Minister Nguyen Xuan Phuc and other National Assembly (NA) deputies of the northern city on May 13.

The meeting took place ahead of the fifth session of the 14th-tenure parliament, slated for later this month.

Local people applauded unceasing efforts by the PM and the Cabinet in building an incorruptible Government that acts for the sake of people and businesses.

Do Viet Hung, a resident in Quan Toan ward, voiced his delight at the national development in recent years thanks to the Party and the NA's leadership and the Government's drastic and effective actions. He noted that the PM and the Government have done a good job of managing and steering socio-economic aspects, firmly ensuring national defence-security, and enhancing investors' trust.

Welcoming strong moves to improve the business climate, voter Bui Cong Phu in Pham Hong Thai ward asked for more concrete policies to support start-ups, increase new enterprises and promote domestic firms' competitiveness.

Meanwhile, many participants spoke highly of the measures taken by the Central Steering Committee for Anti-Corruption, the NA, the Government, and especially Party General Secretary Nguyen Phu Trong to fight corruption since 2017.

Dong Xuan Hien, a voter in Hoang Van Thu ward, called on the NA to include more comprehensive and detailed regulations on measures to monitor officials' assets while revising the anti-corruption law.

At the meeting, PM Phuc appreciated local residents' opinions on various spheres. He informed about the freshly-concluded seventh plenary session of the 12th-tenure Party Central Committee, with the adoption of three important resolutions on building the cadre contingent, reforming the salary policy, and reforming the social insurance policy.

He said the approaching fifth session of the National Assembly will look into lawmaking, socio-economic affairs and many other important issues.

In the first four months of 2018, the macro-economy remained stable while inflation was under control when it grew by 1.34 percent and the consumer price index rose 2.8 percent year on year.

The PM said the Government is focusing on fine-tuning policies to better meet requirements of the socio-economic management and steering tasks.

Lauding local constituents' opinions on the anti-corruption determination and the settlement of serious cases, he said he and other NA deputies are also very interested in this matter and committed to conveying voters' corruption fighting spirit to the NA and the Government so as to better meet people's aspirations.

On behalf of NA deputies of Hai Phong, PM Phuc also fielded questions and opinions about mechanisms and policies for education, public investment, and funding for some projects, particularly the construction of a coastal road linking Hai Phong city and five northern provinces.

Vietnam attends international symposium on Marxism in Russia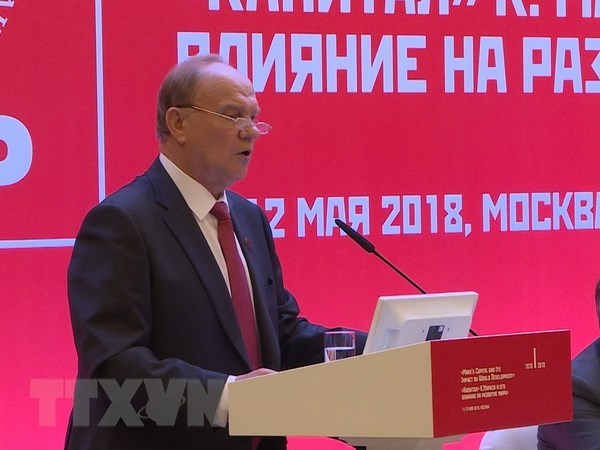 Leader of the Communist Party of the Russian Federation Gennady Zyuganov speaks at the event. 
The Communist Party of Vietnam (CPV)'s creative application and development of Marxism-Leninism to suit the country's situation has been introduced at a recent international symposium in Moscow, Russia. 
The Vietnamese delegation to the May 11-12 workshop on Karl Marx was led by Nguyen Tuan Phong, deputy head of the CPV Central Committee's Commission for External Relations. 
Marxism-Leninism and Ho Chi Minh Thought have become the ideological foundation of the CPV and served as the lodestar for Vietnam's revolution, the workshop heard. 
Representatives from other participating political parties and scientists applauded the leadership role of Marxism to the working class, as well as values of Karl Marx's ideological heritage. 
They underlined the need to employ and develop the Marxism-Leninism in a creative manner to suit the new era and situation in each country, emphasising that Marxism-Leninism has shed light on many present urgent issues in the world. 
The Communist Party of the Russian Federation highly valued the active participation of the Vietnamese delegation at the event.
While in Russia, the Vietnamese officials also attended a ceremony marking Marx's 200th birth anniversary (May 5).
Constitution Day of Poland marked in HCM City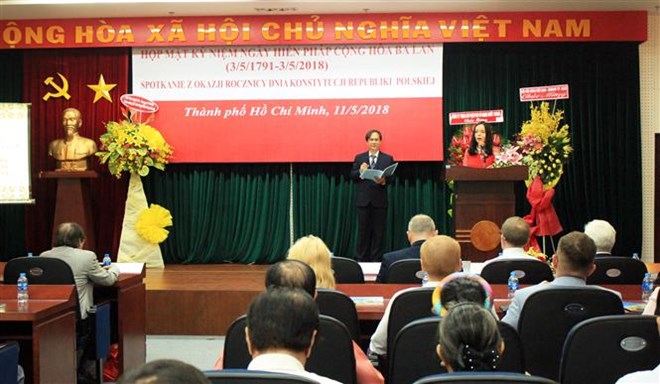 Poland's Constitution Day (May 3) was marked at a gathering in HCM City on May 11. 
Poland's Constitution Day (May 3) was marked at a gathering in HCM City on May 11 to strengthen solidarity, friendship and cooperation between Vietnamese and Polish people.

The event was held by the Ho Chi Minh City Union of Friendship Organisations (HUFO) and the Vietnam – Poland Friendship Association, with Polish Ambassador to Vietnam Barbara Szymanowska and deputy chairman of Wielkopolska province of Poland Maciej Sytek, who is on a visit to Vietnam, in attendance.

In her remarks, Szymanowska thanked HCM City authority, HUFO and Vietnam – Poland Friendship Association for their support for the Polish Embassy in successfully implementing many projects between Vietnam and Poland, contributing to the enhancement of mutual understanding, friendship and cooperation between the two countries.

She expected the strong bilateral relations will further expand and the two countries will continue cooperating to together build a better future for each side.

Congratulating his guests on the Constitution Day, President of the Vietnam – Poland Friendship Organisation Nguyen Dang Cuong highlighted the historic moment when Poland's Constitution of May 3, 1791, the first constitution of its kind in Europe, was adopted, marking the birth of many political concepts that still exist today.

Cuong recalled Poland's support for Vietnam in the country's struggle for national independence as well as today's development. The traditional ties have been nurtured by the two countries' leaders and people in multiple areas, including economics, shipbuilding, agriculture, forestry and aquaculture.

Swedish firms' successes contribute to Vietnam-Sweden ties
Deputy Prime Minister Vuong Dinh Hue (R) receives Swedish Ambassador to Vietnam Pereric Högberg on May 11 
Economic and trade ties are a highlight of the growing Vietnam-Sweden relationship in multiple spheres, which is partly attributable to successes of Swedish businesses in Vietnam like Comvik, said Deputy Prime Minister Vuong Dinh Hue.

Deputy PM Hue made the statement while receiving Swedish Ambassador to Vietnam Pereric Högberg and Chairman of Comvik International Vietnam AB M.A. Zaman in Hanoi on May 11.

Ambassador Högberg said the two countries boast fine relations in both partnerships and traditional ties. Sweden was the first Western European nation to set up relations with Vietnam, and the two sides will mark 50 years of their diplomatic ties in 2019. 

They have good connections not only between their Governments but also between their people. The Swedish Government is committed to helping Vietnamese people to gain more benefits, he noted.

He added in 2017, bilateral trade surged by a record of 50 percent from the previous year. Swedish companies have come to and operated in Vietnam for a long time. New firms have also poured new investments into Vietnam, including those in telecommunications – a successful cooperation area between the two countries.

For his part, Zaman said Comvik has had a successfully business partnership with the Vietnam Posts and Telecommunications Group (VNPT), and both share the same target of building the best new internet system in Asia.

Regarding the Vietnamese Government's equitisation of the Vietnam Mobile Telecom Services Company (Mobifone), he said with its existing strength in technology and capital, Comvik is ready to support the Government and take part in this equitisation process.

Comvik is working to shift to 6G technology, and Sweden is the world's leading country in this digital technology, Zaman said, adding that his firm wishes to have opportunities to invest in this field in Vietnam and turn Vietnam into a leading country in this new technology.

At the meeting, Deputy PM Hue described the business partnership between Comvik and VNPT as a successful cooperation in Vietnam's development as well as the local posts and telecom sector. Compared to in 1990, the telecom infrastructure in the country now is much different, which is partly thanks to the Comvik – VNPT cooperation, especially in providing technical support and improving governance capacity for VNPT and Mobifone.

Welcoming Comvik's intention to continue investing in Vietnam and participate in the equitisation of Mobifone, he said the Vietnamese Government has requested the Ministry of Information and Communications and Mobifone to prepare necessary conditions to carry out Mobifone's initial public offering (IPO) in 2019. This IPO will attract much interest from foreign investors.

The host also took this occasion to ask Ambassador Högberg to help attract more Swedish investments into Vietnam, noting that the Vietnamese Government will create the best possible conditions while unceasingly improving the national competitiveness and the business climate to facilitate enterprises' operations.
PM hopes for Vingroup's contributions to domestic auto industry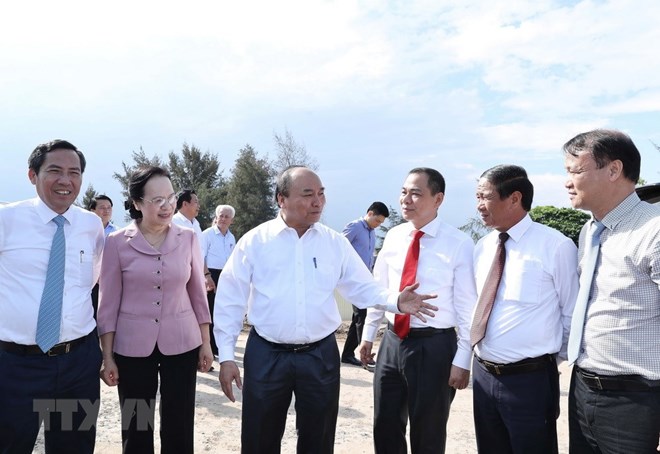 Prime Minister Nguyen Xuan Phuc (third, left) at the construction site of VinFast automobile and electric motorbike manufacturing complex 
Prime Minister Nguyen Xuan Phuc expressed his hope that Vingroup conglomerate will contribute to the development of the domestic automobile sector with the establishment of its VinFast automobile and electric motorbike manufacturing complex. 
During his field trip to the complex located at the Dinh Vu-Cat Hai industrial park in the northern port city of Hai Phong on May 13, the PM said Vingroup's auto production will help build a self-control economy for the country. 
Building a self-control economy is an important orientation set by the Party and the State, the leader stressed, saying he hopes that Vingroup will reap successes in this field as the conglomerate is on a right track. 
He lauded the group for breakthroughs it has made during the implementation of the project. 
Vingroup is expected to make public the first electronic motorbikes in September 2018. Meanwhile, its SUV and Sedan automobiles are scheduled to be introduced to the market in the second quarter of 2019. VinFast is expected to heat up the local market with electronic automobiles in the end of 2019.  
PM Phuc also applauded VinFast's efforts to build an ecological system for the domestic auto manufacturing sector by zoning off 70 hectares of land for a support industry area to attract factories specialising in producing spare parts, as well as its contributions to training Vietnamese workers. 
Eight companies have signed contracts with VinFast to set up factories in the area, with four of them invested by VinFast. 
Covering a total area of 335ha, VinFast is projected to be put into operation in June 2018. VinFast has negotiated and signed agreements with the world's leading companies to provide it with production lines, equipment and machines. 
Also on May 13, PM Phuc visited the construction site of Aeon Mall in Le Chan district of Hai Phong. Covering about 93,000 sq.m, the project is expected to be opened in 2020 and attract more than 13 visitors each year from Hai Phong and nearly Quang Ninh, Hai Duong and Thai Binh provinces.
This is the sixth Aeon Mall in Vietnam and the third of its kind in the northern region.
The same day, the Government leader also attended the inauguration of the Hai Phong International Container Terminal (HICT), a joint venture of the Saigon NewPort Corporation, the Mitsui O.S.K. Lines Co. Ltd of Japan, the Wan Hai Lines company of Taiwan (China), and Itochu Corporation of Japan.
HICT, located in Cat Hai town of Cat Hai district, is the first deep-water port in the northern key economic region of Vietnam. It is able to accommodate container ships of 14,000 TEUs and general cargo ships of 160,000 DWT, helping export-import goods of the northern region be directly shipped to Europe or America by parent vessels instead of being transited in another port like in the past.
The terminal is set to handle goods equivalent to 1.1 million TEUs each year.
Vietnamese, Cuban embassies in Argentina enhance friendship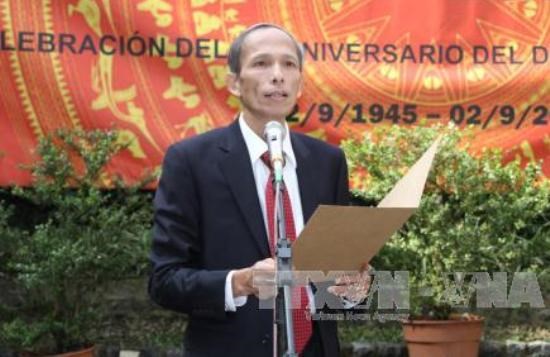 Vietnamese Ambassador to Argentina Dang Xuan Dung 
The Vietnamese and Cuban Embassies in Argentina held an exchange programme in Buenos Aires on May 12, aiming to help enhance the friendship and close-knit ties between the two nations. 
Speaking at the event, Vietnamese Ambassador Dang Xuan Dung affirmed the support of the Party, Government and people of Vietnam for Cuba's revolution and socio-economic model update, expressing his hope that Cuba will overcome all difficulties to succeed in socialism building.
He thanked the Cuban Party, Government and people for their valuable support, solidarity and fraternity with Vietnam during the country's past struggle for national independence as well as its present Doi Moi (Reform) cause and national construction. 
Vietnamese people also keep in mind Cuban leader Fidel Castro's statement that "For Vietnam, Cuba is willing to shed its blood," the diplomat stressed. 
For his part, Cuban Ambassador Orestes Perez Perez highlighted the model relationship between Vietnam and Cuba, which, he said, has been tested over the past decades. 
Applauding achievements Vietnam has recorded in economic development, the ambassador said Vietnam and Cuba will continue to stand side by side with each other in the path of socialism building despite changes of the era.
Vietnam hopes for enhanced cooperation with Brazil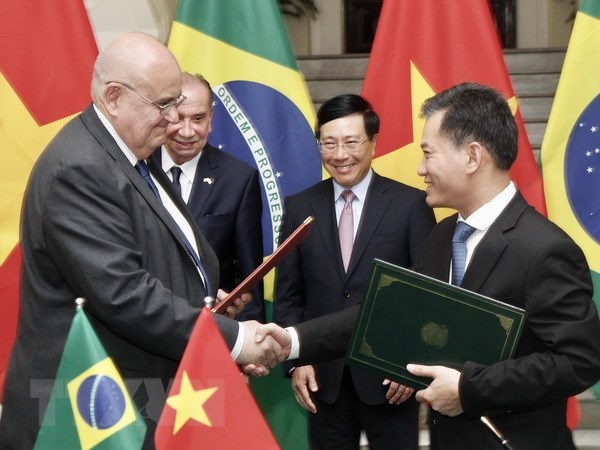 Deputy Prime Minister and Foreign Minister Pham Binh Minh and Brazilian Foreign Minister Nunes Ferreira witness the signing of the MoU between the Vietnam Union of Friendship Organizations and the Alexandre de Gusmao Foundation of Brazil  
Vietnam treasures the increasing role of Brazil in the international arena and wishes to further promote comprehensive cooperation with the country, said Deputy Prime Minister and Foreign Minister Pham Binh Minh. 
Minh made the statement during talks with Brazilian Foreign Minister Nunes Ferreira on May 12, who is on an official visit to Vietnam from May 12-13. 
The officials agreed that the Vietnam-Brazil relationship has recorded positive development across fields, especially in their closer political ties, which was showed through regular visits and meetings by senior leaders and ministry and sector officials. 
The economic ties between the two countries have also witnessed significant expansion, with two-way trade in 2017 hit 3.87 billion USD, up 12 times in the last decade. 
For his part, Nunes affirmed Brazil considers Vietnam as an important partner in Southeast Asia. 
He spoke highly Vietnam's increasing role and position in the region and the world, as well as his country's determination to strengthen and expand the friendship and all-around cooperation with Vietnam. 
Minh and Nunes underlined the need for the two sides to enhance exchange of visits, especially among senior leaders; promote the effective implementation of the Intergovernmental Committee on Economic, Trade, Scientific and Technological Cooperation; as well as maintain regular political consultations at deputy foreign minister level. 
They agreed to continue implementing signed cooperation agreement, while completing the legal framework for their bilateral cooperation in the fields of diplomacy, defence industry, trade, investment; and fostering connection and direct partnership among their business communities. 
The two sides also pledged to closely cooperate and support each other at international organisations and multilateral forums. 
The Vietnamese official took the occasion to urge Brazil to soon recognise Vietnam's market economy. 
The officials witnessed the signing of a Memorandum of Understanding on cooperation between the two countries' diplomatic academies, and those between the Vietnam Union of Friendship Organizations and the Alexandre de Gusmao Foundation of Brazil.