Vietnam will send 30 officers and 30 tonnes of equipment to UN Peacekeeping Forces in South Sudan, according to the Ministry of Defence.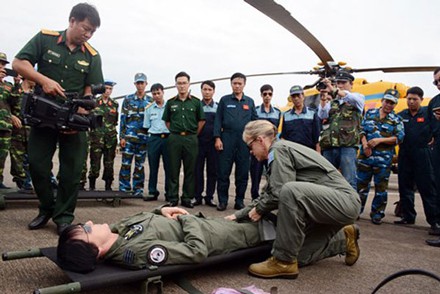 Australian expert training Vietnamese medics and soldiers on how to deal with injured people
The United Nations will help ship all equipment.
According to the Ministry of Defence, the equipment is used for running level 2 field hospitals. The US gave Vietnam equipment for field hospital worth USD2.47m and Australia gave two ambulances and a 240 kVA generator.
Vietnam has also bought more equipment for the hospital based on UN regulations.
"The peacekeeping centre in Vietnam is working with Military Hospital 175 to send the list of items to the UN for customs clearance and tax exemption in South Sudan," said Deputy Director of the Vietnam Peacekeeping Centre Colonel Nguyen Nhu Canh.
A team of 30 officers will arrive in Bentiu, South Sudan with 30 tonnes of commodities 10 days earlier than the main force.
Canh said the medics were carefully selected from many military hospitals, mostly from Military Hospital 175.
Dtinews