Deputy PM Truong Hoa Binh receives Myanmar border minister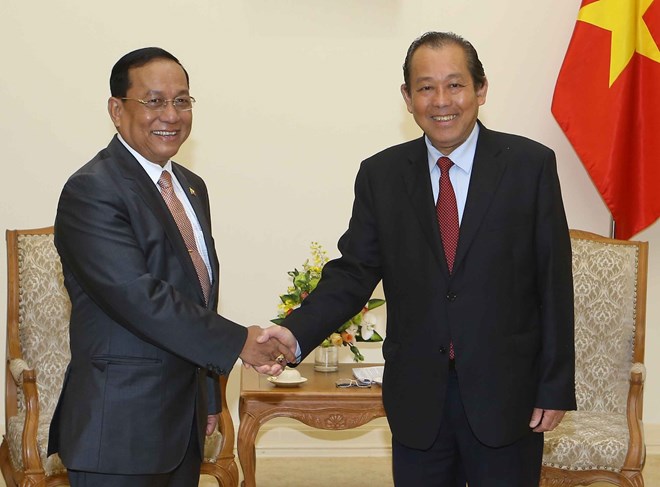 Deputy Prime Minister Truong Hoa Binh hosted a reception in Hanoi on March 13 for Myanmar Minister of Border Affairs Ye Aung, who is on a working visit to Vietnam to enhance cooperation in ethnic affairs.
Deputy PM Binh noted the two countries' similarities in culture, religion, history and geo-political position in Southeast Asia and their wish to promote solidarity and unanimity in the region. The foundation of their diplomatic ties, formed by late President Ho Chi Minh and leader Aung San on the basis of those similarities, has created prerequisites for the comprehensive cooperative partnership at present.
Vietnam always treasures the traditional friendship with Myanmar and wants to enhance bilateral cooperation in all aspects, he said.
He highly valued the socio-economic attainments that the Myanmar Government has gained, voicing his belief that the country's national reconciliation and harmonisation will be successful in the time ahead.
The policy system on national unity, religion and caring for ethnic groups of Vietnam has been increasingly perfected and proved effective, thereby promoting development and social progress so as to build a socialist Vietnam with wealthy people, strong country, and democratic, equal and civilized society, he noted.
The host official applauded the rapid and strong progress in the two countries' relations, particularly the elevation of their ties to a comprehensive cooperative partnership during a State visit to Myanmar by General Secretary of the Communist Party of Vietnam Nguyen Phu Trong in August 2017.
Bilateral trade reached 828.3 million USD in 2017, up 51 percent from 2016. Vietnam has become the 7th biggest foreign investor in Myanmar with 70 projects worth nearly 2 billion USD, he said, adding that these are important pre-conditions for expanding cooperation in the years to come.
For his part, Minister Ye Aung said Vietnam and Myanmar boast time-honoured relations which have been upgraded over time. They have partnered with each other in various fields such as economy, culture, defence and security.
He informed his host about the outcomes of his delegation's working visit to Vietnam, which aims to bolster affiliation in ethnic work. He added they learned much experience in the field from Vietnam.
He also expressed his hope that the cooperation between the Committee for Ethnic Minority Affairs of the Vietnamese Government and the Myanmar Ministry of Border Affairs, as well as the two countries' diplomatic connections will continue to flourish in the future.
Hanoi, Bulgaria's Sofia city intensify cooperation across fields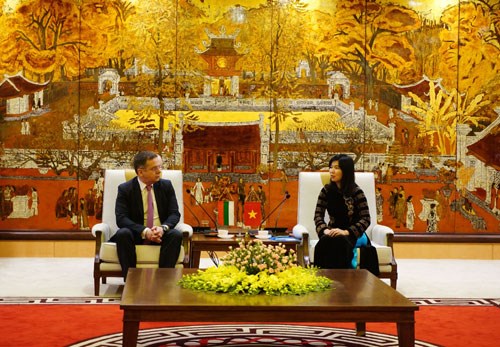 Vice Chairwoman of the Hanoi People's Council Phung Thi Hong Ha ​and Vice Mayor of Bulgaria's Sofia capital city Doncho Petrov Barbalov. 
Vice Chairwoman of the Hanoi People's Council Phung Thi Hong Ha has expressed her hope for stronger cooperation between Hanoi and Bulgaria's Sofia capital city in trade, investment and transport.

At a reception for Sofia's Vice Mayor Doncho Petrov Barbalov on March 12, Ha said many cooperation agreements were signed between hospitals of Hanoi and Sofia.  

The official informed her guest that the Bulgarian rose festival was held in Hanoi from March 8-11, attracting crowds of Vietnamese and foreigners. 

Ha said she hopes Barbalov and his entourage will use the occasion to explore Hanoi, especially its UNESCO-recognised sites, craft villages and cuisine. 

For his part, Barbalov said such programmes as the recent Bulgaria rose festival have created a foundation for Hanoi and Sofia, and the two countries to enhance their partnerships in trade and tourism. 

The Vice Mayor called on the two sides to step up their collaboration in transport, environmental hygiene, health care, education and tourism.

HCM City, Phnom Penh seek stronger cooperation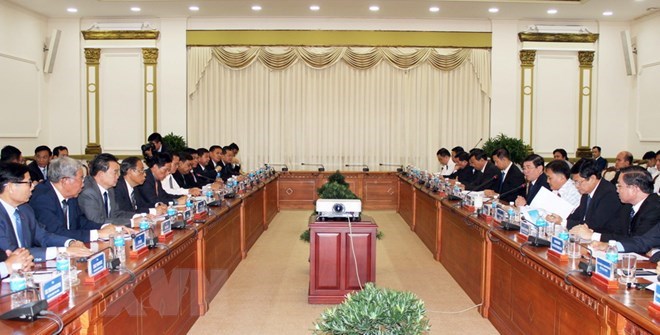 At the talks. 
Ho Chi Minh City will do its utmost to help the Cambodian capital city of Phnom Penh deal with issues regarding urban transport planning and waste treatment, said Chairman of the HCM City People's Committee Nguyen Thanh Phong. 

During his talks with Phnom Penh Governor Khuong Sreng in HCM City on March 12, Phong said the Vietnamese southern metropolis will enhance its cooperation with Phnom Penh in education-training, health care, trade promotion and investment attraction. 

For his part, Khuong Sreng said environmental pollution, urban waste and the rapid increase of private transport means are major challenges facing Phnom Penh during the process of urban development. 

Mentioning the Cho Ray-Phnom Penh Hospital, the official noted that the Phnom Penh authority stands ready to create the best possible conditions for HCM City investors to handle their problems, including how to improve the efficiency of the hospital, which is regarded as a symbol of cooperation and friendship between the two localities. 

At the talks, representatives from departments and agencies of HCM City and Phnom Penh discussed issues relating to transport management, waste treatment, urban planning and investment attraction.

Over the past years, trade promotion activities and exchanges between departments and agencies of HCM City and Phnom Penh have been held regularly, contributing to consolidating cooperation and friendship between the two localities.

Deputy PM welcomes Jardines Matheson Group's Chairman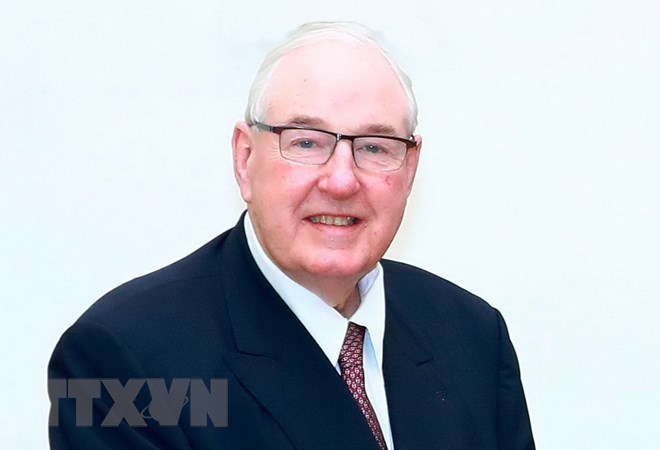 Henry Keswich, Chairman of the UK's Jardines Matheson Group 
The Vietnamese Government will work to ensure macro-economic stability and create a favourable business environment in conformity with international standards and practices, said Deputy Prime Minister Vuong Dinh Hue.

Hue made the statement during his reception in Hanoi on March 12 for Henry Keswich, Chairman of the UK's Jardines Matheson Group – a multi-sectoral and multi-national group which has been present in Vietnam for over 20 years and is holding 10 percent of the chartered capital of Vinamilk, 25 percent of capital of Truong Hai Auto Corporation, and 23 percent of the Refrigeration Electrical Engineering Corporation (REE).

He asked the UK group to pay attention to developing such existing fields as milk products, automobile, machinery, construction, real estate, and finance and insurance, and expand presence in the State-owned enterprise (SOE) and credit institution restructuring in Vietnam.

The expansion of investment in Vietnam will benefit Jardines Matheson as the country has been a member of more than 10 free trade agreements, he affirmed.

Henry Keswich expressed his interest in the equitisation and divestment of Vietnamese SOEs, hoping to participate in this field.

He pledged to help Vietnam develop its capital market with high-level services in the time to come.

Senior officials discuss preparations for 6th GMS Summit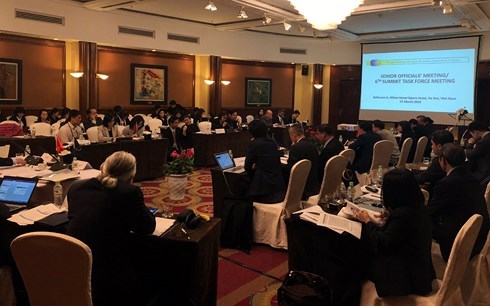 An overview of the meeting (Source: vov.vn)
Senior officials of the Greater Mekong Sub-region (GMS), including Cambodia, Laos, Myanmar, Thailand, China and Vietnam, and representatives from the Asia Development Bank gathered in Hanoi on March 12 to discuss preparations for the sixth GMS Summit slated for later this month.

At the meeting, participants exchanged views on the summit's agenda, contents of documents to be submitted to the countries' leaders and preparations related to reception, logistics and media.

GMS was established in 1992 as an initiative of the ADB. The GMS Cooperation Programme is the most complete cooperation programme that involves Vietnam, Laos, Cambodia, Thailand, Myanmar, and China's Yunnan and Guangxi provinces. The programme prioritises infrastructure development, energy, telecommunication, tourism, trade-investment, human resources, and environment.

To realise the common goal of turning the GMS into a prosperous, integrated and harmonious region, leaders of the GMS countries approved a 10-year strategic framework at the fourth GMS Summit in the Philippines in 2011, making it a foundation for GMS cooperation orientations from 2012 to 2022 to boost regional and extra-regional integration and cooperation.

Vietnam has participated actively in the GMS economic cooperation initiative since its establishment. The country's participation has brought about positive results in economic development and poverty reduction. As of December 2016, cooperation projects within the GMS framework were valued at 5.63 billion USD, of which transport accounted for 87 percent and urban development 7.9 percent.-

CPV joins political parties seminar in Mexico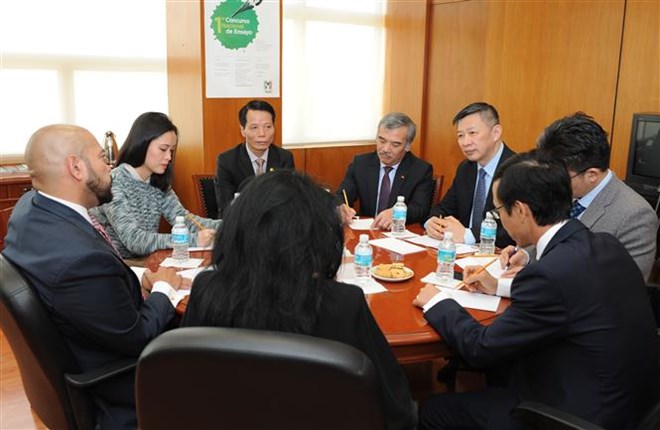 The Vietnamese delegation led by deputy head of the CPV Central Committee's Commission for External Affairs Nguyen Tuan Phong holds talks with Secretary in charge of foreign affairs of the Institutional Revolutionary Party (PRI) Arnulfo Valdivia Machuca 

A delegation of the Communist Party of Vietnam led by deputy head of the CPV Central Committee's Commission for External Affairs Nguyen Tuan Phong attended the 22nd International Seminar themed "Political Parties and a New Society" in Mexico from March 8-10. 

In his opening speech, Phong spoke highly of efforts made by the Mexico's Labour Party (PT) in organising the seminar, which he said is important for left-wing and progressive forces in Latin America and around the world. 

He expressed his belief that the event will significantly contribute to reinforcing the unity of left-wing and progressive parties in Latin America. 

The Vietnamese official took the occasion to brief participants on Vietnam's situation, especially achievements in Party building and strengthening the Party's leadership. 

PT Secretary General Alberto Anaya congratulated Vietnam on its socio-economic attainments during the over 30-year renewal (Doi moi) process under the leadership of the CPV. 

He also underlined the increasing role played by Vietnam in the international arena, expressing his hope to enhance the traditional friendship between the two Parties and countries. 

Participants to the seminar focused on analysing and assessing regional issues, and discussing measures to promote socio-economic development and political stability in the region. 

During their stay, the Vietnamese delegation held talks with PT Secretary General Alberto Anaya and Secretary in charge of foreign affairs of the Institutional Revolutionary Party (PRI) Arnulfo Valdivia Machuca. They had meetings with delegations of the Communist Party of Cuba, the Sandinista National Liberation Front (FSLN) Party of Nicaragua, the Broad Front (FA) Party of Uruguay and the Communist Party of the Russian Federation (KPRF), among others. 

The delegation paid a floral tribute to late President Ho Chi Minh at his statue in Mexico City. Vietnamese Ambassador to Mexico Nguyen Hoai Duong joined the delegation's activities.