VietNamNet Bridge – Following impressive GDP growth of 6.81 per cent in 2017, the government has released a set of measures and priorities to achieve socio-economic development targets in 2018.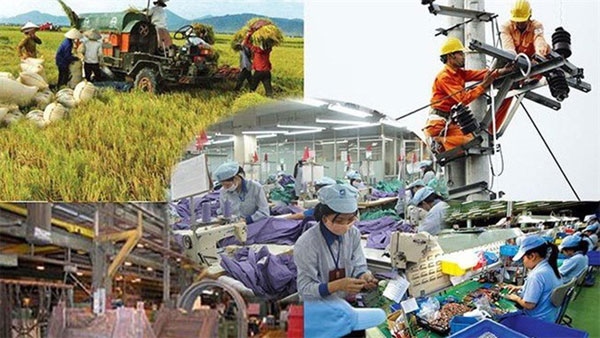 Following impressive GDP growth of 6.81 per cent in 2017, the government has released a set of measures and priorities to achieve socio-economic development targets in 2018. — Photo vneconomy.vn
With the motto "Discipline, integrity, action, creativity, efficiency," the Vietnamese government aims to ensure macroeconomic stability, reform growth models in all economic sectors towards improved productivity, efficiency and competitiveness and encourage start-ups and creativity. Corruption and wastefulness will also be tackled with increased efforts in the new year. Climate change issues and the prevention and mitigation of natural disasters are also high on the government's agenda.
Similar to last year's original target, the government will try to achieve 6.7 per cent in GDP growth in 2018 and keep the Consumer Price Index (CPI) growth below 4 per cent.
Resolution No 01 delineates guidelines for stricter 'financial discipline' to prevent or harshly punish trade frauds, tax evasion or transfer pricing. The government aims to cut tax debt to below 5 per cent of planned State revenues and increase revenues by 3 per cent compared to the National Assembly's set target of VND1,523.2 trillion (US$58.44 billion). To alleviate strains on the State budget, low priority projects will be put on hold and the purchase of public-use cars and expensive machineries will be restricted. The Government will also implement a cutback on conferences, meetings and overseas business trips.
The resolution also asks all ministries and state agencies to "better manage and efficiently make use of public assets and public debts," as the Government aims to keep public debt at 63.9 per cent of its GDP, with Government debt comprising 52.5 per cent of the total and foreign debt 47.6 per cent.
Public-private partnerships, hailed in recent times as a way to satisfy the growing demands for infrastructure development, especially BOT transport projects, will be put under tighter control.
The government also aims to achieve 8-10 per cent growth in trade turnover compared to 2017, which saw record-breaking exports, and maintain a trade deficit of below three per cent.
Administrative reforms will also be a priority. These include cutting red tape for business and investment activities by 50 per cent. Dialogues with private enterprises will be held regularly to receive their feedback. The government aims to put Vietnam in the top four in ASEAN in terms of competitiveness and business environment by the end of 2018.
To address stagnant productivity, one of the pressing ailments of the country, the government will study and develop a national programme on improving productivity, boost application of science and technology as well as vocational training and improve State management and business management, all aimed at achieving a 6 per cent increase in productivity for the year.
Vietnam set a target of 3 per cent growth for the agriculture sector, with exports hitting $36-37 billion. The industry and construction sector, on the other hand, is expected to expand by 7.7 per cent (7.3 per cent growth for industry, and 9.2 per cent for construction). Fifteen million foreign arrivals are forecast as tourism is made a priority area in the service sector and is expected to rise by 7.4 per cent.
Social welfare targets
In 2018, Vietnam aims to reduce the number of poor households by 1-1.5 per cent (according to the multidimensional poverty index) and the number of poor communes by 4 per cent.
Social housing and housing for low-income people will continue to be a focus in the year.
In terms of healthcare, it is expected that by the end of 2018, 88.5 per cent of the population will be covered under the government-sponsored health insurance plan. Overcrowding in central level hospitals will be addressed, with a target of ensuring 26 beds for every 10,000 people.
Regarding education, quality private schools are encouraged and more autonomy and accountability are granted for universities and colleges.
Measures will be undertaken to "take advantage of great opportunities afforded by the Industry 4.0," including mechanisms and policies that can "catch up with digital economy and smart industry". The Government aims to develop a workforce and infrastructure that can meet the demands of the digital era, develop a comprehensive creative start-up ecosystem in all sectors and establish support (both technical and credits) for businesses participating in the application, research & development and transfer of key technologies. A national key programme on the fourth industrial revolution will also be developed.
Under the resolution, Vietnam will continue to participate actively and effectively in world affairs, with a focus on preparations for its presidency of the ASEAN 2020, Vietnam's candidature for a non-permanent member seat on the United Nations Security Council for the 2020-2021 term and successfully carrying out duties as a member of the United Nations Economic and Social Council (MDG) 2016 - 2018 and the UNESCO Executive Board 2015 – 2019. It will also perform commitments made at APEC 2017, especially the initiatives proposed by Vietnam and adopted during the APEC 2017 Summit week. 
Source: VNS