Vietnamese Deputy Minister of Foreign Affairs Vu Hong Nam suggested Vietnam and Cambodia join hands in aquaculture when visiting Kampong Chhnang, one of the five Cambodian provinces adjacent to Tonle Sap Lake.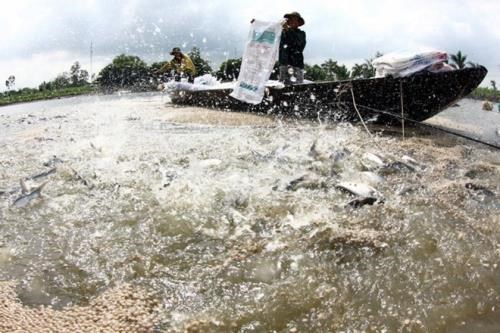 Vietnamese Deputy Foreign Minister Vu Hong Nam has suggested Vietnam and Cambodia join hands in aquaculture
At a working session with Kampong Chhnang's Governor Chhua Channdoeun on September 14, Nam highlighted the province's great potential for aquaculture, the field where Vietnam has technologies and experience. 
The bilateral aquaculture collaboration is expected to help Cambodia reach its targets of promoting economic development, ensuring local people's stable life, protecting the environment, the official said. 
Chhua Channdoeun credited attention and support of Vietnamese ministries, agencies and localities to Kampong Chhnang in particular and Cambodia in general, which, he said, has given a facelift to the province and the country as well. 
He called on Vietnam to increase its investment in and support to Cambodia and Kampong Chhnang in areas of the country's strengths, in order to promote the relationship between the two nations. 
Earlier the same day, Nam and his entourage presented 800 gifts to overseas Vietnamese and Cambodian people who are living in difficult circumstances in Boribo district. 
They are on a working trip to Cambodian provinces around Tonle Sap Lake and the coastal province of Preah Sihanouk from September 11-17, in a bid to seek investment opportunities for Vietnamese businesses. 
They are scheduled to visit Pursat province on September 15.
HCM City ready to boost ties among Vietnam, Laos, Cambodia women
Ho Chi Minh City is ready to serve as a venue for cooperation programmes of women of Vietnam, Laos and Cambodia, Secretary of the municipal Party Committee Nguyen Thien Nhan told the countries' women representatives on September 14.
The countries' high-ranking delegations are in HCM City for the Vietnam-Laos-Cambodia women's forum on promoting friendship and cooperation to help realise the Sustainable Development Goals until 2030.
Receiving the delegates, Secretary Nhan hailed the achievements and contributions by the countries' women to their respective nations, applauding the initiative to organise the forum, which shows the long-standing solidarity among the three countries' women.
He added his city is willing to help reinforce the solidarity and friendship among women as well as people of the countries.
On behalf of the delegations, President of the Vietnam Women's Union Central Committee Nguyen Thi Thu Ha affirmed that women of Vietnam, Laos and Cambodia are going to enhance exchanges, cooperation, education on the traditional solidarity and experience sharing, thus contributing to the three countries' friendship.
Cambodian Deputy Prime Minister Men Sam An, who is also head of the Cambodian Women for Peace and Development Association, and President of the Lao Women's Union Inlavanh Keobouphanh appreciated HCM City's support. They asked the southern city of Vietnam to continue assisting the three countries' women to carry out exchanges, share experience and promote women's role in each nation's development.
The Vietnam-Laos-Cambodia women's forum is scheduled to open in HCM City on September 15 morning.
VNA