The first official visit to Laos by Nguyen Xuan Phuc in his capacity as Vietnamese Prime Minister from April 26-27 is set to solidify the countries' cooperation, which has been growing over the last 55 years.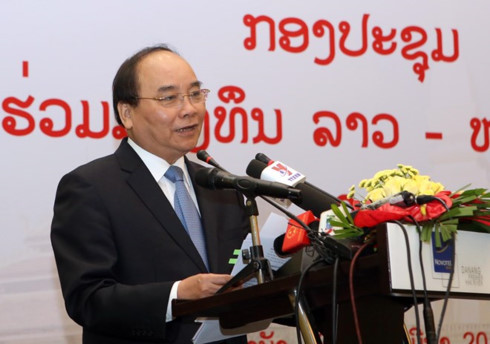 Vietnam and Laos established their diplomatic relationship on September 5, 1962. 
Since then, they have maintained bilateral cooperation mechanisms such as the annual meeting of the Intergovernmental Committee on bilateral cooperation, with the most recent – the 39th meeting – held on February 8, 2017. They have also held mutual visits at all levels, with 370 delegations exchanged in 2016.
The two sides have also intensified diplomatic ties by initiating the annual dialogue between their foreign ministers in December 2014 and the political consultation between deputy foreign ministers in July 2015.
As of the end of February 2017, Vietnam had 408 projects with total capital of about 3.7 billion USD in Laos. Many of them have proved profitable, contributing to both nations' development and creating jobs in Laos.
The countries signed a new trade agreement in March 2015 and a cross-border trade agreement in June the same year. Bilateral trade reached 823 million USD in 2016.
Security-defence cooperation has been reinforced in all aspects, especially personnel training.
Meanwhile, a project on upgrading the border marker system along the shared borderline was completed. The two countries also inked a protocol on the Vietnam-Laos border and border markers and have implemented the two Governments' agreement on tackling unplanned migration and unregistered marriage in border areas.
They have also done a good job of searching for and repatriating the remains of Vietnam's soldiers. In the 2015-2016 dry season, 233 Vietnamese martyrs in Laos were repatriated.
The two neighbours have accelerated transport connectivity projects within the framework of bilateral cooperation and the Greater Mekong Subregion.
A memorandum of understanding on transport cooperation strategy for 2016-2025 was signed between the two Governments in September 2015. They are also considering the application of a "one-stop shop" model at more border gates.
In the 2015-2016 academic year, Vietnam gave 1,000 scholarships to Laos, which in turn granted 60 scholarships to Vietnam.
The countries have enjoyed mutual support at regional and international forums, coordinated with other member nations to build the ASEAN Community, and helped maintain ASEAN's unity in the region's strategic issues.
VNA