Vietnam and Thailand convened their 11th bilateral conference on drug prevention and control cooperation in the central coastal city of Da Nang on April 24.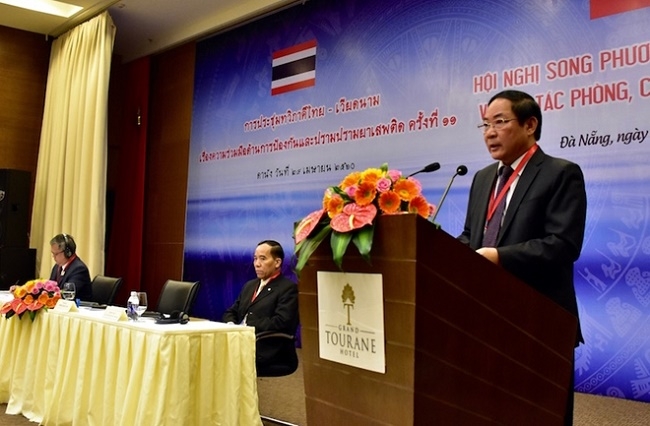 Lieut. Gen. Dong Dai Loc speaks at the conference.
The Vietnamese side was led by Lieut. Gen. Dong Dai Loc, Deputy Director of the General Police Department under the Ministry of Public Security, while Secretary General of the Thai Office of the Narcotics Control Board, Sirinya Sitdhichai, headed the Thai delegation.
In their speeches, both Loc and Sitdhichai emphasised the importance of cooperation in drug prevention and combat between Vietnam and Thailand in particularly and between ASEAN member-nations as a whole.
According to the General Police Department, drug remains a pressing issue in many Southeast Asian countries, with Vietnam and Thailand as those in the area, directly impacted by the narcotic situation.
In the spirit of the agreement on bilateral collaboration in drug prevention and control signed between the Vietnamese and Thai governments in 1998, over the past years, the two countries have been fostering comprehensive cooperation with a number of activities, including the regular exchanges of delegations, the sharing of information and the detention of illegal drug buyers, traders and transporters.
Alongside bilateral cooperation, Vietnam and Thailand have actively supported each other on multilateral forums.
At the conference, delegates discussed and agreed to strengthen the exchange of information on new types of narcotics, drug trading and transporting routes related to the two countries, and tricks to trade in, carry and hide narcotics.
They also reached consensus on regular collaboration in investigation and verification of information related to drug crime, and the enhancement of training, consultation, research and learning from each other in drug prevention and combat.
On the occasion, the Thai side donated some narcotics detection equipment and quick narcotics test kits.
Nhan Dan