VietNamNet Bridge – The Government Inspectorate is collecting opinions from Ministries and sectors to fine-tune the draft revised anti-corruption law. The drive demonstrates the Vietnamese Party and government's strong determination to combat corruption.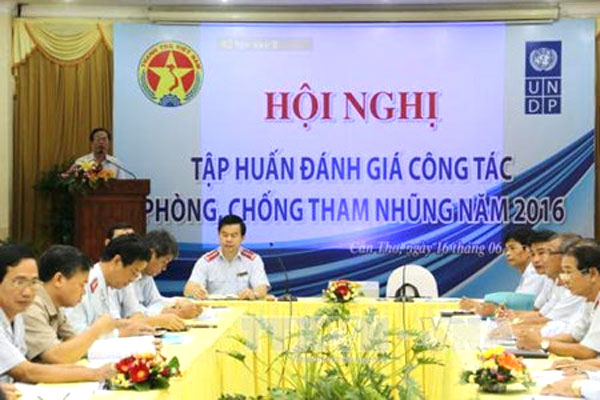 An anti-corruption conference in Can Thi- Photo: TTXVN
When it took effect on June 1, 2006, the Anti-Corruption Law created a mechanism to prevent and uncover corruption cases. But in the last ten years, a number of the Law's stipulations have been inadequate to combat corruption in Vietnam prompting the Vietnamese Party and State revise the law.
Adapting anti-corruption law to Vietnam's changing conditions
Vietnam has carried out a number of measures to make the fight against corruption more effective, including adopting laws and policies to create a legal foundation for anti-corruption activities. The government is now drafting revisions to the Anti-Corruption Law to refine its mechanisms. Dinh Van Minh is Deputy Director of the Government Inspection Research Institute: "We have effectively realized the Anti-Corruption Law but there are still a number of problems. We need a strong agency to deal with major corruption cases and involve the public. We need to be open and fair in evaluating the effectiveness of the law".
Combating corruption is an urgent but a also long-term, tough, and complicated task that requires patience, determination, consistency, strong legislation, and the involvement of the whole political system and society. Mr. Minh said: "Previously, we had an ordinance on combating corruption but our current law called the Law on Preventing and Combating Corruption is more comprehensive and more in line with the UN's guidelines on preventing and combating corruption. Under the Party's resolutions and the National Anti-Corruption Strategy, combating corruption is an urgent task and preventing corruption is a basic long-term measure".
Expanding revisions to the Anti-Corruption Law
The public is closely monitoring revisions to the Anti-Corruption Law. According to a recent survey by the Government Inspectorate, 87% of the public agree that more regulations are needed on handling violations of the law. The law needs to stipulate mechanisms for law enforcement, monitoring and oversight, and define the responsibilities of heads of agencies and organizations. Nguyen Tuan Anh is Deputy Director of the Legal Department of the Government Inspectorate: "In regard to the responsibility of heads of agencies, it's important to clearly stipulate administrative and non-criminal punishments. Previously, we had to quote other legal documents when handling this problem. So, in the prevention part, it's important to stipulate the responsibility of leaders in preventing corruption and punishment for them if they don't take preventive measures and if there is corruption".
The fight against corruption is effective or not depending on many factors and strong legislation is one of them. Only with more comprehensive, scientific and tighter regulations can the fight against corruption become more effective.
VOV5