Deputy Prime Minister and Foreign Minister Pham Binh Minh and Lao Foreign Minister Saleumxay Kommasith have vowed to reinforce cooperation between the two foreign ministries and in Vietnam-Laos special solidarity during their talks in Hanoi on June 8.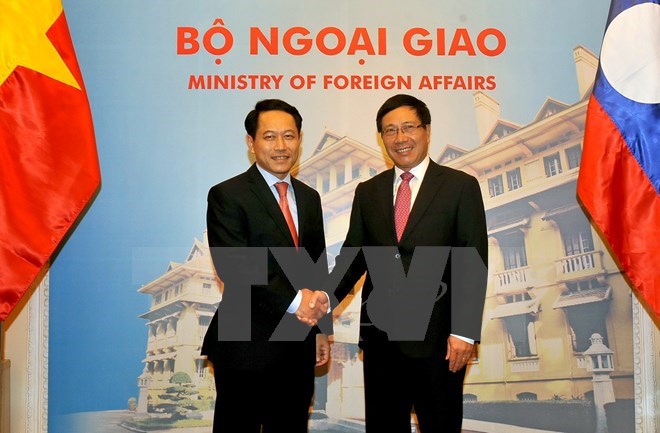 Deputy Prime Minister and Foreign Minister Pham Binh Minh (R) and Lao Foreign Minister Saleumxay Kommasith.
Reviewing bilateral ties across the board, host and guest expressed their pleasure at the achievement of major goals in the Vietnam-Laos economic, cultural and scientific and technological cooperation strategy for 2011-2020, as well as the cooperation agreement between the two governments for 2011-2015.
They also underscored the significance of the visits by Lao Party Secretary General and President Bounnhang Volachith and Prime Minister Thongloun Sisoulith to Vietnam, which they said have contributed to strengthening political trust and lifting the Vietnam-Laos special solidarity to a greater height.
They agreed to continue facilitating the exchange of all-level visits in various forms, coordinate to implement the outcomes of talks between the two countries' leaders and the 38 th meeting of the Inter-Governmental Committee on Vietnam-Laos Cooperation for 2016-2020.
Both sides pledged to well implement the Protocol on the border and border markers, and the agreement on border and border gate management signed in March 2016, while continuing with joint work to settle issues of free migration and unregistered marriages for a border of peace, stability, cooperation and development.
Deputy PM Minh asked the Lao government to continue providing all possible support for Vietnamese nationals living in the country.
He also wished that Lao would consider tax reductions for Vietnamese merchants who suffered losses caused by the fire at Dao Huong market in Champasak province in May.
Host and guest agreed on thorough preparations for celebrating the 55th anniversary of bilateral diplomatic ties (September 5, 1962-2017) and the 40th anniversary of the signing of the Vietnam-Laos Amity and Cooperation Treaty (July 18, 1977-2017).
They promised to continue close coordination to ensure ASEAN solidarity and maintain the bloc's common stance on regional and global affairs, including the East Sea issue, contributing to peace, stability, maritime and aviation security and safety.
Vietnam and Laos will work for the settlement of disputes by peaceful means in line with widely-accepted principles of international law, including the 1982 United Nations Convention on the Law of the Sea, and the full and effective observance of the Declaration on the Conduct of Parties in the East Sea, towards the early formulation of a Code of Conduct in the East Sea.
The Vietnamese Deputy PM thanked Laos for discharging water from hydropower dams in Mekong River tributaries and assisting Vietnam in recovering from impacts of prolonged drought and salt water intrusion in the south.
The two sides will work closely together and with other countries and international organisations for the sustainable and effective management and use of Mekong River water resources.
VNA