The King of the Belgians, Philippe, applauded the sound relationship between his nation and Vietnam across a variety of fields at a February 3 reception for Vietnam Ambassador in Belgium Vuong Thua Phong who came to present his credentials.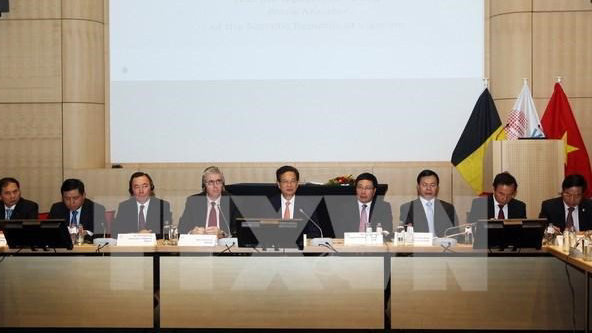 The King wished the Vietnamese diplomat a successful working term as a contribution to fortifying cooperative relations between the two nations.
For his part, Ambassador Thua Phong pledged to use his best efforts to help the Vietnam-Belgium relations flourish in the future.
Since the establishment of the diplomatic relations 40 years ago, the ties of friendship and cooperation have seen constant development, prominently evidenced by the Belgium visit by Prime Minister Nguyen Tan Dung in October 2014 which elevated the bilateral ties to a higher level so as to fully tap the two sides' potential.
The Vietnam-Belgium economic and trade links have grown steadily over recent years on the back of increased investment. Bilateral trade exploded by 70% during the period 2003 to 2011.
Belgium is the sixth largest trade partner of Vietnam with the total trade value between the two countries amounting to nearly US$2 billion Euros per annum.
Belgium has pumped US$281.34 million into 53 investment projects in Vietnam, ranking 26th out of 101 countries and territories investing in the Southeast Asian nation.
Last year, Vietnamese exports to Belgium reached more than US$1.807 million, up 36.4% and its imports from Belgium were US$520.5 million, up 3.67% over a year earlier.
2014 bilateral trade posted a year-on-year growth of 27.4% to more than US$ 2.3 billion.
VOV