President Truong Tan Sang had bilateral meetings with US President Barack Obama and Japanese Prime Minister Shinzo Abe on November 10 on the sidelines of the Asia-Pacific Economic Cooperation (APEC) Forum in Beijing, China.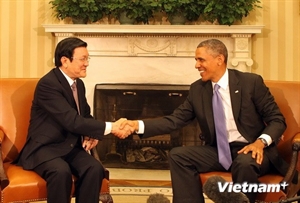 The Vietnamese and US leaders talked about measures to implementthe bilateral comprehensive partnership, including the exchange of high-level delegations and preparations for the 20th founding anniversary of Vietnam-US diplomatic ties.
President Truong Tan Sang noted that the Trans-Pacific Partnership (TPP) agreement has entered the key period, which requires all involved parties to show high political resolve and necessary flexibility to conclude the negotiation as scheduled.
He confirmed that Vietnam is willing to collaborate with the US and other member countries to ensure TPP is a comprehensive and balanced agreement taking into consideration the interests and development levels of the stakeholders.
The President invited his US counterpart to visit Vietnam soon.
At the meeting between President Truong Tan Sang and Japanese Prime Minister Shinzo Abe, both sides expressed their pleasure at the growing bilateral relations in various fields such as politics, economics, security, agriculture and people-to-people exchanges, particularly since the two countries formed a bilateral strategic partnership for peace and prosperity in Asia during President Truong Tan Sang's visit to Japan in March 2014.
The two leaders discussed specific measures to deepen Vietnam-Japan relations and agreed to maintain regular high-level visits and making effective use of existing bilateral dialogue and cooperative mechanisms.
Prime Minister Shinzo Abe said Japan will continue to support Vietnam in socio-economic development, infrastructure building, technological transfer, and improving capacity for marine law enforcement forces.
China, Vietnam share ways to deepen ties
President Truong Tan Sang and his Chinese counterpart Xi Jinping discussed deepening the Vietnam-China comprehensive strategic cooperative partnership in a meeting in Beijing, China on November 10 on the sidelines of the 22nd Summit of the Asia-Pacific Economic Cooperation (APEC) Forum.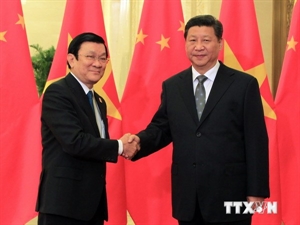 He told his host that top priority should be given to developing ties between the two Parties and countries, including increasing mutual understanding and trust while respecting each other's legitimate interests and implementing commitments reached in the past.
President Truong Tan Sang suggested continuing to facilitate visits by senior leaders and exchanges between ministries and localities, with a focus on interactions between the two people to mark the 65 th anniversary of Vietnam – China diplomatic ties next year.
With regard to the East Sea issue, he proposed addressing differences via negotiations and open talks based on common perception and agreements already reached by Vietnamese and Chinese leaders.
Both sides need to maintain peace, stability, security, maritime safety and freedom while controlling disagreements and preventing the emergence of issues that could damage bilateral ties, he said.
The guest asked for the negotiations on the demarcation of boundaries and development cooperation on the area off the Gulf of Tonkin to be accelerated.
Xi, on his part, reiterated the Chinese Party, State and people's consistent commitment to fostering the friendship with Vietnam, adding that it was beneficial for peace, stability and development in the region.
Providing positive feedback on his guest's proposals, Xi suggested increasing strategic and people-to-people exchanges, and settling disputes at sea amicably.
He assured his guest that China backed Vietnam's role as host of the APEC Summit 2017 and hoped both countries would continue working together closely in the APEC mechanisms.
President Widodo: Indonesia values friendship with Vietnam
Indonesian President Joko Widodo told President Truong Tan Sang that his government attached special importance to developing the traditional friendship between Indonesia and Vietnam.
In a meeting on the sidelines of the 22 nd Asia-Pacific Economic Cooperation (APEC) Summit in Beijing, China on November 10, the two leaders discussed measures to strengthen the Vietnam–Indonesia strategic partnership, including implementing the 2014-2018 Action Plan and facilitating visits at all levels.
Both countries are set to prepare for the 60 th anniversary of diplomatic ties by fostering trade and investment cooperation with a view to increasing the value of two-way trade to 10 billion USD by 2018 and continuing their joint efforts on national defence and security.
With regard to global and regional issues of shared concern, they promised to work together to support the establishment of the ASEAN Community and at multilateral forums, such as the United Nations.
President Truong Tan Sang invited Widodo to visit Vietnam in the near future. The later accepted and the timing will be arranged.
VNA/VNN