Party General Secretary Nguyen Phu Trong will pay a State-level visit to the Republic of Korea (RoK) from October 1-4 at the invitation of Korean President Park Geun-hye, aiming to deepen the strategic partnership.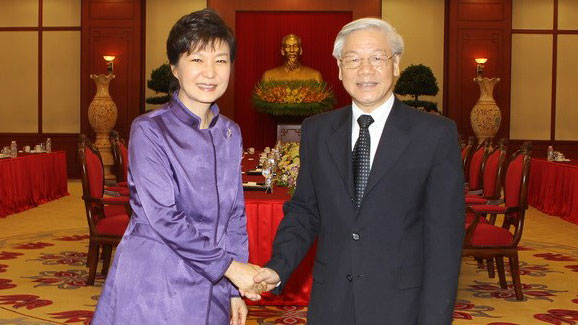 Twenty-two years after diplomatic ties were set up in 1992 and bilateral ties were upgraded to a strategic cooperative partnership five years ago, the Vietnam-RoK relations have gone from strength to strength over the years.
The two countries have maintained annual exchange visits, including Vice State President Nguyen Thi Doan's visit to the RoK in February 2013, National Assembly Chairman Nguyen Sinh Hung (July 2013) and Deputy Prime Minister Nguyen Xuan Phuc (January 2014) and Korean National Assembly Speaker Kang Chang-hee's visit to Vietnam in January 2013 and Korean President's trip (September 2013).
The RoK remains one of the top economic partners of Vietnam.
As of June 2014, the country ranked first among foreign investors in Vietnam with 3,687 projects and came second in terms of foreign direct investment (FDI) capital with US$31.2 billion, two fold 2008's figure.
It is Vietnam's third largest trade partner with two-way trade reaching US$27.5 billion in 2013, four fold 2007's level.
The two countries are set to raise bilateral trade to US$70 billion by 2020 and are actively finalizing negotiations towards the early signing of sign a Free Trade Agreement (FTA).
Party General Secretary Nguyen Phu Trong receiving RoK President Park Geun Hye in Hanoi
Vietnam's staple imports are computers, electronics products and components, machinery, equipment while exports include garments and textiles, crude oil and seafood. The RoK is also the second largest donor of official development assistance (ODA) to Vietnam, trailing Japan, with a commitment of US$1.2 billion for the period 2012-2015.
In 2011, the RoK regarded Vietnam as a model and key recipient of ODA and one of 26 nations in ODA strategic partnership targeting green growth, human resource training and infrastructure development.
Last year, 750,000 Korean visitors came to Vietnam, double 2007's figure, making the country come in second among countries recording the large number of visitors to Vietnam.
The two countries signed a cultural cooperation agreement, a Memorandum of Understanding on culture, arts, sports and tourism cooperation, and many others on education and youth exchange.
In 2006, the RoK set up a Korean Culture Centre in Hanoi. The Ministry of Education and Training chose the RoK as a strategic partner for education and training cooperation.
Currently, more than 5,000 Vietnamese students are studying in the country.
People-to-people exchanges have progressed with nearly 100 direct flights per week, linking major cities.
As many as 120,000 citizens are living and working in each nation, including 50,000 Vietnamese-Korean couples.
The friendship associations have acted as bridges to promote political, economic, trade and tourism cooperation and mutual understanding between the two peoples.
Party Chief Nguyen Phu Trong's forthcoming visit will contribute to fostering mutual understanding between senior leaders and accelerate cooperation between the Communist Party of Vietnam (CPV) and the Korean Ruling Party Saenuri as well as friendship between the two peoples.
VOV/VNN