Vietnam always places high importance on boosting stronger ties with ASEAN member countries including Singapore, Party General Secretary Nguyen Phu Trong told former Prime Minister and Emeritus Senior Minister of Singapore, Goh Chok Tong.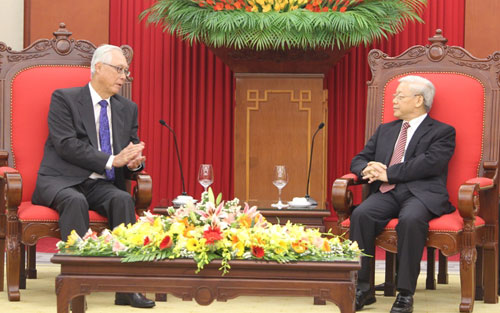 Party leader Nguyen Phu Trong (R) welcomes the Singaporean guest.
At a September 23 reception for Goh Chok Tong, Trong hailed Singaporean senior leaders' significant contributions to enhancing the friendship and cooperation between the two countries.
He congratulated Singaporean people on the tremendous achievements they gained under the leadership of the People's Action Party (PAP) which can return Singapore into one of the world's leading economies.
Trong suggested both sides maintain all level exchange visits and expand cooperation in various fields especially trade-investment and education-training to bring the Vietnam-Singapore relationship to even greater heights.
The Singaporean official voiced his willingness to share experience and support Vietnam in transport infrastructure development and human resources training and seek financial resources for development projects in the country.
He said he hopes Vietnam's development will markedly contribute to ASEAN and Singapore's growth.
The Singaporean Emeritus Senior Minister also visited the Vietnam-Singapore Industrial Park (VSIP) in northern Bac Ninh province which is a symbol of the friendship and economic connectivity between the two nations.
The US$169 million VSIP Bac Ninh built in 2007 has attracted 50 foreign investors, including Microsoft, Pepsico, Foster, and Mapletree which have poured over US$1.13 billion into the park.
Receiving the Singaporean guest on the same day, Prime Minister Nguyen Tan Dung expressed his hope that both nations will step up cooperation across a variety of fields adding that he is delighted at their common stance on building an ASEAN Community and the East Sea issue.
The visit is a vivid manifestation of the Vietnam-Singapore strategic partnership, which has witnessed broader cooperation in such areas as finance, trade, investment, and education-training.
The government leader said following the visit, the two countries' relevant ministries and sectors will work hand in hand  to seek Vietnamese businesses' access to theSingaporean capital market for infrastructure development as well as enhanced partnership in the banking, aviation, education and tourism sectors.
Former PM Goh Chok Tong, for his part, suggested the two countries spur cooperation in the banking sector to enable Vietnam to mobilize capital from international investment funds in Singapore for its infrastructure development.
The Monetary Authority of Singapore will help Vietnam modernise its banking system to provide easier access to international capital sources in Singapore, he said while proposing continuous cooperation in aviation, education and tourism in the time to come.
VOV/VNN