VietNamNet Bridge – Viet Nam has welcomed the US Department of Agriculture's move to grant import licences to Vietnamese produce such as lychees and longans.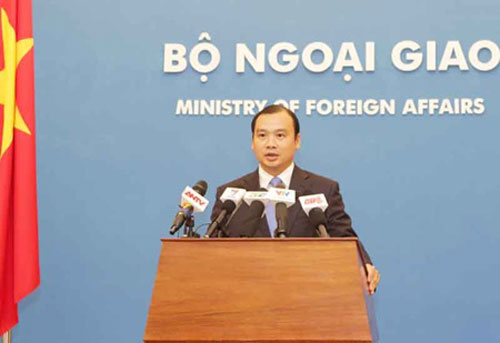 Spokesperson of the Foreign Ministry Le Hai Binh.
Spokesperson of the Foreign Ministry Le Hai Binh said yesterday (Sept 11) the decision indicated growing economic and trade links with the US, adding that Viet Nam hoped the US would consider licensing more high-quality farm produce.
At a regular press briefing on a number of topics, Binh said Viet Nam welcomed the US department's move.
In response to questions on the fifth meeting of the Viet Nam-Vatican Joint Working Group held in Ha Noi from September 10-11, the spokesperson said the two sides agreed that issues of mutual concern had seen substantial progress.
He said this was shown by the number of meetings held at all levels and the visit of the Vatican's non-resident Special Envoy to Viet Nam.
They decided to uphold dialogues, assist the envoy's activities, and encourage Viet Nam's Catholic community to follow Pope Francis's teachings.
The Vatican group said Pope Francis closely followed the development of its relationship with Viet Nam. It also acknowledged progress made in terms of Viet Nam's religious policies, demonstrated by the 2013 revised Constitution.
Binh said Viet Nam safeguarded the religious freedom of its people and supported the Viet Nam Catholic Church in actively participating in socio-economic development and the nation building process.
Regarding China's illegal construction on Gac Ma (Johnson South) island in Viet Nam 's Truong Sa (Spratly) archipelago, Binh said that Viet Nam had sufficient legal and historical proof to assert its sovereignty over the archipelago.
He said unilateral action to change the status quo in this area violated Viet Nam 's sovereignty and the Declaration on the Conduct of Parties in the East Sea (DOC).
Asked about recent anti-Viet Nam demonstrations in Cambodia, Binh said Viet Nam called upon Cambodian authorities to stop actions inconsistent with the traditional friendship between the two countries.
Source: VNS