VietNamNet Bridge – Hungary is extremely competitive in terms of nuclear energy training costs, when compared with other nations around the globe - a good advantage for Vietnam to develop human resources for future nuclear power plants, said Vietnamese Ambassador to Hungary Ngo Duy Ngo.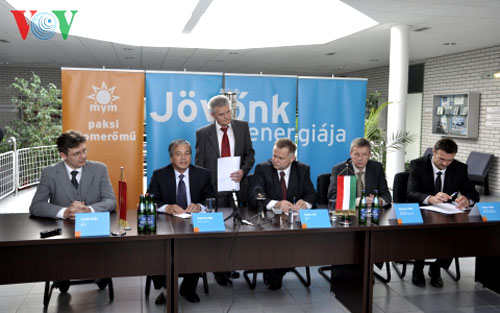 Ambassador Ngo and representatives from Paks nuclear power plant at the closing ceremony of a training course for Vietnamese learners
Ambassador Ngo made the statement during an interview granted to VOV marking the 64th anniversary of Vietnam- Hungary diplomatic ties and Hungary's National Day (August 20).
Following are key excerpts from the interview:
During President Truong Tan Sang's visit to Hungary in 2013, both nations signed an agreement on nuclear energy cooperation for peaceful purposes. How do you assess Hungary's advantages in nuclear energy human resources training?
Amb. Ngo: In 1982, with support from the former Soviet Union, Hungary completed construction of a 2000-MW Paks nuclear power plant, which then supplied over 50% of the country's electricity needs. In 2013, thanks to its unblemished safety record, the International Atomic Energy Agency (IAEA) granted the plant a license to operate for an additional 20 years till 2037.
The advantages of Hungary in training human resources in the field of nuclear energy result from a combination between theory and practice and close cooperation among technical universities and Paks nuclear power plant. To work in the plant, an engineer must have at least 10 years of on-the-job training.
Hungary is committed to training Vietnamese engineers and handing down their 30 years of experience to help Vietnam master technology and control future plants without foreign assistance. In fact, no other supplier of nuclear energy in the world has pledged such support.
Dr Vo Hong Hai, a lecturer from the Vietnam National University-HCM City who participated in a training course in 2012, has said what he had learnt is very practical that assisted Vietnamese scientists and lecturers in acquiring detailed knowledge and having a clear vision of the sector.
Managing director of Paks Nuclear Power Plant Istvan Hamvas has said operating a nuclear power plant requires engineers to possess comprehensive knowledge of particular or specialised nuclear-related issues. Therefore, training programmes have been compiled for Vietnamese learners, targeting very particular nuclear techniques.
In my opinion, training costs in Hungary are the most competitive compared to other training centres in the world.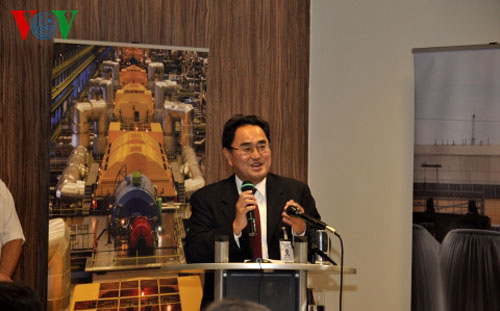 IAEA representatives delivered a speech at the closing ceremony
Could you give us a brief on nuclear energy cooperation between the two nations?
Amb. Ngo: The Paks nuclear power plant has received IAEA accreditation for providing training services following the world nuclear power governing body's fact-finding tour in 2011. I recommended that the Ministry of Education and Training (MoET) work directly with Hungary's relevant agencies for a training cooperation plan, and their relations have flourished so far.
Over the years, several Vietnamese delegations have come to Hungary for training in the field. What do you think about the results of the training?
Amb Ngo: As far as I know learners have been examined in both theory and practice before and after each subject. The results have been very positive with many learners earning a score of 70-80%, or even 90%. It's worth remembering that all the education certificates in Hungary have been recognised worldwide.
What are the prospects for cooperation in human resources training for nuclear energy?
Amb. Ngo: The potential for cooperation is very huge. For example, the Hungarian side is willing to send experienced experts to Vietnam to help with appraisal and assessment of nuclear power plant projects. At present, Hungary is speeding up the expansion of the Paks nuclear power plant and construction of an additional two generators, so that we can take advantage of its experience in the field.
We lack legal documents required for nuclear energy development, especially regulations on operating nuclear power plants. Hungarian friends are willing to fill this gap.
Hungary's training quality has been recognised by the IAEA. Many nations including those in Southeast Asia have developed cooperation training programmes with Hungary. I think this is a good chance for Vietnam to learn a lot from this European nation's nuclear power development experience.
VOV/VNN