General Martin Dempsey said he will ask the US to strengthen Vietnam's navy capacity if a ban on lethal arms sales to the Southeast Asian nation is lifted.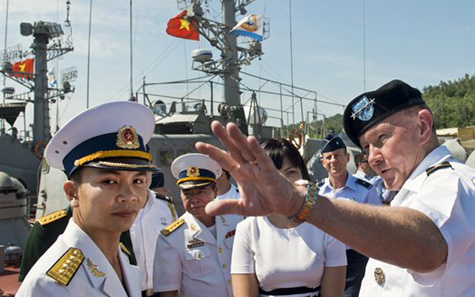 General Dempsey visited Naval Command Zone 3 in Danang (Photo: US DoF)
"The maritime domain is the place of our greatest common interest right now... and my recommendation if the ban is lifted will be that we start with that," Dempsey told reporters at a press briefing in HCM City on August 16, wrapping up his four-day visit to Vietnam.
The chairman of the US Joint Chiefs of Staff said once a longstanding embargo is waived, Washington will then discuss what equipment Vietnam expects to buy, most likely in the field of maritime surveillance.
The US views Vietnam an important partner thanks to its geostrategic position in Southeast Asia, its large population of more than 90 million and its long coastline.
"We do think we should have a steady improvement in our relationship with the Vietnamese military," Dempsey said.
When being asked about the US's stance towards the recent tension in the East Sea, the General said "We've been very clear that we don't take sides in territorial disputes, but we do care very much about how they're resolved."
Tensions had mounted in the East Sea after China illegally towed its oil platform Haiyang Shiyou-981 to Vietnam's exclusive economic zone and continental shelf in early May.
During his stay in Vietnam from August 13-16, Dempsey had a talk with his Vietnamese counterpart Lieutenant General Do Ba Ty, met with Prime Minister Nguyen Tan Dung and Defence Minister Phung Quang Thanh in Hanoi, and visited Danang and HCM City.
Talks and meetings were focused on defence cooperation between Vietnam and the US, and joint efforts to address war aftermath, including the search for Vietnamese and American soldiers missing during the war, and dioxin remediation.
"We're moving beyond those legacy war issues and toward a new relationship," the chairman said.
VOV/VNN