Vietnam wants to work closely with the US to develop bilateral ties in a deep, practical and effective manner in all realms, primarily in politics, diplomacy, economics, investment, trade, education-training, and science-technology.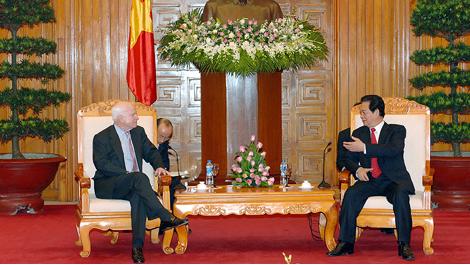 Prime Minister Nguyen Tan Dung made the statement while receiving Senators John McCain and Sheldon Whitehouse in Hanoi on August 9.
He spoke highly of effective cooperation in the Vietnam-US comprehensive partnership as well as both sides' effort in boosting bilateral relations in recent times.
He proposed that the US support Vietnam in Trans-Pacific Partnership (TPP) agreement negotiations, taking into account the country's development levels. He said successful negotiations and the signing of the trade pact will significantly benefit the two countries.
The PM expressed Vietnam's desire to increase cooperation with the US in national defence and security, and therefore, he proposed the US support Vietnam in improving its capacity to defend national sovereignty.
He also asked for US assistance in overcoming the consequences of the past war, especially addressing unexploded ordnance and dioxin issues.
Stressing the importance of internet security, the PM said Vietnam is ready to cooperate with the US in this field.
Regarding human rights issues, Dung said Vietnam is making every effort to better guarantee fundamental human rights, as human rights are the legitimate goal and requirement of Vietnamese people.
He told his guests that the human rights situation in Vietnam has improved significantly in recent years and Vietnam is willing to conduct frank dialogue on human rights with the US.
Senators McCain and Whitehouse said their visit aimed to strengthen US-Vietnam cooperation in various areas.
They said that peace, stability and security in Asia, and South East Asia in particular, are being threatened by unjustifiable territorial claims, including China's nine-dotted line claim, which are the root cause of instability in the region.
To ensure peace, security, safety and freedom of navigation and aviation in the East Sea, they said parties concerned need to fully observe international law, especially the 1982 UN Convention on the Law of the Sea (UNCLOS), stop using force to intimidate each other, and settle disputes through peaceful measures.
US Senators: US-Vietnam relations developing well
Relations between the US and Vietnam have developed well since the two countries normalised diplomatic ties 19 years ago, Senators John McCain and Sheldon Whitehouse told Party General Secretary Nguyen Phu Trong in Hanoi on August 8.
They shared Vietnam's views on regional and international issues, and said they expressed deep concern about freedom of navigation and recent tensions in the East Sea, noting it is necessary for all countries to fully conform to international law.
They affirmed that the US Congress and government want to further boost cooperation in various areas with Vietnam in a mutually equal and respectful manner, as well as through channels, including the Communist Party of Vietnam.
Party leader Nguyen Phu Trong (R) welcomed Senator John McCain in Hanoi on August 8
For his part, Party leader Trong noted with satisfaction the positive development of all-round cooperation between Vietnam and the US, especially after the two countries established the comprehensive partnership last year.
The Party and State of Vietnam consider the US a leading partner and they support promoting bilateral cooperation in all levels and areas in the interest of the two peoples, and for peace stability and development in the region and the world at large, said Trong.
He said he hopes both Vietnam and the US will work closely together to realise their comprehensive partnership and successfully organise activities to mark 20 years of diplomacy in 2015.
The same day, General Phung Quang Thanh received Senator John McCain, who said after the visit he would ask the US Congress to soon lift the ban on lethal weapons sales to Vietnam.
General Thanh, in turn, acknowledged the US's effective cooperation with Vietnam, including in search and rescue work at sea, emergency relief, bomb and mine clearance, and dioxin remediation, while sharing its experience in joining the UN peacekeeping operations.
At the meeting, Thanh and McCain said the two countries should promote cooperation in maritime security and safety, staff training, and exchange of delegations.
John McCain supports stronger Vietnam-US ties
In the face of global complications and security threats, Vietnam and the US should increase bilateral cooperation, especially in economics, trade, national defence and security, said US Senator John McCain.
McCain, a member of the Senate Foreign Relations Committee, was speaking at a reception in Hanoi on August 8 given by NA Chairman Nguyen Sinh Hung.  
Senator Sheldon Whitehouse, a member of the Committees on the Budget, the Judiciary, Environment and Public Works, Health, Education, Labour, and Pensions, also attended the meeting.
McCain voiced his support for the lifting of a US ban on lethal weapons sales to Vietnam and said after the visit he and Senator Whitehouse would ask the US Congress to remove the ban as soon as possible.
NA Chairman Nguyen Sinh Hung (first from right) welcomed Senators John McCain and  Sheldon Whitehouse in Hanoi on August 8
Both Senators agreed that the two countries need to tighten cooperation, especially in security and national defence, internet security and construction of hydro power projects.
McCain noted the upcoming signing of free trade agreements, especially the Trans-Pacific Partnership Agreement (TPP), will create plenty of opportunity for each country and the whole region to increase trade.
For his part, NA Chairman Hung acknowledged McCain's substantial contributions to Vietnam-US cooperation over the years, from normalising bilateral ties in 1995 to boosting cooperation in various areas.
He appreciated the Senators' goodwill towards Vietnam and expressed his hope both countries will continue maintaining high-level visit exchanges to mark 20 years of diplomacy in 2015.
At the meeting, both sides discussed issues of mutual concern, including the East Sea issue, and expressed their concern about China's recent violation of international law by towing its giant drilling platform Haiyang Shiyou-981 to Vietnam's exclusive economic zone and continental shelf in the East Sea.
They said China's move has affected international security and maritime safety and threatened peace and stability in the region and the world.
Senator McCain said the US is willing to assist Vietnam in improving the capacity of forces at sea and training staff in this area.
Chairman Hung stressed that Vietnam which has experienced many past wars and suffered numerous losses wants to maintain peace and build ties of friendship and broad cooperation with all countries in the world, in order to develop the nation and improve the people's living conditions.
He thanked McCain, Whitehouse and other US Congress people for their practical actions to support Vietnam in defending its sovereignty in accordance to international law, for peace and prosperity in the region and the world.
VOV/VNA/VNN