A Vietnamese delegation led by Deputy Prime Minister cum Foreign Minister Pham Binh Minh is attending the fourth Mekong-the Republic of Korea (RoK) Foreign Ministers Meeting, which opened in Seoul on July 29.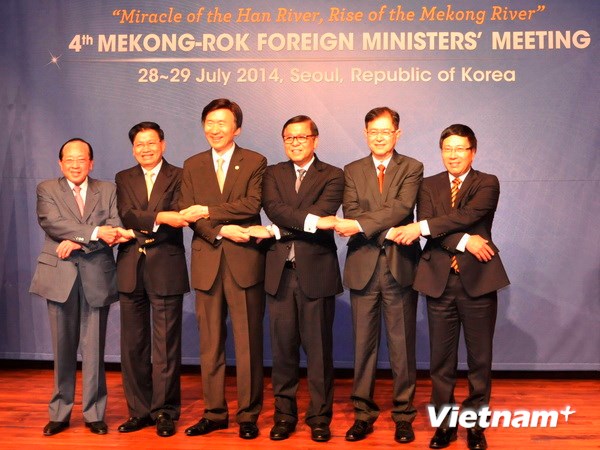 The event, co-chaired by the RoK Foreign Minister andthe acting Thai Foreign Minister, is part of the Mekong-RoK exchange year in 2014.
On opening day of the meeting, participants reviewed the progress in past cooperation and set targets for future cooperation. They spoke highly of active coordination by member countries in implementing pilot projects, and stressed the need to narrow the development gap, maintain economic development pace and promote green growth in the Mekong sub-region.
The Ministers agreed to develop the 2nd Mekong-RoK Business Forum held earlier in May into a major channel for luring more private investment to the Mekong region and the RoK.
They approved a2014-2017 action plan and the use of Mekong-RoK development fund which were seen as an important move in Mekong-RoK cooperation mechanism to carryout prioritised projects.
Several issues of regional and international concern, such as the Korean peninsula, the East Sea, Thailand's political situation, food security, and climate change adaptation were among the topics of their discussion.
"It is essential to connect infrastructure and logistics to human resource development in the Mekong sub-region. Due attention should be given to promoting green growth, environmental protection and sustainable use of natural resources, while accelerating economic growth," Minh added.
As scheduled, Deputy PM Minh will hold talks with his Korean Foreign Minister Yun Byung on the sidelines of the event.
Vietnam and the RoK will co-chair Mekong-RoK meetings in 2015.
VNA/VNN