VietNamNet Bridge – Amendments to the Law on Enterprises would create favourable conditions for setting up businesses, Minister of Investment and Planning Bui Quang Vinh said at the 13th National Assembly's 7th working session on May 26.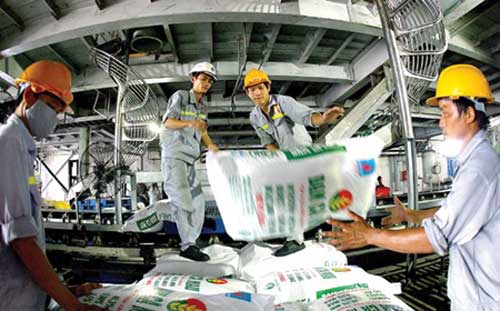 Workers unload fertiliser from a warehouse at Ca Mau Fertilizer Factory in Ca Mau Province's U Minh District. Law makers yesterday discussed the amendments to the Law on Enterprises that would create more favourable conditions for establishing a business. 
He said the amendments would protect the rights and interests of investors, shareholders and business members, in addition to improving management of foreign investment.
The draft amendments add 57 articles to the law, revise or supplement 99 and delete six.
The Ministry of Planning and Investment said the amendments would significantly cut costs for administrative procedures, business management, re-organisation and dissolution, in addition to reducing commercial and legal risks and helping businesses develop.
State management will also be enhanced thanks to more accurate and realistic data. The Ministry expects the country to rise about 50 points on the World Bank's market activeness index, putting Viet Nam at position 60 out of 189 countries.
The investor protection index is forecast to increase 30 points, putting Viet Nam at 120.
Bankruptcy Law
On the same day, deputies debated draft amendments to the Bankruptcy Law to overcome insolvency of businesses and co-operatives.
Deputies discussed how to identify businesses or co-operatives at risk of losing their payment ability and people with rights to petition for bankruptcy.
Most deputies agreed to keep regulations from the existing law and continue to allow firms to use bankruptcy procedures to recover their business activity. This would create conditions for businesses and co-operatives to repay their debts and escape from bankruptcy, they said.
Deputy Dang Cong Ly of Binh Dinh Province said the criteria to identify businesses and co-operatives facing insolvency written in Article 42 were completely reasonable.
He noted that since late payments between businesses occurred regularly, it was important to clearly set out criteria for businesses and co-operatives that could not repay their debts.
Deputy Nguyen Thanh Bo of Thanh Hoa Province agreed, saying the criteria should be both quantitative and qualitative.
Draft amendments to the Bankruptcy Law also stipulate a duration of 30 days from the date of handling a request to open bankruptcy proceedings, which the existing law fails to do.
Concerning those who have rights and obligations to submit petitions for bankruptcy proceedings, deputies mostly agreed with the regulation that lenders have the right to file a petition for bankruptcy proceedings for businesses or co-operatives which fail to pay their debts three months from the payment date requested by lenders.
NA discusses future
National Assembly deputies discussed a plan for the development of laws and ordinances at their afternoon session yesterday, May 26.
Many complained about slow progress in the drafting of amendments and in specific guidance for the implementation of some laws. They also spoke of poor preparations for some legal projects.
Deputy Nguyen Thanh Thuy from Binh Dinh said the National Assembly needed to focus on the quality rather than quantity of the laws being issued and speed up the development of legal projects that provided solutions to difficult problems in society.
He said that to avoid inconsistencies, the new draft laws and ordinances should not cover matters that have already been handled under existing laws.
Deputy Nguyen Thai Hoc from Phu Yen said leaders who delayed the submission of draft laws and ordinances or who allowed submissions of draft legal projects of poor quality should be disciplined.
He said this was a major problem that should be strictly dealt with to reduce the delays that had occurred for many years.
Hoc added that teams that compiled quality legal projects should be rewarded.
Speaking on the plan to develop next year's laws and ordinances, deputy Truong Du Lich from HCM City and deputy Le Nam from Thanh Hoa both called for the drafting of a new law on demonstrations.
"It [demonstrations] should be a basic right of people," said Nam.
Truong Trong Nghia from HCM City said a demonstration law would be in accordance with the will of the people because they deserved to be able to express their patriotism.
The afternoon session also heard a report on the contents of the draft Law on Social Insurance.
The report said there was an urgent need for a draft law as it contained policies to encourage farmers and workers in non-official fields to participate in voluntary social insurance. It also aimed to have 50 per cent of the nation's workforce participating in social insurance by 2020.
The draft law would also help suggest solutions to delays in paying social insurance by many companies, especially those that were not controlled by the State and others that were foreign invested.
The proportion of those participating in the social insurance programme currently stands at 20 per cent of the total workforce, much lower than expected.
Source: VNS