VietNamNet Bridge – Residents around Sin Quyen copper mine in the northern province of Lao Cai have blamed mining operations for years of recurrent air pollution in the area.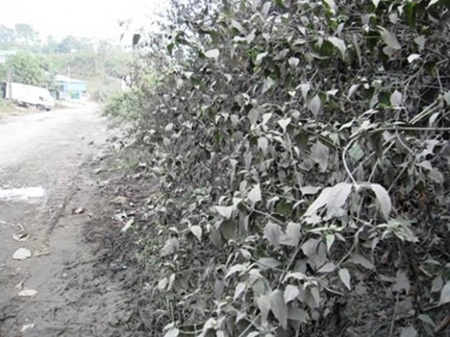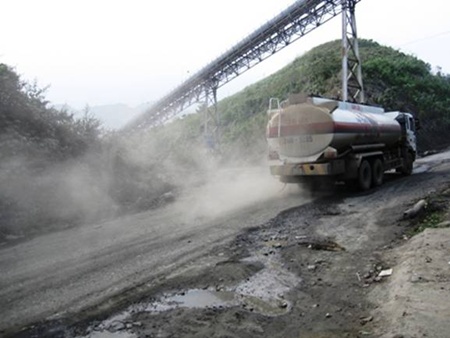 Residents around Sin Quyen copper mine in the northern province of Lao Cai have blamed mining operations for years of recurrent air pollution in the area.— Photo thiennhien
The mine, covering an area of 800ha in the Coc My and Ban Vuot communes, under the management of the Viet Nam National Coal and Mineral Industries Group, began operating from 2006.
Living only 50 meters away from the site where miners dump waste, Ly A Gao, a resident from Ban Do Hamlet (Ban Vuot Commune), has a thick layer of dust covering his house.
"My family and neighbours are suffering from inhaling dust and unpleasant smells everyday," Gao told the Vietnam News Agency.
"On heavy rainy days, we have to evacuate to avoid a landslide from the waste dump site".
Tran Van Thuong from Coc My Commune, said that the environment had changed significantly since 2007 when the mine began dumping waste in the lake nearby.
"The smell from the waste is so bad even after closing the window," he said.
"We used to have two rice crops and one vegetable crop, which were all good for the whole year. But now we cannot grow anything," Thuong added.
Since the mine was opened in 2006, more than one hundred households affected by the project have been resettled, however the resettlement areas are still within proximity to the mining zone.
Consequently, local people have been left with no land for cultivation and are facing the prospect of another relocation.
One resettled resident, Tran Thi Tuyet from the Minh Trang resettlement Hamlet, also complained that hers and 13 other households had relocated three times since 2000 and had recently received another request to leave to make way for expansions to the mining area.
Police chief of Coc My Commune, Tan A Chom, said that local authorities had planned to set aside an area of 20ha for the residents. However, there would be no additional land for cultivation, he noted.
Viet Nam News contacted local authorities for more information but received no reply.
With 40 per cent of households in the district comprising poor families, authorities are under pressure to address the environmental impacts.
Following resident complaints, authorities from Lao Cai Province sent inspection teams to Bat Xat District to review the area in the vicinity of the mining site.
An April report from the Lao Cai Department of Natural Resources and Environment also showed that mining operations had caused bad odors and polluted the surrounding environment.
Nguyen Dac Truong, an official from the Sin Quyen Copper Mine Company's Safety and Environment Department, told Viet Nam News that pollution levels were within "appropriate" levels and that monitoring had been undertaken with district environment officials.
"It is unreasonable to say it is polluting the air," he said.
Mining is a key source of revenue for local residents in northern Lao Cai Province. The province possesses some of the largest deposits of precious minerals in Viet Nam including apatite, iron and copper.
The Sin Quyen copper mine, which was granted a licence in December 2011, has invested around VND2 trillion ($94.7 million) to mine the site. Operations are expected to produce 1.2 million tonnes of copper ore annually.
Source: VNS