VietNamNet Bridge – The annual flooding of rice fields by the Mekong River is expected to occur earlier than normal this year, according to the delta's main disaster prevention agencies.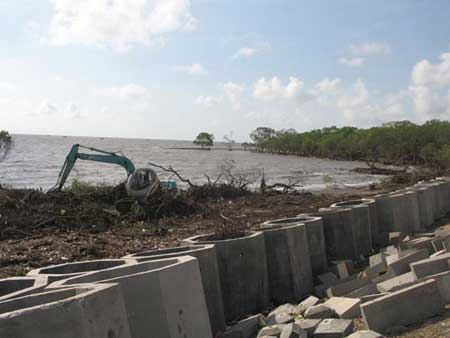 A project to upgrade sea dykes is being implemented in the Mekong Delta's Tien Giang Province. The flood season is expected to hit the Delta region earlier than usual.
The Steering Committees for Flood and Storm Prevention and Control, Search and Rescue in upstream provinces said water levels in Dong Thap and An Giang last month were 8-28cm higher than last year.
The Dong Thap Hydro-meteorological Forecasting Centre also forecast the flood levels to be higher this year than last year.
Local authorities and residents in flood-prone areas are worried also because of the threat of land erosion during floods.
This year erosion has been less severe in Dong Thap, but the province still has hundreds of erosion-prone sites in 46 communes affecting 1,300 households, local authorities said.
Provincial authorities are building flood-proof residential areas on a war footing to move more people from flood- and erosion-prone areas.
In Hong Ngu, one of the districts hit hardest by floods every year, authorities have relocated more than 350 families to flood-proof areas this year.
Another 500 households are awaiting relocation.
But many families living in vulnerable areas do not want to move because they are afraid of not finding jobs in the new place. Most of them earn a living by fishing.
Another worry for the authorities is the lack of funds for the purpose.
Nguyen Van Binh, deputy chairman of the Dong Thap People's Committee, said the province has decided to build flood-proof residential areas in island communes in Thanh Binh District to move 600 households before the start of the floods.
Thousands of people in erosion-prone areas need to be relocated, but the province does not have enough funds and needs support from the Government, he said.
Dong Thap has taken several measures to reduce erosion, including building anti-erosion works and keeping close watch on vulnerable sites to promptly warn residents.
Do Vu Hung, deputy head of the An Giang Province Department of Agriculture and Rural Development, said 45 river sections in the province, mostly along the Tien and Hau Rivers, face the threat of severe and very severe erosion during the rainy season.
These sections measure a total length of nearly 100km.
In Phu Tan District, for instance, there are eroded sections that are 2.5km long in total.
Uncertain ground
Landslides are threatening dykes in many districts in My Tho City in the Mekong Delta Province of Tien Giang.
Concern over the danger has started to affect residents' lives and production.
A recent survey by local authorities found 152 potential landslides in Cai Lay, Cai Be, Chau Thanh and Tan Phuoc districts.
An estimated VND16.25 billion (US$771,000) is needed to shore up the sites.
Authorities blame the number of slippages on stronger water flows, floods and illegal sand exploitation.
They have ordered local residents not to encroach on the banks of the river or illegally exploit sand.
Local households in serious landslide-prone areas will be evacuated to new resettlement areas.
The province spent VND85 billion ($4.04 million) to fix landslides from 2005 to 2012.
Source: VNS