VietNamNet Bridge – The production of bio-gas plants to convert animal waste into fuel for lighting or cooking has come up against financial difficulties in Viet Nam.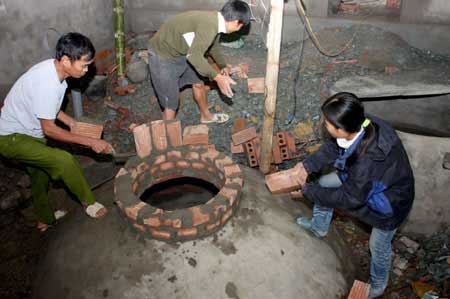 Workers undertake bio-gas infrastructure construction at a household in Yen Hoa Commune, Yen Mo District, Ninh Binh Province to convert animal waste into fuel.
The nation is only generating half a megawatt of electricity from bio-gas fuel so far, head of the Ministry of Industry and Trade's International Co-operation Department Nguyen Anh Tuan said at a workshop held last Tuesday in Ha Noi.
But he said the potential for power generation was estimated to be more than 100 MW.
Tuan attributed the situation to a lack of investment capital from inside and outside of the country plus the lack of public awareness of the benefits of renewable energy.
Nguyen Ba Ngoi, head of communal Gardeners' Association, said that although local breeders realised the benefits of bio-gas to convert animal waste into fuel, they still hesitated to spend money on setting plants up.
He said farmers in Ha Noi's Phu Dong Commune only build bio-gas models when they receive financial and technical support from Government and non-governmental organisations.
About 100 of the 400 local breeders have established bio-gas plants with support from several organisations, Ngoi said.
Tran Thi Dung, a local pig breeder, said that her family had been saving about VND400,000 (US$19) a month since she switched to bio-gas 10 years ago.
"The pig farm is cleaner and creates less stink since we switched to bio-gas", she said.
However, Dung said her family would not have built the bio-gas model if she had not received any financial support.
A bio-gas model known as Vacvina was introduced in 1998 by the Centre for Rural Communities Research and Development under the Viet Nam Gardeners' Association.
Dung's family was one of 10 selected to build Vacvina bio-gas models in 2001. Each is worth about VND2.5 million ($120), said Pham Van Thanh, director of the centre.
Ngo Van Phu, a cow breeder in the commune, said his family had four members with a total income of only VND4-5 million ($192-240) monthly.
"With this income, my family could not afford to spend about VND8-9 million ($380-432) to introduce bio-gas without support," he said.
According to Ngoi, head of the communal Gardeners' Association, most local breeders wait for support from Government and non-governmental organisations before they go ahead.
Viet Nam now has at least 210,000 households using bio-gas models.
Source: VNS