VietNamNet Bridge – Viet Nam is preparing to further enhance its green credentials and competitiveness on the world stage by joining the global carbon market after 2020.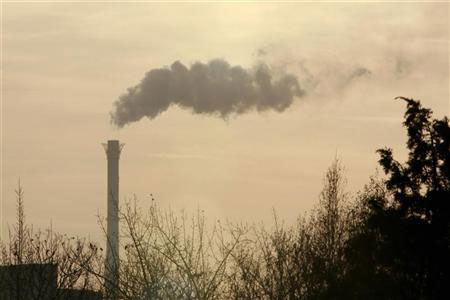 The move, which underlines the government's commitment to pursuing green growth and sustainable development, will help support a global climate change initiative and allow Viet Nam to profit from environmental restraint.
Created under the Kyoto Protocol, the carbon market enables the trading of carbon emission allowances between developed countries, which have higher levels of greenhouse gas emissions than permitted; and developing countries, which have lower levels of greenhouse gas emissions than permitted.
It was brought in to encourage countries and companies to limit their carbon dioxide (CO2) emissions.
Speaking at a workshop in Ha Noi yesterday, Nov 21, Director of the Institute of Strategy, and Policy on Natural Resources and Environment, Nguyen Van Tai said the carbon market is believed to be a tool to reduce greenhouse gas emissions by bringing economic benefit to the countries participating.
Viet Nam is scheduled to reduce greenhouse gas emissions by 8-10 per cent during 2011-20 compared to 2010, under the National Strategy on Green Growth approved by Prime Minister Nguyen Tan Dung in September.
Nguyen Khac Hieu, deputy head of the ministry's Department of Meteorology, Hydrology and Climate Change, said that when participating in the global carbon market, Viet Nam will take opportunities to develop the national economy in the direction of low carbon, co-operating with the international community to mitigate climate change and protect the global eco-system.
Meanwhile, Institute Director Tai said Viet Nam's post-2020 carbon strategy will be to set up Nationally Appropriate Mitigation Action and perfect legal frameworks for carbon trading activities.
In a related move, the Ministry of Natural Resources and Environment has proposed a project to manage greenhouse gas emissions and carbon credit trading under international regulations, Hieu said. If approved, Viet Nam will compile a periodical report about greenhouse gas emissions every two years, Hieu said.
The report is expected to be built based on results from the soon-to-be-established National Greenhouse Gas Emissions Inventory System, Hieu said.
Adding: "So, we will be able to report to the world about the country's level of greenhouse gas emissions from the beginning of 2014."
Viet Nam signed the Kyoto Protocol to the United Nations Convention on Climate Change in 1998 and ratified it in 2002.
According to Tai, Viet Nam has operated Clean Development Mechanism (CDM) projects to reduce greenhouse gas emissions as one of its preparatory steps to participating in the global carbon market.
CDM is one of three flexible mechanisms from the Kyoto Protocol, Tai said.
For the developing countries, it helps them achieve sustainable development in line with the ultimate objectives of the United Nations Framework Convention on Climate Change, he said.
The country now has 164 CDM initiatives, making it the fourth highest nation in the world for registered projects, he said.
According to Hieu, the CDM projects include Rang Dong Oil Field Associated Gas Recovery, Landfill Gas Recovery in Dong Thanh, Wind power in Binh Thuan Province and Cao Phong Reforestation.
The Kyoto Protocol under the UN Framework Convention on Climate Change comprises of 37 developed countries aiming to reduce greenhouse gas emissions by 5.2 per cent under the first phase between 2005-12.
France funds climate change programme
Viet Nam has received an aid package worth 136,000 euro ($174,000) from the French Government to carry out a programme tackling climate change in the central Da Nang City.
The Agency for Development of France (AFD) and the municipal administration finalised the deal at a signing ceremony in the city yesterday, Nov 21.
The programme, to be executed between now and next September, will help the city plan emissions reductions and improve management skills for local officials working in the field.
It will help Da Nang towards its goal of becoming a green city by 2020.
VietNamNet/VNS