VietNamNet Bridge – The Management Boards of the Cham Island Marine Protected Area (MPA) and the Dong Nai Biosphere Reserve site have agreed to a Memorandum of Understanding (MoU) on co-operation for information exchanges, protection of biodiversity, eco-tourism, management and sustainable development of livelihoods.
The Cham Islands, off the coast of Hoi An City, is a favouite eco-tourism site with well-protected biodiversity. — VNS Photo Cong Thanh
Deputy head of the Cham Islands MPA Tran Thi Hong Thuy told Viet Nam News that the MoU, which was signed earlier this week, is part of a series of programmes to be carried out in response to the call of the UNESCO Man and the Biosphere Programme (MAB) for the 2015-20 period.
She said the two management boards will boost scientific research between the two world biosphere reserve sites and personnel training on biodiversity protection.
The 33,000ha Cham Islands-Hoi An, a world biosphere reserve recognised by UNESCO in 2009, is a favourite eco-tour site in central Vietnam.
In 2017, the Cham Island MPA also agreed to a co-operation deal with the Centre of Biodiversity Conservation, GreenViet, an NGO, on the protection of flora and fauna and building a detailed database and a map of biodiversity of the forests on Cham Islands as well as identifying endangered species for strict protection.
The Cham Islands, 20km off the coast of Hoi An City, is home to 1,500ha of tropical forests and 6,700ha of sea featuring a wide range of marine fauna and flora, including many endangered species such as salangane (swallows), the long-tailed monkey and the crab-eating macaque (Macaca fascicularis).
The islands, home to 1.26sq.km of coral reefs, have been the only location in Vietnam promoting the non-use of plastic bags and the 3-R (reduce, reuse and recycle) programmes since 2011.
The 3,000 inhabitants of the islands, which include eight islets with vast ecological diversity, host around 100,000 tourists annually, of which 10 per cent are foreigners.
The site only offers home-stay services and environmentally friendly energy solutions including wind and solar power.
Turtle release
The management board of the Cham Islands MPA also said 500 baby turtles have been released to the sea on the Cham Islands since early 2018.
It said these baby turtles were successfully hatched turtle eggs from the Bai Bac beach on the islands.
Experts said they brought turtle eggs from Con Dao Island in the southern Ba Ria-Vung Tau Province to develop on the well-protected beach of the Cham Islands.
The ex-situ conservation practice, which was began as a pilot project to restore the turtle population on the Cham Island, released 900 baby turtles into the ocean in 2017.
According to expert Le Xuan Ai, the ex-situ hatching (moving turtle eggs to other place for hatching) had seen success in Vietnam with 90 per cent of eggs hatching healthy baby turtles.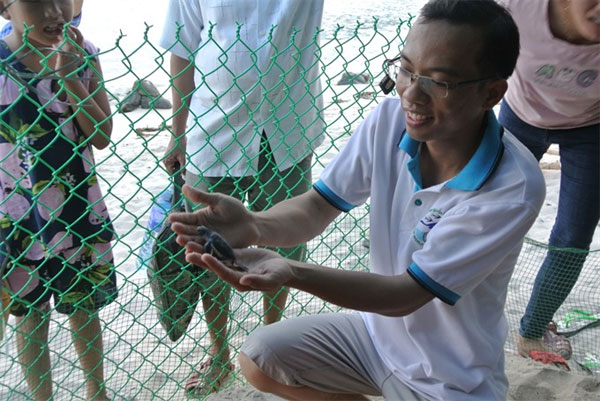 A baby turtle is hatched from turtle eggs on the Cham Islands. Eggs were brought from Con Dao Island in southern Ba Ria-Vung Tau Province for hatching on the Cham Island. — Photo courtesy of Le Xuan Ai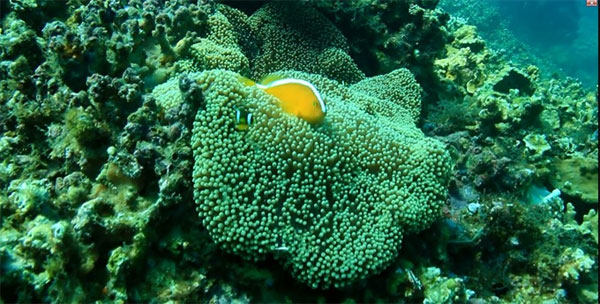 A yellow clown fish swims on coral reefs off the Chàa Island. — Photo courtesy of Le Xuan Ai
Source: VNS