VietNamNet Bridge – Residents in Kien Giang Province have asked Phu Quoc Economic Zone Management Board to take away the licence of a waste treatment centre that is causing headaches for them.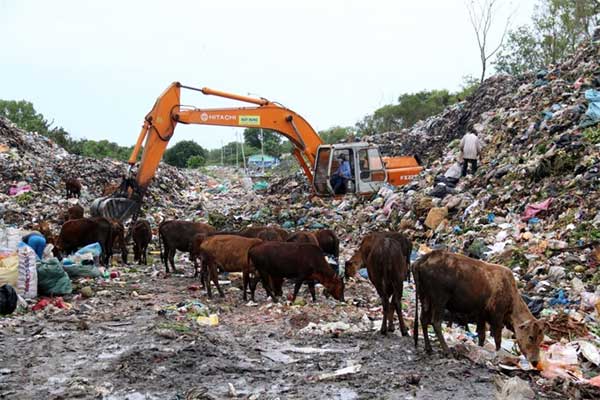 Kien Giang Province asks the Phu Quoc Economic Zone Management Board to complete procedures to revoke the project of building a waste treatment plant on the island. Dong Tram landfills at Cua Can Commune, Phu Quoc, is overloaded, causing serious environmental pollution. — VNA/VNS Photo Le Huy Hai
The request was made after the project's investor failed to put the plant into operation many times.
The Phu Quoc Waste Treatment Plant was designed to dispose of 200 tonnes of rubbish each day.
Costing VND230 billion (US$9.89 million), it was built by Global Renewable Energy Joint Stock Company.
Last October, the plant began a trial run but stopped the process two months later due to a malfunction. The plant was forced to close for upgrades.
It resumed operations in June but many residents set up barriers to block garbage trucks from entering the plant. They complained about more than 300 tonnes of rubbish left untreated, which had a serious impact on their life due to the noxious smell and water leaking from the dumping site.
The plant then ceased operations once more.
Speaking at a recent conference, Pham Vu Hong, chairman of the provincial People's Committee, said investment in the environmental sector was among the top priorities of the island to ensure sustainable economic development.
The province, as well as the district, had considered the Phu Quoc Waste Treatment Plant project a good solution for the garbage crisis on the island.
The committee has created favourable conditions for the project, including allowing extension for the project's investor to deal with incidents before the plant was officially put into operation.
However, delays of the waste treatment plant has seriously affected the work of waste treatment on Phu Quoc as the amount of waste left at the dumping site is on the rise, causing environmental pollution.
As a result, the committee has assigned the Phu Quoc Economic Zone Management Board to revoke the project.
Phu Quoc, a popular tourism destination, is facing the problem of increasing environmental pollution.
According to the Public Works Management Board of Phu Quoc District, more than 180 tonnes of waste are discharged from tourism services, fishing boats and fish breeding each day. However, only half is being properly collected.
Rubbish is mainly thrown into open dumping sites at Cua Can and Bai Tram areas, causing serious pollution.
Source: VNS