Illegal dumping of industrial waste in Long Châu Commune of Bắc Ninh Province's Yên Phong District has badly effected the lives and production of local people, reported online newspaper baotintuc.vn.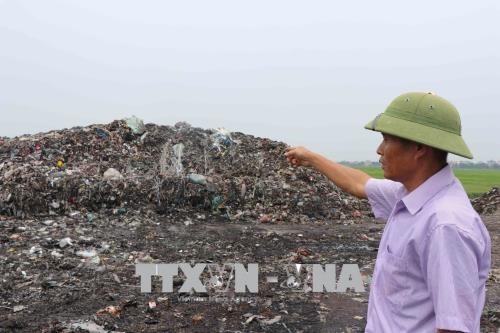 Pile of industrial waste in Ngô Xá Village of Long Châu Commune of Bắc Ninh Province's Yên Phong District. 
According to local residents, illegal dumping and burning of industrial waste at the commune's domestic dumping ground has occurred for a long time but has not been stopped by authorities.
The commune's 1,000sq.m-dumping ground opened in 2008 to process domestic garbage with a capacity of 22 tonnes of rubbish per day.
However, recently, many trucks have brought industrial waste to the dump and burned it during the night, causing terrible environmental pollution, said Bùi Thế Dũng, a resident of Long Châu Commune.
"Since earlier this month, many trucks carrying waste, including scraps of fabric, nylon, leather and lubricant, have arrived at the site in the middle of the night," Dũng said.
"They also burn the waste, causing black smoke and an awful smell. This makes people's lives a misery," he said.
Illegal dumping of industrial waste has also caused harm to agricultural production.
"Because the dumping ground is located near paddy fields, burning industrial waste kills the plants. Canals were full of chemicals and now could not be used for irrigation anymore. The people suffered big losses," said Nguyễn Văn Cử, a resident.
According to Nguyễn Xuân Lanh, head of Ngô Xá Hamlet of Long Châu Commune, there was an industrial zone near the hamlet, so illegal dumping of industrial waste happened regularly.
And the situation has recently become more serious. Dumping and burning industrial waste has caused air, water and land pollution, he admitted.
Five days ago, the local people and the communal government caught drivers who were dumping waste at the site. The truck drivers were handed over to the police.
So far, there has been no evaluation of the toxicity of industrial waste burned in the area, said the paper. — VNS