VietNamNet Bridge – Elephants in Dong Nai are destroying crop fields and damaging farmers' buildings – despite a 50-kilometre electric fence built to keep them out.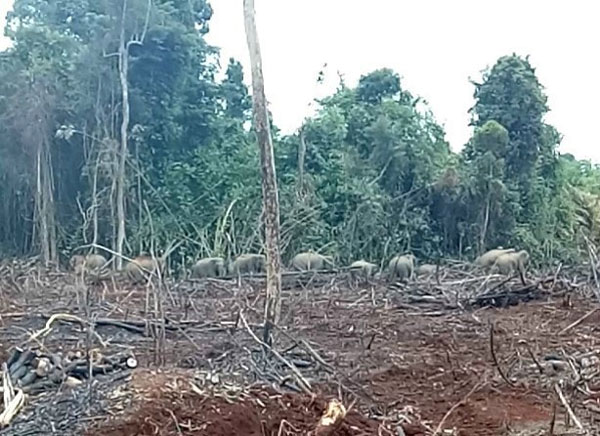 In the past, the elephants only appeared in the evening, but residents say they have started to come during the day as well. — VNA/VNS Photo SyTuyen
The electrical barrier was constructed in the southern province through Vinh Cuu and Dinh Quan districts but it's not stopping the elephants from wrecking agriculture and even threatening lives.
The system was built after a proposal by director of the Dong Nai Culture and Nature Reserve Tran Van Mui and cost VND85 billion (US$3.8 million).
It has 19 main gates for vehicles and hundreds of sub-gates for motorbikes.
Although the animals, believed to be around 50 in total, will be shocked if they touch the fence, it does not cause them any serious harm.
Deputy director of the provincial Department of Forest Management, Le Viet Dung, said that the electricity could cause shock for the animals, but it was safe shock and could not cause any harm to them.
Resident Tran Viet On spent VND220 million ($9,500) on his banana garden which should be ready for harvest – but it was destroyed by elephants.
"The elephants come to residents' gardens almost every night. They did not eat anything, but they destroyed almost of them," said Ơn.
Storage buildings have also been damaged.
In the past, the animals only appeared in the evening, but residents say they have started to come during the day as well.
Le Duc Hien said that the elephants search for the areas that did not have the electric fence to come across and then go to residential areas.
Experts from the Dong Nai Department of Forest Management said since the beginning of May, about 15 elephants continuously destroyed fields and fruit gardens of residents in Thanh Son Commune, Dinh Quan District.
Deputy director Dung said the elephants' living area was about 42,000ha.
The electric fence was operated from July last year, and protected about 16,000ha of forest, fields, fruit gardens and about 50,000 houses in Vinh Cuu and Dinh Quan districts.
However, since the beginning of this year, the elephants destroyed the fields 35 times.
Dung believes the 50-km electric fence is not long enough to prevent the elephants.
The department proposed the Dong Nai People's Committee to set up about 20km more.
The new part of fence will be from Thanh Son Commune in Dinh Quan District to Phu Ly Commune in Vinh Cuu District and need fund of about VND20 million ($880). The department is waiting for approval from the provincial People's Committee.
Source: VNS