VietNamNet Bridge – Residents in HCM City's Binh Tan District have been forced to burn piles of uncollected waste left on Binh Long Street after companies dumped the waste in the area at night, according to locals.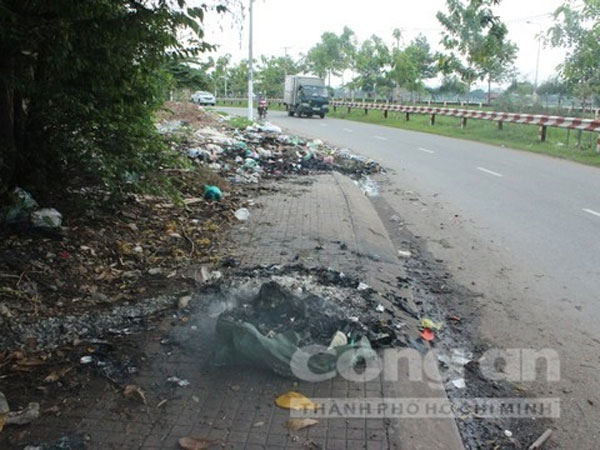 Industrial waste left on a street in HCM City has not been collected because of contract disputes and other problems. Photo congan.com.vn
The HCM City One-Member Limited Urban Environment Company, which treats waste, said that dozens of tonnes of waste had been left on the street by companies that produce industrial waste.
The company director, Huynh Minh Nhut, said that companies producing industrial waste must sign a contract with his treatment company for the latter to pick up the waste.
"The industrial waste on the street is from companies that stealthily leave trash on the street at night," he said. "In the past, my company collected and treated industrial and none-industrial waste at the same time.
However, the city's Department of Natural Resources and Environment warned us not to treat both together. So that's why we're no longer collecting industrial waste on the street."
Companies are leaving the industrial waste on the streets in a hidden way to cut treatment costs, which are VND1million (US$45) per tonne, he said.  
The cost of non-industrial waste is only VND20,000 – 30,000 (US$ 0.9 – 1.3) per month.
In addition, many small- and medium-sized companies are mixing industrial and daily waste to reduce treatment costs
Nguyen Gia Thai Binh, deputy chairman of Binh Tan District's People's Committee, said the district would install a camera monitor on the street to catch violators.
In the long term, the district will ask companies to sign a contract with a treatment company to treat their industrial waste, Binh said.
HCM City has only two treatment companies allowed to treat industrial waste. They are the Da Phuoc Solid Waste Treatment Complex and Phuoc Hiep Waste Treatment Complex, with a total capacity of 860 tonnes daily.
But the total industrial waste of HCM City amounts to 1,500 – 2,000 tonnes daily from around 12,000 companies, according to the Department of Natural Resources and Environment.
A representative of the HCM City One-Member Limited Urban Environment Company said the company had submitted a proposal to allow the company to treat 500 – 1,000 tonnes daily of industrial waste.
Companies producing industrial waste that do not sign a contract or transfer their waste to a treatment company are fined VND20 million – 25 million ($900 - $1,100) under the city's environmental regulations.
Source: VNS