VietNamNet Bridge – Residents of Vu Hoi Commune in Vu Thu District of northern Thai Binh Province have to pass a large rubbish dump to get to the communal clinic. The pile, as tall as a grown man, is located just 100 metres from the clinic and the primary and secondary schools of the commune.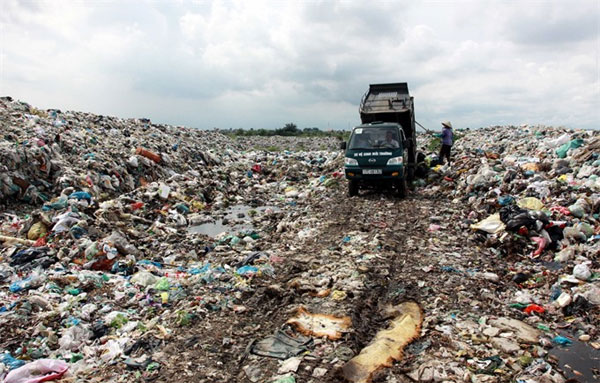 Rubbish piles up in Vu Hoi Commune, Vu Thu District, Thai Binh Province. - VNA/VNS Photo The Duyet
The foul smell even affects local residents in their houses.
Vu Ngoc Chinh, a local resident, told Vietnam News Agency that he had to close his windows and wear air masks while sleeping due to the smell.
Four years ago, a waste burning plant, expected to be able to burn five to six tonnes per day, was invested in by the provincial People's Committee to address a large amount of rubbish discharged by the 11,000 people in the commune.
The plant worth VND500 million (US$21,800) can actually burn only a tonne of waste per day, said Mai Van Quan, chairman of Vu Hoi Commune's People's Committee.
Not long after it was put into operation, the plant was abandoned because it was broken.
The plant's capacity was said to be too low to deal with the amount of waste. Each day, residents of the commune which is well known for making noodles, release eight to ten tonnes of waste.
Vu Thi Khanh from Nang Tinh Village said that there were only two people in charge of sorting and burning waste every day. Each day they could burn waste from one cart only.
Since the waste burning plant stopped operation, rubbish piled up so high that the area for dumping was expanded from 2,500 sq.m to 4,500 sq.m. However, the area would soon become too small for the piles of rubbish if there is no solution, Quan said.
Resident Nguyen Thi Hong from Hieu Thien Village passes the pile four times a day to take her children to and from school and is worried that children studying at the nearby school can't bear the smell.
She said that the local community had complained to authorities but nothing had been done.
To tackle the rubbish piles, the labourers who are in charge of local waste treatment burn the garbage in the open air, which releases smoke and dust to the neighbourhood.
Chairman Mai Van Quan said local authorities were thinking about using waste-burning technology from Thanh Dat Joint Stock Company, which had proved effective in Quynh Phu District of Thai Binh Province.
"The model treats a large amount of waste so it can burn the rubbish of several communes together. However, residents have not agreed to bring rubbish from adjacent communes to Vu Hoi Commune for treatment," he said.
Quan said that a new waste burning plant worth VND4-5 billion ($174,000-218,000) would replace the old one next year. The investment would be sourced source from planning work and land auction funds.
However, residents are worried that even once the new technology is in place, the garbage dump will still be located near their living area. They want the dump moved elsewhere.
According to regulations, small and medium scale garbage dump must be at least a kilometre from households located in the prevailing direction of the wind.
Source: VNS