The first week of July witnessed an improvement in Hanoi's air quality, according to the city's Environment Protection Authority under the Department of Natural Resources and Environment.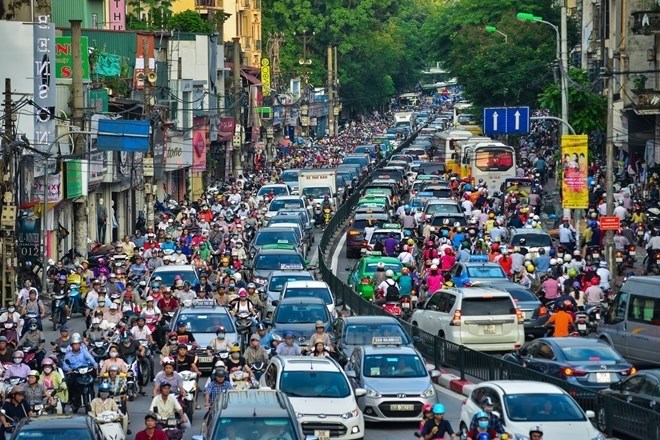 Heavy traffic is among factors impacting the city's air quality.
The air quality measured at monitoring stations around the city reached levels of 'good' and 'average'. Significantly, the number of days with 'good' air quality rose in comparison with the previous week.
Mai Trong Thai, the authority head, told Ha Noi Moi (New Hanoi) newspaper that the measured air quality index (AQI) fluctuated between 40 to 94 points which were equivalent to 'average' and 'good' levels. There was no day with air quality dropping to 'bad' level.
Urban air monitoring stations of Trung Yen in Cau Giay district, Kim Lien in Dong Da district, My Dinh in Nam Tu Liem district and Tan Mai in Hoang Mai district showed increases in good air quality days, accounting for 100 percent, 71.4 percent, 71.4 percent, 57.1 percent and 42.9 percent respectively.
No monitoring indicator exceeds the Vietnamese standard.
At urban traffic site air monitoring stations on Hang Dau street, Hoan Kiem and Thanh Cong areas, the AQI remained at the average level. Hoan Kiem air monitoring station, however, acknowledged one day with AQI at a good level on July 5.
Meanwhile, the records by two air monitoring stations in Minh Khai ward, Hai Ba Trung district and on Pham Van Dong street in Bac Tu Liem district showed that during last week, air quality stayed at the average level under the pressure of high traffic.
The highest AQI tracked in these areas were 94 and 78 respectively, with the highest daily concentrations of fine particulate matter (PM2.5) of 44.7µg/m3 and 40.29µg/m3 respectively, below the Vietnamese air standard of 50µg/m3. 
According to experts, rain over the next few days will also help to improve air quality in Hanoi after a week-long hot spell.-VNS/VNA