The Mekong Delta province of Kien Giang has made a proposal for 300 billion VND (13.82 million USD) worth of Government aid in order to fix up its 14.5km span of severely eroded beaches.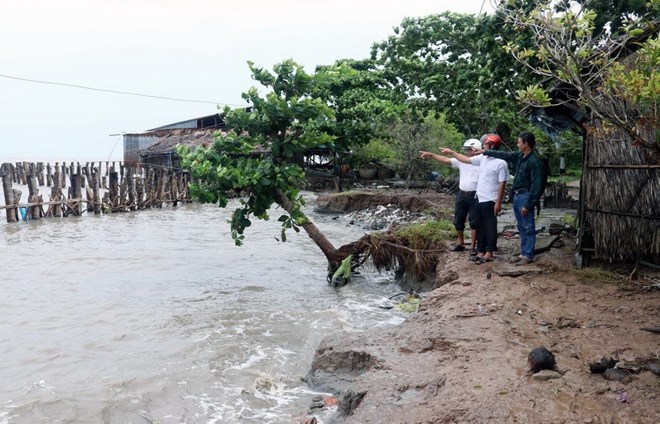 Erosion on Tieu Dua beach, Kien Giang
According to provincial Vice Chairman of People's Committee Mai Anh Nhin, the three dangerous sections of coastal erosion are 5km in Mui Ranh, An Bien district; 7km in Xeo Nhau, An Minh district; and 2.5km in Son Hai island, Kien Luong district. They are in urgent of need of 100 billion VND (4.36 million USD), 140 billion VND (6.11 million USD), and 60 billion VND (2.61 million USD), respectively, for the construction of embankments.
The local Department of Agriculture and Rural Development said the province has a 200-km sea dyke route running from Mui Nai in Ha Tien town to Tieu Dua canal in An Minh district.
Kien Giang currently has 72km of eroded coastal areas, with a number of its locations losing 20m of protected forests per year due to erosion. 
Director of the Agriculture Department Nguyen Van Tam said the level of saltwater intrusion is on the rise, causing more severe erosion, which has negatively affected inland infrastructure and local production.  
The situation requires prompt action, particularly investment in protecting the sea dyke, planting mangrove forests, and creating livelihoods for coastal residents.
However, the province's tight budget has hindered its efforts to carry out these necessary measures, said Tam. -VNA