Becoming a wildlife conservationist to save species such as bears, rhinos and elephants from illegal trade was Nguyen Thi Thu Trang's childhood dream. And today, she is living it.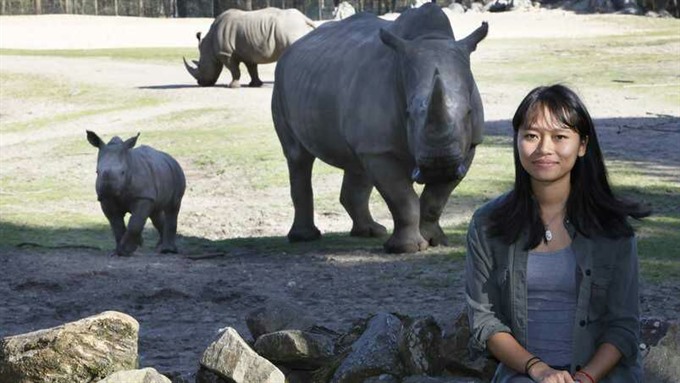 Trang has been passionate about wildlife conservation since she was small. 
The 28-year-old is the founder and director of WildAct, a local non-governmental organisation (NGO) working to end wildlife exploitation. In 2013-14, she was invited as the ambassador of United for Wildlife to raise awareness of African rhino conservation.
In recognition of her tireless and dedicated efforts to protect the wildlife, Trang was honoured with the Future for Nature award earlier this year, along with two others. She was also named one of the 30 young influential people under 30 by Forbes Việt Nam.
"It was an honour to receive the Future for Nature award as it is well-recognised for global conservationists," Trang tells Việt Nam News.
Trang has been concerned about wildlife since she was a child.
"Growing up in Việt Nam back in the 1990s did not mean I only got to see wild animals in nature. I also saw the ugliness of the illegal wildlife trade. I often saw monkeys chained up near the road and birds cramped in cages," she recalls.
One particular incident when she was seven or eight years old became the turning point in her life. This incident inspired her to become a wildlife conservationist when she grew up.
"Once one of our neighbours got a bear. I did not know what it was. They kept curious eyes away by putting a giant rain cover on top of the cage at all times," Trang says.
One day, Trang and her friend returned late from school. Seeing her neighbour's garden all lit up, they tiptoed there and saw a real black bear lying still, with its back on the floor. Some people were surrounding it with a giant needle, and there was a machine next to it.
"The moment they stabbed the bear with the needle, we both screamed and ran off. That was my first encounter with a bear," Trang says.
"What I saw that day, the noise, the smell and everything else stuck in my mind. I just wanted to do something about it back then. It was then I realised that I wanted to be a wildlife conservationist," she adds.
At that time, "wildlife conservation" was still a new concept in Việt Nam and did not receive proper attention, but that did not stop Trang from pursuing her childhood dream.
During her high school, she had more opportunities to get involved in wildlife conservation. She worked as a volunteer and interned for several NGOs in Việt Nam, including TRAFFIC, a wildlife trade monitoring network, and Fauna and Flora International.
She got a bachelor's degree in wildlife conservation at Liverpool University and two master's degrees in primate conservation and conservation leadership at Cambridge and Kent universities, respectively. During that time, she also participated in wildlife projects in Madagascar, Indonesia, Việt Nam, Cambodia, South Africa, and Kenya.
In 2010, she created a Vietnamese Facebook fan page to raise awareness and educate the youth on the consumption of wild products. This gave her a chance to meet like-minded people and in 2013, WildAct was born.   
"One day, I was contacted by an NGO in the United Kingdom called Helping Rhinos, asking if we wanted to collaborate with them on an education project on rhino conservation. 'Why not?' I answered," Trang says.
"And that is one of our major achievements until now. Ten Vietnamese students and teachers went to South Africa to participate in the first World Youth Rhino Summit. We were the first NGO in Việt Nam to take Vietnamese young people to South Africa to learn about the rhino crisis."
Currently she is working closely with the police and anti-poaching units in Africa, as well as authorities in Asia to map out the illegal wildlife trade between these two continents.
One of the most memorable memories Trang had after working with animals in recent years was when she worked at the Ol Pejeta Conservancy in Kenya.
Sitting near a water hole, waiting for the sunset, she saw a herd of African elephants walking back from the water hole to the bush. One of them, a two or three-year-old male calf, unfortunately, was hit by a car and had trouble keeping up with the herd.
"I could see that his herd was getting irritated as they had to walk, stop and wait then walk and stop several times. They turned back to look at him, with their ears wide open and moving back and forth, they started to kick the dirt with their legs. They seemed to run out of patience," Trang recalls.
"Suddenly, one calf, probably his older sister, walked back to him. She walked so gently toward him, leaned her forehead to his, then used her own trunk to twist on his, and walked him back to the herd.
"I was touched by what I saw, by the feeling of love between every family member, and the affection, protection and empathy that the elephants gave each other."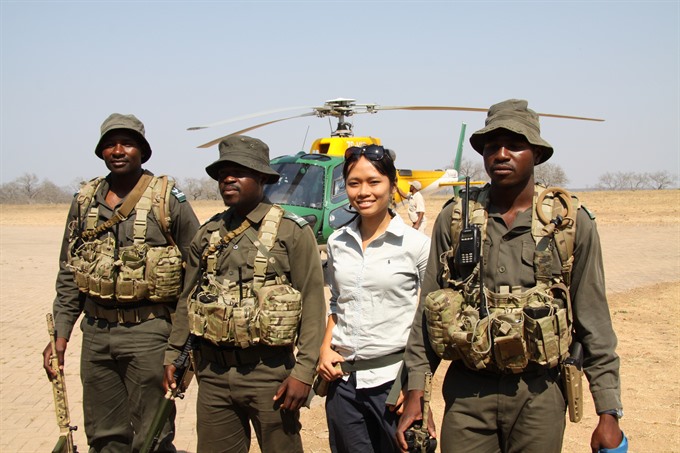 Trang poses with anti-poaching rangers in Kruger National Park, South Africa.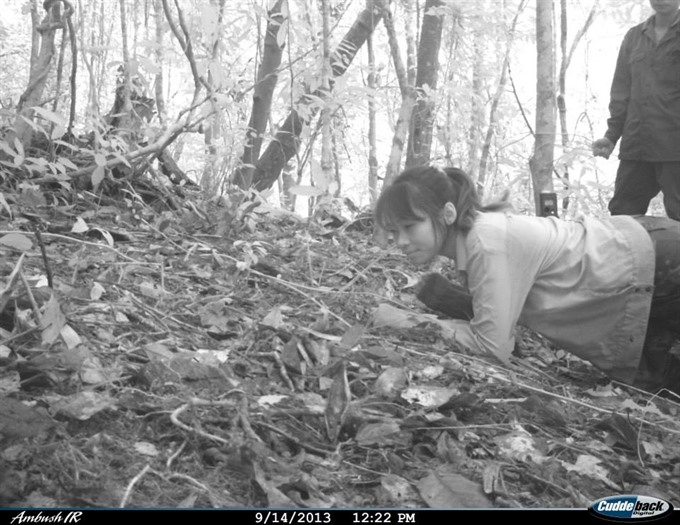 Trang works on a camera trapping project in Việt Nam.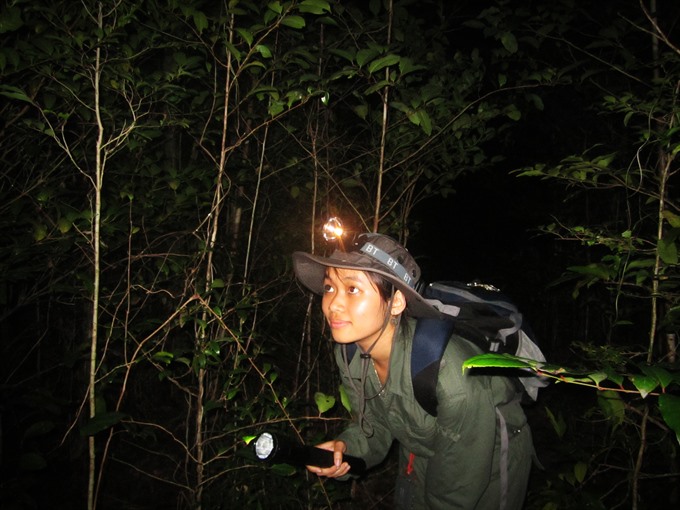 Trang does night survey in Madagascar. 

According to the young wildlife conservationist, ignorance, over-consumption and over-population are the three biggest issues facing wildlife, not just in Việt Nam but globally.
"All wildlife is on the verge of extinction right now due to human impact. There is not a single day that goes by that we do not have some impact on our nature and environment," she says.
Recently, Trang published her book titled Trở Về Nơi Hoang Dã (Back to the Wilderness) about her works on wildlife crimes in Asia and Africa. All the money earned via the book sale is expected to be donated to wildlife conservation activities in Việt Nam.
Trang says she hopes that her readers will realise that humans are only a part of nature and have always depended on it, "no matter how much technology has developed, and how long we have been away from nature".
"We are only borrowing natural resources for our future generations, and it is our duty to preserve them as fully as possible to give it back to our future," she says.
"Every single little thing we do, if we do it consistently, no matter how small it is will become significant."
Trang reveals that WildAct is collaborating with University of Vinh in central Việt Nam to open the first ever master's course on monitoring the illegal wildlife trade in Việt Nam and in the region.
They are also starting a new programme called "Wild Library" to provide books on conservation for Vietnamese teenagers living in rural areas near national parks and nature reserves, encouraging them to read more and be more understanding of the natural world surrounding them. ​VNS