VietNamNet Bridge - Coastal and riverbank landslides are now a hot topic in the Mekong Delta. In May and June, a series of landslide cases occurred in the delta's provinces, from Ca Mau, Hau Giang and Can Tho to An Giang, Dong Thap and Vinh Long.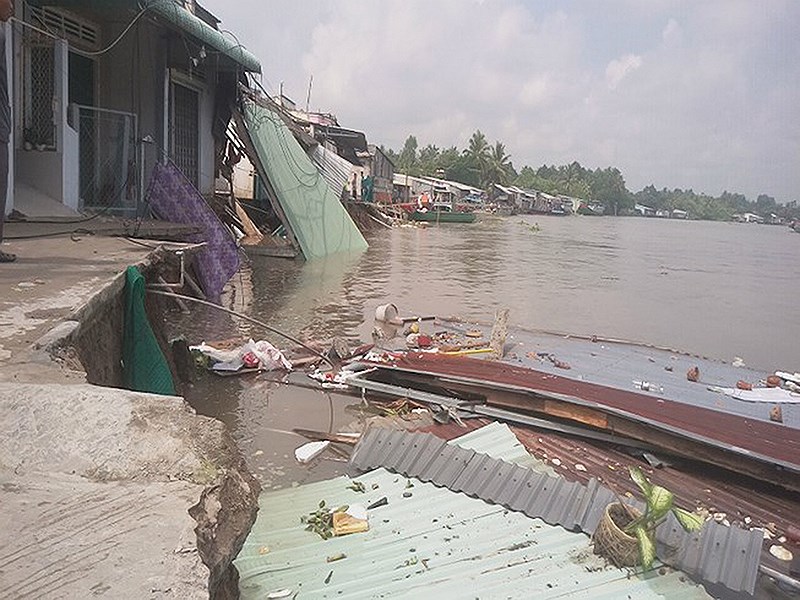 Landslides occur regularly in Mekong Delta
The PM has approved a budget of VND2.5 trillion to allocate to Mekong Delta provinces to deal with acute landslide areas which directly affect residential areas and essential infrastructure.

Le Anh Tuan, deputy head of the Research Institute for Climate Change, said there are six reasons behind the increased landslides.

First, China has built hydropower dams on the upper course of Mekong, thus leading to a decrease in the volume of silt flowing to the delta. As the current is 'hungry' for alluvium, it has 'eaten into' two river banks.

Second, increased sand exploitation on the river has led to changes of the flow.
Third, more and more houses have been built on the river banks. Fourth, waterway transport vehicles use large-engine motors, creating big waves which crash onto the shore.

Fifth, the building of embankments to prevent floods has caused the water current to narrow, thus causing pressure on riverbanks and causing erosion. Sixth, climate change has caused extreme weather conditions.

What should we do to fix the problems?

Tuan: Of the reasons, the building of hydropower dams on Mekong's upper course is beyond Vietnam's control. Mekong Delta's provinces need to draw up a map of the region with marking of 'hot spots' of landslides.

In fact, the Ministry of Natural Resources and the Environment (MARD) has provided a version of map, but it needs to be further detailed and updated regularly.

Many other things also need to be done, such as restricting licensing for sand exploitation, controlling means of transport and house construction, setting up warning boards in landslide-stricken areas and considering using new construction materials instead of sand.

What do you think about measures to handle landslides that provinces/cities have applied?

Tuan: The measures can settle the problems that have arisen, but they cannot sustainable development. Sometimes the measures are counterproductive as they have caused landslides in adjacent areas.

Most provinces and cities have plans to evacuate people from landslide stricken areas to protect people's lives and properties. However, some analysts have warned the solutions are unfeasible.

It is true that it would be very difficult to evacuate people from landslide affected areas because this requires large land funds and big budgets. Besides, we will need to use land when building houses for resettlement. It is necessary to reconsider the evacuation projects.



RELATED NEWS
Mekong Delta erosion incidents increase
Mekong Delta kicks off efforts to save water sources
Thanh Mai