VietNamNet Bridge – Pham Anh Cuong, director of the Department for Bio-Diversity Conservation, under the General Department of Environment, the Ministry of Natural Resources and Environment talks to Vietnam News Agency about the important role of spatial planning for conservation zones in response to climate change.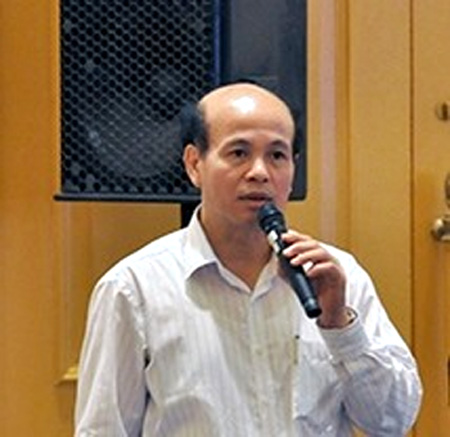 Pham Anh Cuong
Will you please explain why the work has captured attention of people at the ongoing 6th Global Environmental Forum in Da Nang?
The reason is very simple. Vietnam is considered as one of the countries which will be seriously affected by the global warming and climate change.
Climate change will impact many fields, localities and communities, including the issue of biodiversity and in particular, conservation areas.
According to scientists, climate change has caused the sea level to rise, high temperatures and the more floods, flash floods, droughts and soil erosion.
The increase in temperature will cause changes in the distribution zones and structure of various groups of biology; the reduction of tropical species living in coastal ecology and terrestrial ecosystems along with others.
If the sea level rises for one metre, it is projected that 27 per cent of the important natural ornamental biology; 46 conservation zones (33 per cent); nine regions with important biodiversity (23 per cent); 23 areas – the home of many other important biology (21 per cent) will be seriously affected.
Natural conservation zones have been well protected under the 2008 Law on Bio-Diversity.
The Treaties on Bio-Diversity and on Climate Change in which Vietnam is a signatory to have acknowledged that natural conservation areas is an important tool towards sustainable development and against negative impacts from the climate change for all countries worldwide.
Besides the task of conserving all species and eco-system, the conservation areas have also helped us to conserve our clean water resources and carbon stock.
Conservation zones are good tools to adapt to climate change. If they are well managed, they will act as a shield to protect negative impacts from the climate change for the humans, plants and animals.
Will you please tell us the current status of Vietnam's spatial plan for conservation areas in response to climate change?
Vietnam now has some 170 conservation zones over more than 2 million ha.
According to the Master Planning of Viet Nam Biodiversity areas which was signed by the Prime Minister on Jan.8, 2014, by 2030 Vietnam will have 20 new conservation areas. By that time our total conservation areas will be about 3 million ha.
The Vietnamese Government and people are all aware of the importance of conservation areas for sustainable development as well as the adaptability and the reduction of the negative impacts of climate change.
If in the past, natural conservation zones were regulated in various specialist laws, covered in the 2008 Law on Biodiversity.
Under the 2017 Law on Planning, conservation systems should be a part of the national plan on biodiversity.
National planning or sector planning, both must include the component of biodiversity conservation and climate change.
Elaborate on our future spatial planning for the conservation areas nationwide in the context of climate change?
We should focus our efforts in research and evaluation of climate change impacts on these areas and the best measures to reduce them.
In addition, Vietnam also needs to conduct research and develop our own technical means for conservation space which are suitable to our conditions. In the meantime, we also need to establish biodiversity corridors to connect all conservation areas together in response to the climate change.
Last but not least, we should launch campaigns to raise the people's awareness of biodiversity and the management tools for conservation in sustainable development and the adaptability towards climate change. 
Source: VNS