The Vietnamese government has urged tightened controls over waste imports in the context of the flooding of abandoned waste containers at local sea ports.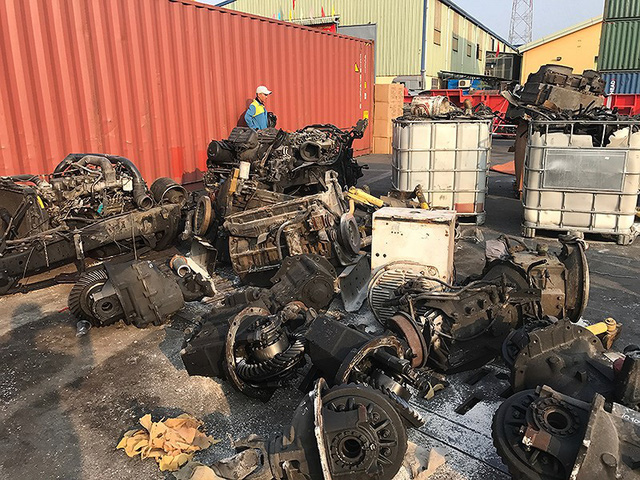 A large number of abandoned waste containers at Vietnamese seaports
The ministries of Finance, Natural Resources and Environment, Industry and Trade and Transport have been asked to closely supervise waste imports and trading activities. 
More than 3,000 containers of waste have been abandoned for more than 90 days at seaports in Vietnam.
According to Sai Gon Port's customs board, the abandoned waste has affected the port's operation, meanwhile, the costs for destroying the waste is very expensive.
A representative from a consumer goods company in HCM City said that "We want to import goods, but now Saigon Port is full of waste, so we have to wait".
Nguyen Nang Toan, director of the Sai Gon Newport Company's logistics centre said that China halted the import of 24 kinds of waste from January 1. So, developed countries have exported waste to other countries, including Vietnam. Old waste includes cables, machinery, equipment, plastic and batteries.
Nguyen Xuan Sang, head of Vietnam Maritime Administration, said that a large amount of plastic waste would come to Vietnamese sea ports in the coming time, which would pose environmental pollution as well as fill up ports.
Le Duy Hiep, chairman of Vietnam Logistics Association, said that currently, waste prices in many countries are too low, so, many Vietnamese companies import them for recycling and then resell them for higher prices.
Taking advantage of the waste import, many companies imported second hand electronic products and household utensils from Japan, South Korea or the US for sale. In case when they are detected, the goods were often left at sea ports.
Dinh Ngoc Thang, head of HCM City Department of Customs, said that waste which is not allowed to be imported or those which have import papers expire will not receive customs clearance.
Tran Viet Anh, deputy chairman of HCM City Plastic and Rubber Association, said it was necessary to closely supervise waste imports. Authorities need strict sanctions on companies which import materials but then do not receive them.
The General Department of Customs will submit the government measures to tighten control over waste imports. 
"We will instruct local customs agencies to strictly deal with imported waste which do not meet the required procedures. In such cases, the owners of goods do not collect their containers left at ports for more than 90 days, customs officers will sell off the shipment. Meanwhile, those which can affect the environment will be destroyed.
According to the Vietnam Maritime Administration, by May 31, up to 27,944 containers of good were abandoned at Vietnamese ports. Of the sum, 6,700 containers were left at Haiphong Port; 14,600 at ports in HCM City and 6,500 at ports in Ba Ria-Vung Tau ports.
Most of the goods are old electrical cables, machines, fertilizer, garment materials, paper, plastic waste and agricultural produce.
Vietnam allows waste imports for production activities. The country has 928 waste importers.
Dtinews