VietNamNet Bridge – Vietnam has been focusing on the development of non-fired adobe brick to gradually replace clay bricks for construction. However, after nearly ten years of efforts, clay bricks remain dominant.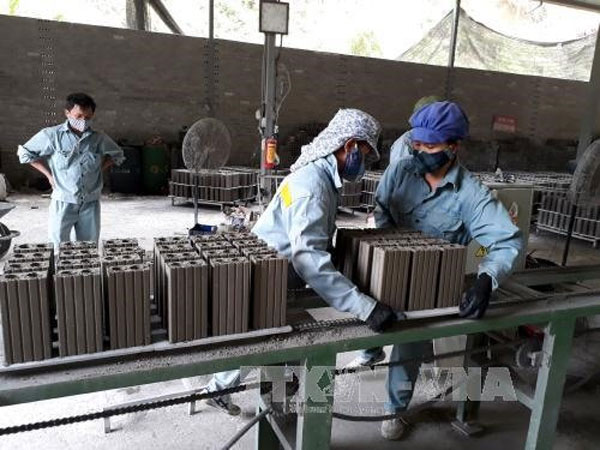 The output of non-fired bricks was about 6.8 billion cubes, accounting for about 26 per cent of the total output of building materials. – VNA/VNS Photo Duc Hieu
The Ministry of Construction said that non-fired bricks help minimise environmental pollution, make use of available industry waste and shorten construction time.
Due to these advantages, policies have been issued to encourage the production and use of the eco-friendly bricks.
Since 2008, the Government and the Ministry of Construction has issued legal documents on researching, producing and using unburned construction materials. Any projects producing non-fired materials were eligible for support between 2009 and 2015.
In 2014, the Government approved a master plan for development of construction materials by 2020. A programme on enhancing the production and use of non-fired bricks in Vietnam by the Ministry of Science and Technology and Ministry of Construction became the key part of the plan.
The programme targets increasing the market share of non-fired bricks by between 20-25 per cent by 2015 and between 30-40 per cent by 2020.
However, it has not met the desired goals.
Figures from the Ministry of Construction showed that there were 41 businesses researching, designing, manufacturing and supplying equipments on non-fired construction materials nationwide.
The output of non-fired bricks was about 6.8 billion cubes, accounting for about 26 per cent of the total output of building materials.
The output of burned clay bricks was 18 billion of cubes. 
Nguyen Dinh Hau, head of the ministry's Department of Science and Technology said that unburned bricks were unpopular in Vietnam, especially in rural areas where few knew about them.
Pham Van Bac, head of the ministry's Construction Material Department said that the demand for non-fired construction materials was quite large, but its growth was not as expected.
Many consumers and investors preferred traditional bricks as they were cheaper.
According to experts, the source of clay for producing burned bricks in Vietnam was cheap and available, making it tough for non-fired bricks to compete.
As a result, only some large non-fired bricks with holes could be consumed widely.
In addition, the use of non-fired bricks requires strict technical requirement. Most builders are familiar with burned clay bricks and simple tools while non-fired ones require specialised construction tools.
Dao Danh Tung from the Construction Materials Department said the policies were sufficient but not effective due to a shortage of stimulus policies and investment incentives for research and development of unburned bricks. Policies on taxes and fees were not promoted enough to attract businesses to invest in the field.
The field also lacks high-qualified human resources.
Moreover, co-operation between institutes, universities and enterprises remains loose.
Currently, there is no national criteria system on non-fired materials, he said.
To boost the development of non-fired bricks, experts suggested more favourable policies be used to encourage investors to use non-fired products and support the consumption of the products.
Source: VNS