VietNamNet Bridge – Everyone has their own set of qualities to look for in an ideal partner, but what if the ability to classify garbage is the only trait one is seeking?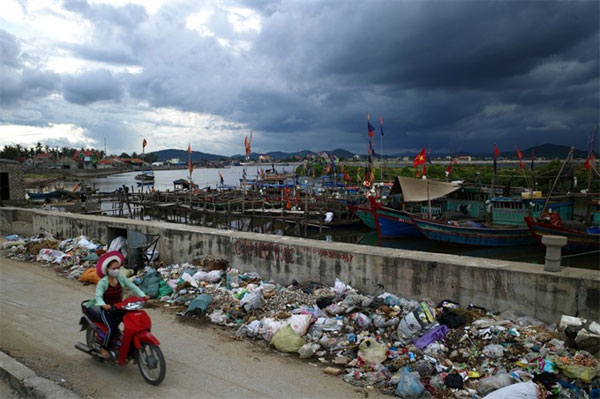 Garbage is dumped along Quynh Phuong Beach in Dien Chau District, the central province of Nghe An. - VNA/VNS Photo Viet Thanh
Ban muon hen ho? (Do you want to date?), the most popular dating reality show in Vietnam, last month, brought two primary school teachers, Nguyen Van Tho and Nguyen Thi Y Nhi, together. The conversation had been fun until Tho told Nhi and, of course, television audiences that he was looking to find a girlfriend who knew how to sort trash.
Nhi was shocked and confused, and some viewers left comments on the TV show's YouTube channel asking if Tho was nuts.
Others supposed that as garbage classification is not so common in Vietnam, those who spend time sorting rubbish are becoming a sort of modern Don Quixote – the fictional noble who lost his sanity and set about trying to undo the wrongs of society.
Mai Ngoc from Hai Ba Trung District, who has classified trash for years, told Viet Nam News that she found it "inconvenient" for environmentally conscious people, especially apartments' residents, in the country to practise sustainable living.
The high-rise apartment where Ngoc lives offers no waste sorting bins. All types of trash are commonly discharged into plastic bags. People tie them up and dump into a sole garbage collection room.  
Necessity is the mother of invention, Ngoc finds her own way.
"I gather organic waste to make compost. It works well with my tiny garden on the balcony," she said.
However, Ngoc's efforts seem like a drop of water in the ocean especially when with 1.8 million tonnes of plastic garbage discharged into oceans a year, Vietnam is among five countries that dumps more plastic into the ocean than the rest of the world combined. 
The data released at the Earth Day event on April 19 in HCMC showed that Vietnam's population of 93.7 million discharged nearly 18,000 tonnes of plastic garbage a day.
Meanwhile, only a small amount of this is recycled, according to Quach Thi Xuan, director of Da Nang Sustainable City Development Project.
Nam Son Landfill in the outlying district of Soc Son, Hanoi, receives about 4,000 tonnes of trash a day, and up to 6,000 tonnes during Tet Holiday.
Plastic garbage accounts for 5 to 7 per cent of overall waste, posing a real challenge for the waste treatment facility as it is not sorted at the source, but rather mixed with other types of trash.
Do Thanh Bai from the Viet Nam Industrial Environment Association said that 54 per cent of plastic garbage is buried without any treatment at landfill sites.
Duong Thi Phuong Anh from MoNRE stressed upon the significance of administrative mechanisms in dealing with plastic garbage.
Although Vietnam has set a plan to deal with solid waste by 2025, aiming to raise the amount of recycled garbage to 85 per cent, little has been done thus far.
Ha Noi University of Science and Technology has been researching biodegradable plastic and its applications for the last 15 years.  However, these products, when decomposing, still create plastic microbeads. Solid plastic particles can cause severe water pollution and destroy the living environments of aquatic animals.
Therefore, it is still a question for those agents of change like Ngoc and Tho to solve. Improving the environment in Vietnam, they say, starts with garbage sorting and is followed by reducing, reusing and recycling.
"Despite others' opinions, I will still stick with the humble path," Ngoc said.
"By classifying garbage, I not only contribute to protecting the environment, but I also offer my family delicious meals all the way from the balcony." 
Source: VNS