The Vietnam Sea and Island Week was launched in the northern coastal province of Quang Ninh by the Ministry of Natural Resources and Environment and the local People's Committee on May 31.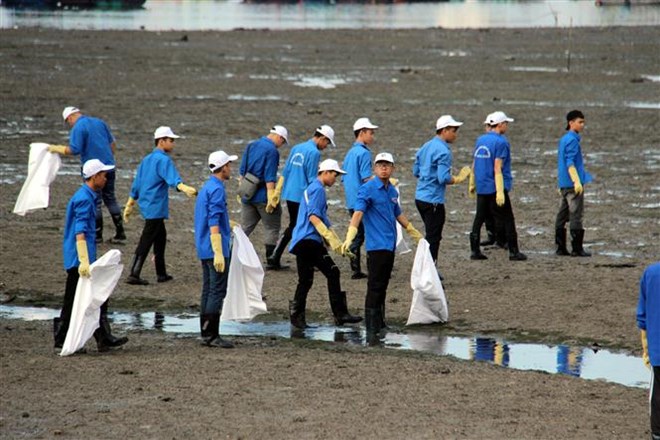 Local youths clean up the beach in Cam Pha city.
The event is part of the activities in response to the World Ocean Day 2018.
Speaking at the ceremony, Minister of the Natural Resources and Environment Tran Hong Ha said that 28 coastal central-run cities provinces should cooperate in protecting marine environment as well as work to change awareness of sea and treatment to the ocean.
They should consistently follow ASEAN's stance on ensuring security, safety and freedom of navigation and aviation and tackle the East Sea issue based on respect of international law while having effective response to climate change and rising sea level.
Meanwhile, Chairman of the provincial People's Committee Nguyen Duc Long affirmed that the locality will continue to improve the natural environment, particularly the sea environment.
The Sea and Island Week is significant to the province to popularise the importance of the nation's seas and islands as well as introduce marine economic strengths and potential of the locality.
The event aims to encourage public involvement in and responsibility for protecting the marine environment and seeking solutions to sea pollution.
An array of activities will be organised during the week, including composing contest on Vietnamese seas and islands, talks highlighting the role of the youths in the national sovereignty protection, and gift presenting to sea cleaning forces, among others.
The Vietnam Sea and Island Week is scheduled to take place simultaneously in the central province of Quang Tri and the Mekong Delta province of Bac Lieu. Response activities will also be observed across the country, especially in coastal localities, from June 1-8.-VNA