VietNamNet Bridge – Authorities are struggling to control illegal mineral mining and transportation in the northern province of Bac Kan.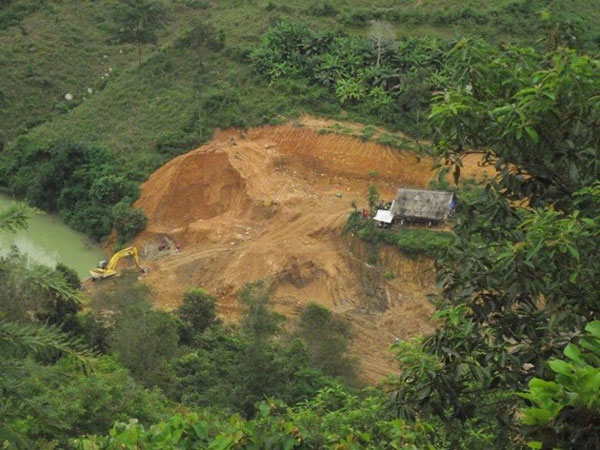 The Nang River running through An Thang Commune in Pac Nam District has been severely polluted due to gold mining. — Photo http://www.doisongphapluat.com
The province has big potential in mining, as it is home to 273 mines of 24 minerals including lead, zinc, iron and gold. The province's lead and zinc reserve is estimated to be more than 25 million tonnes.
The minerals are found in almost all districts of the mountainous province, but years of illegal mining and its consequent impacts on the environment are still a headache for authorities.
Ha Sy Luan, chairman of Cho Don District People's Committee, said that local authorities have faced difficulties in managing and controlling mining activities.
People living close to mines lack land for agriculture, thus they usually exploit minerals to improve their lives, Luan said, adding that mining could generate a great profit making the industry irresistible to some.
In the first five months of this year, local authorities in Cho Don District detected 13 cases involving illegal mineral mining and transportation, in which they seized over 64 tonnes of ore and 15 sets of mining equipment.
Deputy head of the district's Environment Division Tran Duc Trung Thiên said that inter-sector inspectors regularly assemble to detect violations.
"As soon as a case is reported involving mining violations, even in night time, the inspectors crossed the forest to apprehend the suspects," Thien said, adding that understaffing and difficult traffic conditions hindered their actions.
Chu Thi Huyen, chairwoman of Ngan Son District People's Committee, noted that the district is rich in iron and gold, which makes it a "black spot" for illegal mining.
Gold miners used to flock to the Pac Lang gold mine in Thuong Quan Commune, and local authorities worked very hard to curb the illegal activity, she said, adding that the gold mine is now under the management of a private company.
However, since the beginning of this year, the district's agencies have found 14 tonnes of ore from an unknown origin. They also closed two illegal mining camps.
In Na Rì District, gold mines located in the Kim Hy Natural Reserve were also mined by illegal miners.
Nguyen Phuc Dan, deputy head of the mineral division under the province's Environment and Natural Resources Department, said besides illegal mining, local authorities also failed to collect enough tax from legitimate mining activities.
In the past six years, the province granted mining licences to 72 companies, but they only paid VND60-70 billion a year to the province's budget, Dan said.
"The figure obviously does not reflect reality of mining activities in the province," he said, implying that the province failed to collect tax properly from mining.
Dan said that the environment department proposed the province's People's Committee initiate a project on the improvement of mining planning, exploitation, transportation and trade as well as the prevention of tax evasion.
Source: VNS