VietNamNet Bridge – Members of the Can Tho City People's Committee and a National Assembly committee have recommended building new landfills and concentrated waste treatment plants that meet national standards to preserve environmental quality in the city.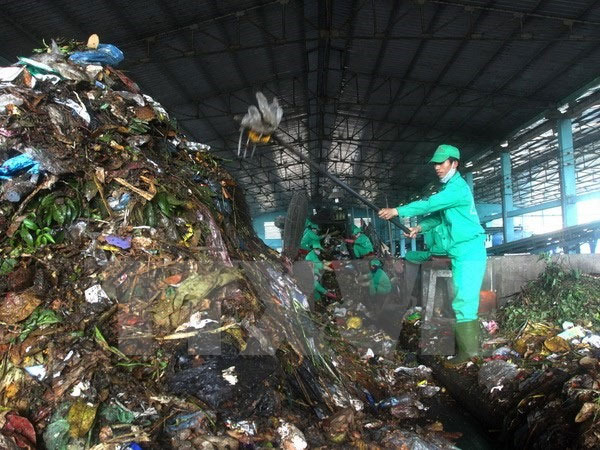 Can Tho City discharges over 650 tonnes of rubbish every day. — VNA/VNS Photo
The NA's Committee on Science, Technology and Environment, working with the city's People's Committee, on Wednesday reported the results of their evaluation of companies' adherence to waste treatment regulations in the city.
The mission surveyed solid waste treatment areas in O Mon District's Phuoc Thoi Ward, Co Do District's Dong Thang Ward, and Thoi Lai District.
The surveys found that many solid waste treatment companies that deal with environmental protection agencies were not complying with legal regulations.
However, the city noted that it had achieved some positive results in waste treatment, including the opening of solid waste treatment plants in the districts of Thot Not, O Mon, Co Do and Thoi Lai.
Construction of such facilities, however, is not complete and proper treatment remains inconsistent. In addition, solid waste is not being classified at the source.
The city also continues to have problems controlling the quality of gas discharged from solid waste after treatment.
It is now using energy-saving incineration technology, but is considering high-tech solutions to ensure sustainable development and environmental quality.
More than 650 tonnes of rubbish are discharged every day in the city.
All of the city's solid waste is collected, transported and treated in the districts of O Mon, Co Do, Thot Not and Vinh Thanh.
The People's Committee has asked the central Government to offer guidance on waste treatment issues, including information about effective models, solid waste treatment technologies, and assistance in accessing capital sources and preferential funds from private sectors and organisations. 
Source: VNS