VietNamNet Bridge – The Ministry of Agriculture and Rural Development (MoARD) recently asked concerned agencies and localities to tighten the management of dyke maintenance and flood prevention for the coming rainy season.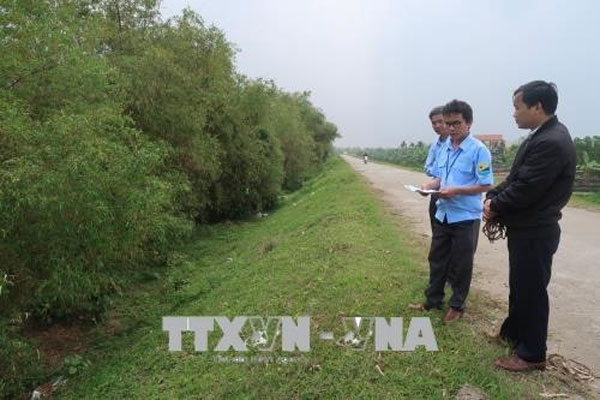 Hai Duong Province authorities inspect a local dyke system. – VNA/VNS Photo Hien Anh
The minister asked provincial People's Committees to repair and maintain dyke systems and other related constructions, focus on handling dykes and dams damaged by floods and storms in 2017, prepare plans to protect important dyke systems and ensure operationalisation of the flood prevention system before the onset of the rainy season this year.
Local authorities have been asked to allocate all sources to handle any problems before, during and after the rainy season as well as to take necessary steps to prevent mishaps caused by storms and floods.
Provincial departments of agriculture and rural development are required to collaborate with district authorities and army forces by June 15 to conduct general inspections of dyke systems and prepare plans to protect dykes, dams and areas in danger.
According to the Vietnam News Agency, MoARD has also asked Viet Nam Disaster Management Authority to guide localities on evaluating dyke systems and approve protection plans as well as inspect and urge the implementation of dyke maintenance during floods and stormy season.
Meanwhile, from May 1, HCM City Greenery Parks Company will set up 17 quick response teams during working hours to handle incidents of falling trees in the coming rainy season.
People can also notify the company in its subsidiary offices at Nguyen Thong Street, District 3; Ly Thuong Kiet Street, District 11; Hoang Minh Giam Street, Phu Nhuan District; Street No.3, District 9; No.20A1, Nguyen Van Bua Street, in Xuan Thoi Son Commune, Hoc Mon Distrcict; and the company's headquarter in Cong Truong Quoc Te, District 3.
Le Cong Phuong, the company's director, told Tuoi Tre (Youth) newspaper that 2018 was expected to witness many severe weather conditions, including heat waves, drought, salt water intrusion and decline of underground water levels.
The company, therefore, is planning to plant new trees while handling old ones to minimise accidents caused by falling trees.
"The construction of pavements and buildings negatively affect the growth and development of tree roots. Moreover, severe waterlogging in the city softens the soil, making trees collapse," Phuong said. 
Source: VNS