VietNamNet Bridge – The Tay Nguyen (Central Highlands) provinces are taking measures to ensure that 2.56 million hectares of forests are not affected by fire during the peak of the dry season.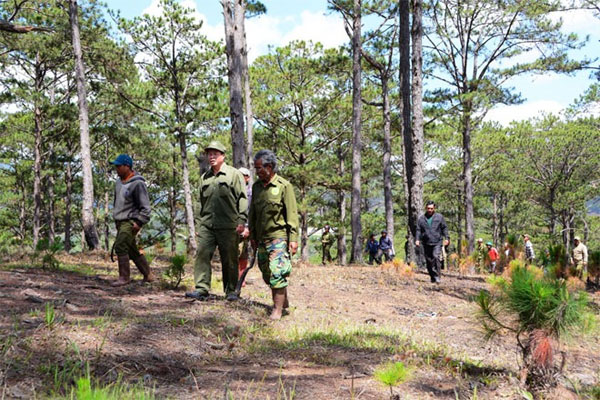 Staff of the M'Drak Forestry Company in the Central Highlands province of Dak Lak clear areas where there is a high risk of fire. — VNA/VNS Photo Pham Cuong
Of the number, about 324,204ha are planted forests.
According to the region's Forest Protection Division, about 740,000ha of forest are facing a high risk of forest fires in the provinces of Dak Lak, Gia Lai, Kon Tum, Dak Nong, and Lam Dong.
Authorities at localities are trying to raise public awareness about forest protection by disseminating information to local residents.
Forest managers have assigned staff to watch for illegal hunters in the forest and the use of fire to collect honey.
Tens of thousands of families living near the forests have been told to strictly follow forest protection and fire prevention regulations.
To avoid widespread fires, families have been instructed in how to slash and burn areas in the least harmful way.
Localities have set up hundreds of local firefighting and prevention teams for active duty as well
Managers of forests have repaired and built thousands of kilometres of fire-prevention belts, and cleared out vegetation.
They have also tightened inspection and control around the clock in high-risk, while warning signs and fire watchtowers have been set up in various localities.
Prevention and control
About 300,000ha of forest in Dak Lak Province and 225,00ha of forest in Gia Lai Province are prone to fire risks.
Recently, the province has taken steps to prevent fires, including setting up patrols and checking forested areas around the clock.
Trinh Xuan Tu, deputy head of Da Nhim watershed-protection Forest's management board in Lam Dong Province, said the forest covers about 45,000ha.
"Most of it is pine forest, which can catch fire easily because of the pine tar," he said.
Fires are also difficult to control in the area because forests are interspersed with residential areas and farmland.
Ha Cong Tai, head of the region's Forest Protection Division, said that slash-and-burn farming activities could become a source of fire.
The provinces have set up Steering Boards for Forest Fire Control to deal with fires in the dry season, he said.
Based on each specific situation, each province has a few dozen to over 200 boards.
Ha Krong, a resident living in Lam Dong Province's Lac Duong District, who represents 38 households who signed contracts to protect 900ha of forest, in collaboration with Da Nhim Forest Management Board, said the households always were on standby to respond to emergencies or fires.
The district's three owners of state forests, Da Nhim, Ta Nung, and Lam Vien forest management boards, have assigned about 3,100 employees to take part in forest fire prevention and control.
By the end of March, six forest fires had been recorded in the Central Highlands provinces, destroying about 80 ha of forest.
The fires were detected and extinguished quickly, helping to minimise losses.
Source: VNS