VietNamNet Bridge – Prime Minister Nguyen Xuan Phuc has ordered ministries, sectors and localities to use their resources more efficiently to better cope with natural disasters, which are striking the country more frequently and severely due to climate change.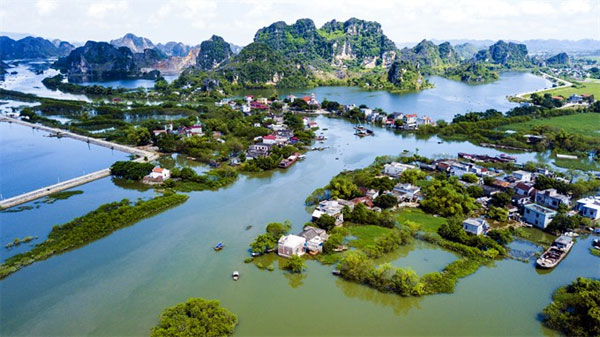 Dozens of households in areas with high risk of landslide in the northern province of Ninh Binh Province's Nho Quang District.— VNA/VNS Photo Minh Duc
The PM issued the order while chairing a meeting organised by the National Steering Committee on Natural Disaster Prevention and Control yesterday.
The effort was a major task for the agencies to better cope with natural disasters this year, he said.
"A person, who works in a sector tasked with coping with natural disasters, must be well-trained, dedicated and responsible," Phuc said.
"Any officer who lacks knowledge of coping with natural disasters that lets any resident go hungry or thirsty during natural disasters, must take responsibility," Phuc said.
Phuc also said agriculture should be reshaped to better adapt to natural disasters.
Although the country had made many efforts, the damage suffered from natural disasters was still huge, he said.
Data from the committee shows that natural disasters killed 386 people and caused losses of VND60 trillion (US$2.6 billion) last year alone. The losses are estimated to be equal to 1-1.5 per cent of Gross Domestic Product (GDP).
To minimise the damage during natural disasters, Phuc required local administrations to focus on taking prompt actions to cope with floods, torrential rain and landslide and to ensure safety for dams and reservoirs during floods and prolonged torrential rain.
Major solutions
Speaking at the meeting, Minister of Agriculture and Rural Development cum head of the steering committee Nguyen Xuan Cuong pointed out three major solutions to better prepare for natural disasters this year.
Cuong said first, the committee would build a plan at both national and local levels to cope with natural disasters, with safety during natural disasters for public works included.
The committee also planned to call for more investment to enhance infrastructure and make it ready for natural disasters, he said.
Lastly, he said perfecting the process of dealing with dams and reservoirs to ensure safety for people during any natural disaster was important.
Former agricultural minister Le Huy Ngo, said: "We have to come to storm-prone areas before the storm comes."
Natural disasters 2017: many records
The committee said 2017 featured many natural disaster records. There were 16 typhoons and four tropical low-pressure systems hitting the East Sea - the highest number of typhoons and tropical low-pressure systems recorded so far.
The total number of torrential rains in 2017 was estimated to be 40 per cent higher than many previous years. For example, prolonged torrential rains battering the northern province of Hoa Binh last October, resulted in the Hoa Binh Hydro-power Plant opening eight floodgates at the same time, a first for the plant.
In a related movement, the National Centre for Hydro-meteorological Centre warned that natural disasters' developments this year would become more complicated.
The number of typhoons and tropical low-pressure systems this year is predicted to be the same compared to last year and central provinces are still expected to suffer the most from typhoons and tropical low-pressure systems. Heat waves are forecast to appear in the north and mid-north localities later than last year while torrential rains will appear between June and August in the north.
Source: VNS